Clon school is one win from an All-Ireland camogie final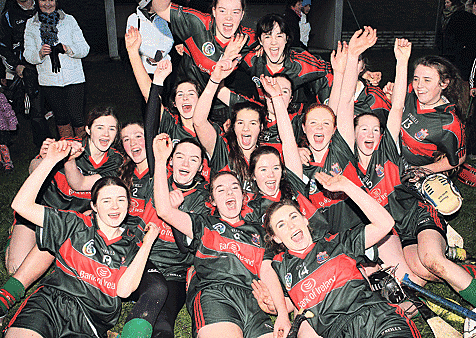 BY KIERAN McCARTHY
BEFORE Saturday's All-Ireland colleges' senior camogie semi-final against Abbey Community College, Sacred Heart Secondary School's girls will make a promise to one another.
It's the same promise they make before every game.
They look one another in the eye – their team mate, their class mate, their friend – and they promise that, in the match ahead, they will not be beaten on effort and that they will give every last ounce they have for the cause.
You can't argue with the results.
Brian Daly's talented heroines, this year alone, have won the Munster colleges' senior camogie title for the first time in 15 years after beating St Mary's High School, Midleton in the final (3-7 to 3-5).
The following weekend they captured the Munster colleges' senior league cup after defeating Coláiste Mhuiri from Ennis, 2-7 to 0-10, in that decider.
Now, this Saturday, Valentine's Day, they travel to Ferrybank GAA Club in Waterford to take on Leinster champions, Abbey Community College of Waterford, in an All-Ireland semi-final.
It's another huge game for this Sacred Heart side that is going all guns blazing for a fast start on Saturday, as their manager, Brian Daly, explains.
'Abbey Community College will have home advantage so it goes without saying that a good start will be imperative to quieten their supporters and put all the pressure on them. Obviously, we will need a small bit of luck as well,' Daly said.
'The game should be very close and it will probably come down to who wants to win it the most in the last few minutes.'
Clonakilty native Daly, who has been playing junior hurling with Clon for the past 16 years, the latter seasons between the posts, has previously trained Clonakilty camogie teams to three county titles, at junior B, junior A and intermediate.
A geography and history teacher in Sacred Heart, Daly is full of praise for the school's current senior camogie team that is just one step away from an All-Ireland final.
'The key to our success all year has, undoubtedly, been an unquenchable desire to win,' Daly explained.
'The girls' workrate has been phenomenal in the games to date. The players make a promise to each other before each game that they will not be beaten for lack of effort. If we are defeated by a superior camogie team then we will shake hands and have no regrets.
'In some ways we don't have the fear of losing that sometimes cripples teams.'
Confidence, understandably off the back of the recent Munster championship and league victories, is high, but there were elements of Sacred Heart's league win against Coláiste Mhuire that dipped below their own standards. Improvement is needed, Daly stressed.
'The mood among the girls is good, and while the performance in the league final was not up to the standard produced throughout the year the last few weeks have allowed us to get back to basics. Hopefully, the work we have done will stand to us on Saturday,' he said.
Incidentally, the last time Sacred Heart won the Munster colleges' senior camogie championship back in 1999 – a team that four-time All-Ireland winner Jennifer O'Leary was on – the school went on to win the All-Ireland title, so there is a lucky omen there, perhaps.
'15 years is a long time to reclaim a Munster title in any grade,' Daly admitted.
'We have endeavoured to make the girls aware that opportunities like this seldom come around. In the intervening years we have won a few county titles and leagues but the prestigious honours have eluded us.'
Until now that is, as the Clonakilty school is just two victories from their place in folklore. First up is Abbey Community College this Saturday, and an All-Ireland semi-final. It's one step at a time.
And as for Saturday itself, Valentine's Day, Daly has had to put his Valentine's plans with his girlfriend Karen on hold, but if it all goes to plan everyone will be a winner – Brian, Karen and Sacred Heart.
'She's very understanding. It will probably only cost me a week away instead!' he laughed.
Big Match Details
Saturday, February 14th
All-Ireland Colleges' Senior Camogie semi-final
Sacred Heart Clonakilty v Abbey Community College
Venue: Ferrybank GAA Club, Waterford
Throw in: 2pm