Newly crowned Celtic Ross West Cork Youth Sports Star of the Year, Connor Ellis (17), from Kealkill, is a rising soccer star with Cork City's U19s, as well as an Irish underage international, plus a future Birmingham City striker...if he wins the lotto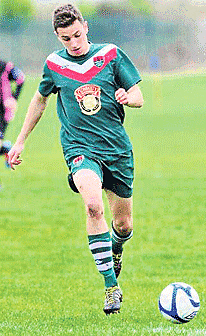 Rate yourself on a scale of 1 to 10 on how funny you are? I would give myself a five, as I wouldn't be known for my comedic skills.
Highlight of your sporting career? Without doubt, it was the first time I put on the Irish jersey for the U15 international against Austria in Vienna. That's a moment that I will never forget.
Most dialled number on your phone?
It would have to be my dad because I am usually looking for spins to training and matches!
What's your karaoke song? Living on a Prayer by Bon Jovi. I'm not sure you would enjoy hearing it though!
Tell us an interesting fact about yourself?
I have three county medals for my local GAA club, St Colum's, which I'm very proud of.
Best-ever holiday?
Portugal two years ago with my family.
If you won the lotto what would you buy first?
I would buy my favourite club, Birmingham City. It might be the only way that I'll get to play for them.
Separated at birth, who's your celebrity twin double? My friends say I look like the actor Casey Affleck but personally I don't see it!
What's your favourite word? Food! I'm always hungry.
If you could change any part of you what would it be? My confidence. I'd like to have the same confidence in everyday life as I have on the pitch.
Your most treasured item of clothing? My Ireland shirt from my first international appearance, which is framed on my wall at home.
Favourite cartoon?
It has to be Tom and Jerry – the old ones are the best.
If I was an animal then I would be a ...lion, the king of the jungle.
What question would you liked to have been asked in this interview? Do I think Cork City will win the league this season? Answer: Of course I do!