Ballineen sprinter identifies European senior indoors as top target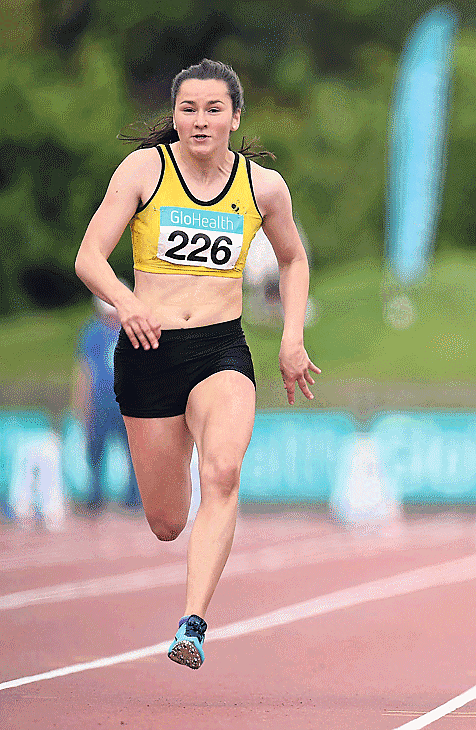 BY KIERAN McCARTHY
BANDON Athletic Club sprinter Phil Healy will put her All-Ireland U23 60m title on the line this Sunday when she competes in the GloHealth National Junior and U23 Championships in Athlone.
The talented West Cork athlete (20), who holds the Irish U23 60m record (7.36 seconds), might also compete in the 200m at this weekend's event.
Healy (pictured) began her indoor season in Manchester in early January with times of 7.46 and 7.47, as she won the women's 60m race at the Sale Harriers Open Series.
Considering this was her first race of the season, to run 7.46 – just one tenth of a second off her personal best of 7.36 – was an impressive start to the year.
The following weekend, competing as a guest, the Knockaneada, Ballineen athlete won the 60m event in round one of the GloHealth Indoor League, in 7.44.
That was a good outing for Bandon Athletic Club athletes as Joey Hency finished second in the 60m, Promise Okafor came fourth in the long jump while Ronan Duggan finished eighth in the 800m.
Meanwhile, 2015 promises to be another busy year for Healy, who enjoyed tremendous success last season both in the indoor and outdoor circuits, including competing for Ireland at the senior European Track and Field Championships in Zurich, winning the national 100m title along with Amy Foster in a dead heat (she ran a PB of 11.49), as well as winning several other titles and setting various national records and personal bests.
She has been invited to compete at the Indoor British Championships in Sheffield on February 14th where she will be up against Europe's top athletes, as currently Britain's 60m female sprinters hold the top spots in European and world rankings.
While she will be in action most weekends in the indoor scene from now on, the major event for Healy this year is the European Senior Indoor Championships in Prague in March. The 60m standard is 7.36, which is equal to her personal best set last year, and she knows that she either has to repeat it or beat it by February 22nd to qualify for these Europeans.
Also, the AAI Indoor Games (February 1st), the Irish Universities Indoor Championships (February 6th) and the national senior indoor championships (February 21st/22nd) are just some of the other events on her to-do list over the next few weeks.