This story is being updated 24/7 by Southern Star staff to keep you informed about the rapidly changing situation in West Cork since the measures were introduced last week to cope with the Coronavirus crisis.
If you have an event that has been postponed or cancelled, or you are a government or private service or facility, please email any details you would like made public to [email protected] and we'll feature them here.
BALLYDEHOB JAZZ FESTIVAL
It is with tremendous disappointment and heavy heart that I have to announce the postponement of the Ballydehob Jazz Festival 2020.
The 14th edition of the festival had been due to take place on the weekend of May 1st to 4th. However, given the changing landscape and continuing fallout from the Covid-19 pandemic its now obviously impossible to even consider the festival going ahead in this time frame or in the immediate future.
Our thoughts are with those artists who on the best days struggle to make a living but today now struggle for existence. Please support them over the coming months and years in whatever way you possibly can. They are the lifeblood of community and bring colour to the grey every day. As a festival we will endeavour to support them in as many ways as possible.
Ballydehob Jazz Festival is a community driven and volunteer run festival.It is local people wanting the arts to thrive, our families to thrive and our businesses to thrive. This postponement will come at a tremendous cost to the community it supports.
I would like to thank the artistic community, businesses and sponsors, patrons and partners and of course the volunteers for your help in supporting and growing the Ballydehob Jazz Festival over the last 6 years that I've been proud to be involved in .And I hope that ye all survive so that the Ballydehob Jazz Festival can return to what it does best :engaging, developing, producing and presenting world class jazz ,dance and spectacle. We need you to survive and thrive so that the amazing cultural and social canvas that is Ballydehob and The Mizen survives. Beir Bua.
For now, we are working towards streaming some online performances from our artists located worldwide during the usual timeframe of Ballydehob Jazz festival this May bank holiday and with hope we plan on rearranging the festival for the end of October. Please keep in touch for updates. We need your support now more than ever before.
I hope that in time when we begin to come out from under this Covid cloud that we all can reflect on the true worth of art and culture to society and rearrange a lot of the priorities of this country in favour of all its citizens in particular the artistic and creative, the poor and the vulnerable .But for now please stay safe ,sane and may great art rise up from the chaos
I want to send a special thank you to all at the Cork County Council and The Arts Council of Ireland as well as all of our sponsors for their understanding, compassion and support in this time of difficulty. Art needs your support now more than ever before in the history of Ireland
Ní neart go chur le chéile
Yours in hope
May we all rise again together
Joseph O Leary
Ballydehob Jazz Festival
AGE ACTION & IRISH RED CROSS
Older people facing additional hardship as a direct result of the Covid-19 pandemic can apply for financial support from Age Action and the Irish Red Cross.
Age Action and the Irish Red Cross are launching a COVID-19 Hardship Fund in partnership to support people experiencing difficulties meeting costs associated with the COVID-19 pandemic. Unexpected costs can put an added strain on older people and the Hardship Fund will assist with the costs of increased food bills and associated delivery costs, replacing or upgrading essential small appliances, additional transport, energy or communication costs and the costs of additional safety or security equipment to enable older people to remain safe and well in their homes.
Official poverty statistics from the CSO indicate that 11.4% of people aged 65 years and over were 'at risk' of poverty in 2018 meaning they are not able to withstand the immediate economic impact of COVID-19. People over the age of 65 depend on social protection for more than three-quarters of their income, for many older people the State Pension is often their only source of income.
Paddy Connolly, CEO of Age Action, said: "Older people are among the groups who are at high risk of the impacts of COVID-19 and we know some older people in vulnerable situations will need additional assistance and financial support, particularly as they cocoon over the coming weeks. We have designed this scheme to provide immediate practical relief to alleviate some of the day to day hardships they will experience due to COVID-19, such as increases in their living costs for additional shopping and deliveries, increased bills and transport costs for essential appointments.
"This fund will provide additional assistance to vulnerable older people around Ireland who are experiencing hardship as a direct result of the COVID-19 pandemic by making once-off grants, up to a maximum of €500, per person/household affected.
"Older people, family members supporting an older person and carers of older people can apply as well as Social Workers and Local Community Organisations providing direct assistance to vulnerable older people. You can apply for financial assistance with the costs of practical needs that are adding to hardship as a direct result of COVID-19 and increased social distancing restrictions over the coming weeks".
Paddy Connolly added, "This could be assistance for an older person with maintaining their ability to stay safe and well in their own home as they cocoon, such as the cost of handrails, additional security or safety equipment, providing assistance with the costs of food, basic provisions and their delivery, providing funds to buy or update small appliances such as a fridge, freezer, cooker, TV or washing machine, paying for additional transport and energy costs or the cost of additional phone bills".
Liam O'Dwyer, Secretary General of The Irish Red Cross said: "The focus of The Red Cross in Ireland is to ensure that people who find themselves in vulnerable situations have the capacity, with support, to be resilient and manage their own lives. Support like the Hardship Fund gives older people that additional capacity and our members are delighted to be of support in this very unusual time. We are really pleased to work with Age Action who are leaders in the area of independent living."
The Covid19 Hardship Fund will open tomorrow Wednesday 1st April 2020 and will run for the duration of the corona virus health crisis in Ireland.
More information, and how to donate to the Hardship Fund, is available online at www.ageaction.ie or www.redcross.ie or by calling Age Action at 01 475 6989 or the Irish Red Cross at 01 642 4600 or emailing [email protected] or [email protected]
FUEL ALLOWANCE
The Minister for Employment Affairs and Social Protection, Regina Doherty and the Minister for Finance & Public Expenditure and Reform, Paschal Donohoe, today announced that the Government would be extending the Fuel Allowance season by four weeks - from Friday 10th April to Friday 8th May – in response to the COVID emergency.
Speaking today, Minister Doherty said:
"The COVID emergency presents a once in a century challenge to our society and our public services and we are determined that our Department does everything we can to meet emerging needs and provide comfort to as many as possible. At a time where we wish people to stay at home to stay safe, it makes perfect sense to extend the Fuel Season for existing eligible customers on a once-off basis by four weeks, to 8th May 2020, in order to ensure the most vulnerable groups are provided with additional targeted financial supports in a timely and efficient manner."
Minister Donohoe said:
"During this time of unprecedented difficulty for our people, we must ensure that our older and more vulnerable groups are as comfortable as possible, as people adhere to Government instruction in order to stay safe. It is for this reason that the Fuel Season is being extended until May. Everyone has a part to play in minimising the impact of this public health crisis. This extension will ensure those in receipt of this payment have one less thing to worry about and can remain safe and warm in their homes for the coming period."
The Fuel Allowance payment is made to over 370,000 of the most disadvantaged households in the country including pensioners and those with disabilities, who are most at risk of fuel poverty. As a result of changes we have made over the past few years, it is currently paid at a rate of €24.50 per week for 28 weeks. The current 28 week season is due to finish on 10th April. The payment is made as an allowance paid alongside the customer's primary welfare payment. On foot of the changes approved by Government today, the Fuel Allowance season will be extended by 4 weeks and will continue until Friday 8th May.
ROAD SAFETY REMINDER
With the recent increase in people, and families with children, using our county's roads to get exercise and fresh air, Cork County Council is appealing to walkers and cyclists to make every effort to increase their visibility and stay safe on our roads. Be Safe! Be Seen!
Chief Executive of Cork County Council, Tim Lucey commented
"The first three months of this year saw 14 pedestrians killed on Irish roads. As a pedestrian, you can take a number of measures to make yourself safer on the roads. Statistics have shown 98% of pedestrian fatalities were not wearing high visibility clothing and more than two thirds of fatal pedestrian collisions happen at night. Cork County Council is calling on everyone to wear reflective clothing and carry a torch at night when out on the roads."
Cork County Council's Road Safety Awareness office also issued the following advice:
Stop, look and listen
Walk on the right & cycle on the left hand side of the road
Don't try to cross the road between parked cars
If possible, cross at a pedestrian crossing or traffic lights
Never cross at a bend
If there is a footpath use it
If there is no footpath, walk/run/jog on the right hand side of the road, facing oncoming traffic and keeping as close as possible to the side of the road
Walk no more than two abreast and if the road is narrow or there is heavy traffic, walk in single file
Pedestrians "Be Safe Be Seen" wear a Hi-Viz vest and arm band or carry a torch
Drivers expect the unexpected
Mayor of the County of Cork, Cllr Ian Doyle added
"The best person to teach your child road safety is you, set a good example by wearing Hi-Viz and using the Safe Cross Code. Wearing a Hi-Viz makes you 300 times more visible at dusk and at night, the time when most pedestrian fatalities occur. I recognise that it is important for us all to continue to get exercise and fresh air and we are fortunate to have miles upon miles of country roads across Cork to enjoy, but I would ask everyone to be extra vigilant when it comes to visibility and road safety, it might save your life."
Hi-Viz vests are available free of charge from the Road Safety Authority, email [email protected] or call 1890 532532.
ALONE
ALONE, the organisation that supports older people is managing a national support line and additional supports for older people who have concerns or are facing difficulties relating to the outbreak of COVID-19 (Coronavirus) in Ireland. ALONE is a member of the National Public Health Emergency Vulnerable People Subgroup.
Professional staff are available to answer queries and give advice and reassurance where necessary. The support line is 0818 222 024 and is open 8am-8pm every day.
NATIONAL SPRING CLEAN
An Taisce's National Spring Clean has been postponed until after 19th April due to current Covid-19 crisis. Volunteers are asked not to carry out clean-ups planned before this date but to postpone them until after. This situation will be re-assessed closer to that date so please keep an eye on the Spring Clean website www.nationalspringclean.org for updates.
Cork300
All events scheduled in July for the Cork300 events series, which were to run across Cork Harbour to celebrate the Royal Cork Yacht Clubs 300th birthday, have been cancelled.
The Royal Cork Yacht Club is the oldest yacht club in the world and therefore these events were attracting visiting clubs from all over Europe, Australia, San Francisco, Hong Kong etc.
They are continuing to plan for now for August events.
THE ALZHEIMER SOCIETY
The Alzheimer Society of Ireland (ASI) has announced the postponement of its largest annual fundraising campaign Alzheimer's Tea Day due to Covid-19 and has launched an urgent appeal for vital dementia supports to help them to continue their vital work with people with dementia and their families during this devastating crisis.
It is estimated that there are 5,425 people living with dementia in Cork and for every one person with dementia three others are directly affected. The number of people with dementia in Ireland is expected to more than double from 55,000 today to 141,200 in 2050*.
Covid-19 has resulted in a perfect storm for The ASI: Alzheimer's Tea Day, its biggest and most important fundraiser over the past 25 years which was due to take place in every town in Ireland on Thursday, May 7th, is now postponed contributing to a severe drop in fundraising of €1 million; its 48 day care centres are closed; and its vital supports such as Social Clubs, Alzheimer Cafes and Support Groups are all postponed until further notice.
However, The ASI continues to support people with dementia and their families as our Home Care, Dementia Advisers, National Helpline and Online Family Carer Training are all still running. In addition we are implementing new ways of providing ASI supports remotely to our clients and their families such as regular telephone calls and activity packages for people to use in their own homes.
Most people who are living with dementia are in the high-risk category for Covid-19 and most of their carers - their husbands and wives - are also older and many have underlying health conditions. And now, with the majority of ASI's supports now closed, thousands of vulnerable people are facing this emergency alone, without the supports and constant care that they urgently need.
As part of the urgent appeal, members of the public are being asked to make a special emergency donation today on www.alzheimer.ie to help provide essential care and support to those living with dementia whose lives are being torn apart by Covid-19.
GET BEHIND THE FLAG
Local shops forced to close are urging people to get behind the National flag and help defeat the Coronavirus.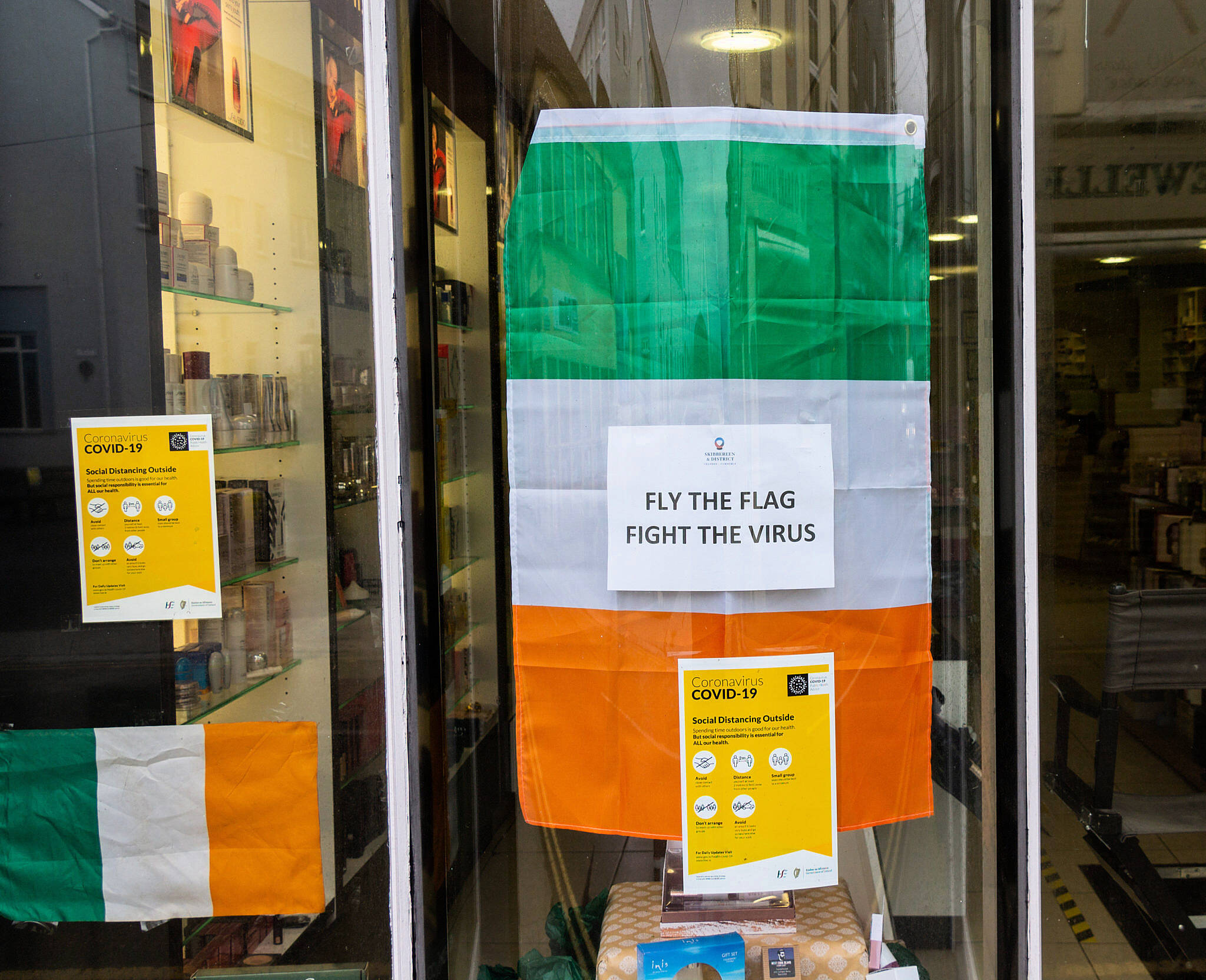 ROAD SAFETY AUTHORITY
The Road Safety Authority (RSA) has today Wednesday 25 March been informed by Prometric the provider of the Driver Theory Test service, that it is suspending the provision of the service in light of the Covid-19 restrictions.
Prometric has advised the RSA that, as a result of Covid-19, it is no longer in a position to provide a normal level of staffing that maintains the integrity of the service while adhering to HSE guidelines on Social Distancing.
The suspension takes effect as and from today Wednesday 25 March and will be subject to ongoing review.
Candidates who have a driver theory test scheduled up to 19 April, will be contacted to notify them that their test will be rescheduled free of charge when the service resumes. Updates around the re-starting of tests will be published on www.theorytest.ie
Prometric has advised that it will continue to provide a service in emergency cases and arrangements for this will be published on their website www.theorytest.ie by Wednesday afternoon 25 March.
ORDER OF MALTA
The Order of Malta Ambulance Corps (Order of Malta) today announced that volunteers are currently preparing to provide national support to the Health Service Executive (HSE) as the health crisis caused by COVID-19 continues to develop.
The Order of Malta is one of the largest providers of first aid and voluntary ambulance services in Ireland and is listed as a 'Voluntary Emergency Services' resource available to the HSE under the Framework for Major Emergency Management. Following a call for support made by the HSE, the Order of Malta is now beginning to mobilise volunteers and equipment to assist in providing healthcare services to people across the country.
Comdr. John Wright, National Director for the Order of Malta Ambulance Corps stated, "While our top priority is the safety and health of our volunteers throughout this time, we are confident in the measures we have put in place to ensure our organisation is prepared and ready to provide assistance to the HSE in the form of personnel and other assets, including vehicles and equipment as needed. Our COVID-19 task-force is assessing the situation as it develops, and we are in regular communication with the HSE and other emergency bodies."
MARITIME HOTEL, BANTRY
Dear Guest, Together, we are facing a truly unprecedented situation. The global coronavirus pandemic is affecting all of our families, our businesses, our communities, and our way of life.
It was with great sadness that we closed our doors last week. Saying goodbye to our valued employees and guests, not knowing when we all be together again, was difficult to say the least.
While we all weather the storm together, anxious as to what the future may hold, we keep our spirits up by treasuring this time with our loved ones and planning for the future. Celebrating life at every given moment, be it through song, dance or laughter, has always been our mantra.
We look forward to celebrating life with you, with a renewed sense of appreciation, once the storm has passed.
I want to take this opportunity to thank you for your loyal custom, and encourage you to consider visiting us again as soon as it safe to do so. Your custom will ensure that I and my incredible team can get back to the work we love without delay.
We look forward to welcoming you back to The Maritime Hotel, and in the meantime please take care of yourselves and your loved ones.
Yours sincerely, Elaine Dempsey, General Manager
FAMILY CARERS IRELAND
Given the unprecedented pressure on our hospitals due to the Covid-19 pandemic, the organisation's top priority is to support as many people as possible remaining in the care of their loved ones at home. With this in mind, there is an urgent need for clear guidance for family carers on how to prevent the spread of Covid-19 in a home caring situation as well as a contingency plan with specific steps to follow in the event of the family carer becoming unable to continue caring. The organisation has already developed and published an Emergency Care Guide to help prepare for such eventualities, and it is now urging the HSE to present a clear protocol on how the health service will deal with such cases.
As the number of those diagnosed increases and many of these will be sent home to manage their own recovery, we anticipate that an increase in demand for home support corresponding to the surge in hospital demand. In order to prepare for this, current Home Support Packages are being reviewed and only cases requiring medical or personal care will be most likely continued. Otherwise families will see a reduction, or in some cases, elimination of existing home care hours on the basis of the unprecedented community support being mobilized in the face of an unprecedented national challenge. Family Carers Ireland accepts the need for this in light of the unique challenge that the Covid-19 pandemic represents. The organisation will be there to support those families and will work with other groups in the community such as An Garda Síochána, community groups and organisations to try to minimise the impact that this will have on caring families.
THE PIONEERS
As we all face the challenges of the Covid 19 virus outbreak, the Pioneer Association and the Munster Provincial Activities Committee have cancelled all their activities, for the foreseeable future. This includes the national Pioneer Ball which was due to take place in the Menlo Park Hotel, Galway, on Saturday 4th April 2020. In Munster, the Pioneer National Quiz, which was due to take place on Saturday 25th April in the Abbeycourt Hotel, Nenagh, Co Tipperary has also been cancelled. The Munster Committee would like to sincerely thank all those, who had already been working with us in the past few months. We are especially grateful to those centres, regions, dioceses and businesses who had already contributed to the fundraising efforts for the quiz. The support has been very encouraging and will be a great help to us when we host this Quiz, at the earliest possible opportunity.
COMMUNITY HELP
Covid Community Response brings communities together, collaborating and supporting those most in need during the Covid-19 outbreak in Ireland. Covid Community Response has announced the release of their national support helpline. Members of the public seeking assistance can now do so via text (086 180 0256) or phone call (021 237 7809). Speaking about the campaign, software engineer Danny O'Donovan, said: 'Our helpline is a very big step forward – we have managed to set up a professional helpline operated entirely by volunteers.. As we know, many communities are doing extraordinary work around the country, and we are just adding to this by creating a coordinated system to make sure nobody is without support. Our helpline is available between the hours 9.00 am and 9.00pm, and volunteers can register at any time on our website.'
FACEBOOK SUPPORT
As people across Ireland adjust to unprecedented social distancing, communities are coming together online.
Through Facebook, Instagram and WhatsApp people are showing extraordinary acts of kindness and volunteerism with more than 50,000 people in Ireland are part of a coronavirus support Group on Facebook.
Speaking about this inspiring display of Ireland's community spirit, Head of Facebook Ireland Gareth Lambe said: 'People have always come to Facebook, Instagram and WhatsApp to build community and connect with friends and family.
In recent weeks, however, we are witnessing something truly remarkable. In the face of the unparalleled challenges, Irish people are taking to our platforms to help not only their communities, friends and families, but frontline health workers, emergency service personnel and even complete strangers through these challenging times. We are seeing first-hand that when people are connected they can achieve extraordinary things.
At Facebook Ireland, we're working with Friends of the Elderly to develop a campaign for Facebook and Instagram. The campaign is designed to raise awareness of the isolation that elderly people are feeling right now and to encourage people to ring their neighbour, granny, aunt, uncle, etc. to break the loneliness of isolation.' The company has launched a pop-up post on Facebook Newsfeeds directing users to the HSE website, anyone who searches for 'coronavirus' on Facebook or Instagram will be directed to visit the HSE website, and it is giving the HSE free ads to run their information campaign across the social media platforms.
FASTNET FILM FESTIVAL CANCELLED
In response to the COVID-19 pandemic, the Fastnet Film Festival committee have regrettably taken the decision to cancel the 2020 Festival which was set to take place from the 20th to 24th of May. Although the Festival will not be staged in May, the short film competition will be carried forward to May 2021. While this is disappointing to us all, the health and safety of our audience visitors and guests is our top priority. We look forward to returning with an even bigger and better festival next year. 'The Festival team is devastated that the incredible programme we had planned, won't happen this year and that audiences won't experience the diversity of artists coming from across the world to West Cork. However these are unprecedented times that we are living in and the welfare of human life unequivocally comes first and foremost,' said John Kelleher, festival director. 'We encourage you all to stay safe and follow the advice of the HSE during this difficult time.' Keep an eye on
www.fastnetfilmfestival.com
for updates.
BANTRY HOSPITAL
While 2gether4bantryhospital were consulting with two of our supermarkets about our volunteers, we suggested Snack Boxes for Bantry General Hospital staff as a small token of appreciation for all the wonderful work they do.
These boxes are filled with a variety of snacks for the hospital staff's breaks.
They were kindly donated by Lidl Bantry and SuperValu Bantry.
2gether4bantryhospital dropped them off at Bantry General Hospital today. See below: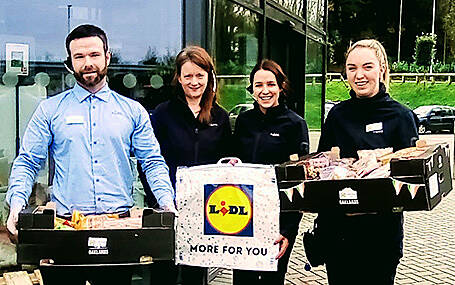 CUH UPDATE
Cancer Services: All chemotherapy and radiotherapy appointments are proceeding as planned unless you have been contacted directly by the hospital to advise otherwise. Paediatrics: The majority of our face to face outpatients have been stopped for now and are being replaced by telephone clinics, where specialist teams will contact you by telephone to discuss your child's condition. It is important for parents to know that urgent reviews are still taking place. We will see your child in the safest possible manner, keeping them separated from other children and parents. We are arranging urgent assessment for cases where it is not safe to delay. Please attend for these urgent reviews if offered. Children can become unwell quickly and thankfully, with early assessment, and treatment, will also get better quickly. Please do not delay seeking a medical review for your child. Contact your GP and if they feel it is appropriate for you to attend our paediatric service please do so. Outpatients: Many of our scheduled outpatient appointments have been cancelled or replaced by telephone clinics. If you are to attend an outpatient appointment in CUH you will be contacted directly by the hospital, otherwise your appointment has been cancelled and will be rescheduled for another date/time. Please note the following services will not be impacted and unless you have been contacted you should attend your appointment as planned: Dialysis; Dressing clinic; Warfarin clinic; Endoscopy; Cystic Fibrosis; Infusions; Radiology; Hepatology; Gastroenterology; EEG/EMG; Cardiology Diagnostics. Surgeries will proceed as normal unless patients are contacted by the hospital and advised otherwise. Visiting restrictions remain throughout the hospital and Cork University Hospital wishes to thank the public for their patience and support at this time. The hospital will continue to keep the public updated. If you have a query in relation to COVID- 19 please contact the national helpline on 1850-24-1850. Also the most up-to-date information will continue to be available at www.HSE.ie/coronavirus
FREE AN POST POSTCARDS
An Post is giving every household free postcards to write personal messages for posting on, free-of-charge, to family and friends across the country to help them stay connected in the weeks ahead as more people socially isolate and become 'cocooned'. 5,000,000 postage-paid postcards have been produced by An Post to enable people of all ages to post a message of love and support to special people in their lives. Two specially-designed postcards, postage-paid to anywhere in Ireland, will be delivered to Ireland's 1.8 million households over the coming week, and additional cards will be available at local post offices. Simply write your message and post the cards in any postbox.
AGE & OPPORTUNITY LIVE ON FACEBOOK
Age & Opportunity Movement Minutes Live: Many of us have found ourselves housebound and unable to engage in any of the activities or classes we normally would. This is particularly difficult for older people who are self-isolating. To try and incorporate some physical activity into our day we will broadcast three live 15 minute physical activity sessions that older adults can join along to – 'Age & Opportunity Movement Minutes'. The first will be a seated activity session, the second will be a standing activity session and the third will be a mix of seated and standing. Join us on our Facebook page for 'Age & Opportunity Movement Minutes' on:
‣ Monday 23rd March @ 11am: Seated Physical Activity Session for Older Adults; ‣ Wednesday 25th March @ 11am: Standing Physical Activity Session for Older Adults; ‣ Friday 27th March @ 11am: Seated and Standing Physical Activity Session for Older Adults
COMMERCIAL RATES
The Government has today agreed with local authorities that they should agree to defer rates payments due from the most immediately impacted businesses - primarily in the retail, hospitality, leisure and childcare sectors, for three months, until end-May. This measure will be implemented by each local authority in its own area.
NATIONAL ADULT LITERACY AGENCY
Free tuition over the phone for adults: The National Adult Literacy Agency has tutors on the phone that can help adults with: Reading, writing and spelling; Filling in forms, for example for social welfare benefit; Helping kids with homework; Understanding health information; Doing basic math, and Using technology. Call on Freephone 1800 20 20 65, or Text LEARN to 50050 and we will ring you back with more information and set you up with one of our friendly distance learning tutors.
CORK CHAMBER
Cork Chamber has welcomed the deferral of rates payments due from the most immediately impacted businesses but it's clear that more must be done. 'We have been engaging with local and national government to secure improved supports and this is another positive step. However the timeframe will need to be expanded upon further and the sectors represented will need expansion as the crisis unfolds. The measures as they currently stand are aimed primarily at the retail, hospitality, leisure and childcare sectors, for three months but ultimately any business that has closed or faced major impacts should be eligible. Small businesses and SME's contribute almost 60% to commercial rates, and Local Authorities should be left in no doubt as regards funding during this exceptional time.
Cashflow is a major challenge for business right now and a significant and ongoing review all government charges that impact on cashflow must be maintained for the duration of this pandemic.'
AS I AM
AsIAm, Ireland's national autism advocacy charity, have launched their first online seminar 'COVID-19 and Change' sponsored by SuperValu. The seminar is part of an ongoing series of seminars which offer support and much-needed information to the Autism community. The community support events, proudly sponsored by SuperValu, previously ran in communities around Ireland but will now be hosted online and shared on AsIAm and SuperValu's social channels. The community support seminars are driven by the autism community and delivered by autism experts, the first online seminar focuses on the changes people will see in their day to day life related to COVID-19. The 'COVID-19 and Change' e-seminar is given by Psychotherapist Michael Ryan and Educational Psychologist Dr Alison Doyle focuses on practical tips for positive mental health and staying on top of educational demands, for the autism community, during this period. The seminar can be viewed on the AsIAm website here and on the AsIAm and SuperValu social pages. This programme is supported by SuperValu Ireland.
MOTORSPORT IRELAND
As a consequence of the ongoing health emergency and in accordance with the measures being implemented globally to counteract and contain the spread of COVID-19 all events permitted by Motorsport Ireland are suspended until the 1st June 2020. This date may be revised but we will at all times be guided by government policy and what is the right thing to do on a national level. All clubs affected by this suspension of events will be reimbursed the deposits which they have paid to Motorsport Ireland and we encourage those clubs to work directly with us with a view to hopefully running their events at a later time. These are extraordinary times such as we have not experienced before but one thing is certain we will come out of this, unfortunately no one can put a time on when that will be. Our thoughts go out to the victims and their families that the virus has affected and to all those club members who for months have been devoting time and energy to the preparation of their 2020 events. We share their disappointment and wish to express our solidarity and support.
COPE FOUNDATION
Cope Foundation, one of Ireland's largest disabilities organisations, is reaching out to the broader community and asking them to come together for a virtual coffee break on Tuesday 24th March. Cope is a non-profit organisation which supports over 2500 children and adults with intellectual disabilities and/ or autism in Cork city and county. All fundraising events and campaigns have been cancelled due to the Covid19 pandemic. However, our essential work is still very much needed in the community, so we need to look at ways to raise awareness and funds during these extraordinary times. Most people are now confined to their home, and thousands are #WorkingFromHome. However, we all still need our coffee break and chats! Cope Foundation is asking you to come along and join their virtual coffee break event any time on Tuesday to help others who need it most. So stick the kettle on, make your cuppa and: 1. Text COPECORK to 50300 to donate €4 to Cope Foundation; 2. Take a screenshot of your confirmation text and share that along with your #Cup4Cope selfie or coffee cup pic and 3. Share online using #Cup4Cope (Twitter, Facebook, Instagram or LinkedIn). Invite your colleagues and friends to join you and enjoy the chats.
McLAUGHLINS PHARMACY BANDON
McLaughlins Pharmacy are running an initiative in conjunction with Deirdre Gallagher of DG Therapy Services. We came up with 'Mind Your Mind', which outlines the various go-to pillars that will help people to cope with the current stressful situation we face. It kicked off today with the first of 9 consecutive day tips on how to 'Mind Your Mind' and if it helps people in any small way, it's a massive deal for us! This is not our area (although we very much specialise in care.) but we've a huge interest in it which is why we teamed up with Deirdre to bring this to life and try and help people in any way we can. The daily tips started on Thursday and you can find them here: https://www.facebook.com/McLaughlinspharmacy/
SOCIAL WELFARE PAYMENTS
Minister for Employment Affairs and Social Protection, Regina Doherty, announced today that a single payment to cover two weeks will be made to social welfare customers, beginning next week (Monday, 23rd March) as a special response to the Covid-19 pandemic. The single payment giving two weeks of entitlement will be made on some social welfare schemes next week. Customers on the remaining schemes will be paid the two weeks entitlement in a single payment the following week. These payments will be made to customers who collect their payments at post offices and who are paid into a bank account.
Minister Doherty explained:
"We have to look at every possible measure we can take to promote social distancing. Rather than have recipients attend post offices weekly, we will be paying two weeks' worth of benefit to cover the weeks of the 23rd March and 30th March to some clients and the weeks of the 30th March and 6th April to others to reduce the frequency of people showing up to collect their entitlements. We will continue to review how we provide our services throughout the current Covid 19 situation."
COUNCIL RATEPAYERS
Statement from Cork County Council: Cork County Council is cognisant of the unparalleled impact on individual citizens and the general economy of the Covid 19 Outbreak. It is clear that the challenges to be overcome will require a significant collaborative effort by stakeholders at a national and local level to help address the current crisis and then bring about longer term recovery. The rapid adverse effect across the entire economy is without recent precedent. The full extent and duration of this difficult period and the longer term consequences for the economy as a whole are unknown at this juncture. However, the supports and incentives necessary to assist the business community through this period will require national consideration and a countrywide approach. In the immediate term, in any engagement with individual ratepayers regarding the discharge of rate liability, Cork County Council will have due regard to the current challenges facing business owners, including restricted cash flow and business closures. Ratepayers experiencing such difficulties are strongly encouraged to contact their Area Collector or the Rate Collection Office to discuss options and arrangements at the earliest possible time. Along with enabling us to work closer with individual ratepayers it also enables us to gain a deeper understanding of the matters arising and the potential impact of this unprecedented situation.
BANTRY HOSPITAL
We are 2gether4bantryhospital group and in response to the current situation with Covid-19 we have had a great response from the local community to assist in volunteering with the more vulnerable among our community. We have organised a group of people locally. We wish to assist in practical ways and through regular phone contact to counteract isolation impact. We are tying in with Local Link Bantry in doing this as they are providing a fantastic regular service of phone contact and pharmacy delivery service. If there are other ways you think we can assist please let us know. We are also dealing with local supermarkets and the Bantry branch of the Red Cross. Community spirit is alive and well in West Cork. Contact: 087 9540779 and
[email protected]
AN POST UPDATE
A further range of measures designed to assist customers in managing post office visits while maintaining access to cash has been unveiled this afternoon by An Post. The move comes after DEASP announced that welfare benefit payments in post offices will be brought forward and paid on a double (two-week) basis to reduce the need for customers to leave home during the COVID-19 crisis. This will enable customers or those nominated to collect payments on their behalf to maintain social distancing and plan shopping and household budgeting over a two-week period. Commencing Monday 23rd March, the payment of Social Welfare in Post Offices will be brought forward by a week resulting in the payment of two weeks' Social Welfare Benefit. The timing of the payment will be dictated by the customer's particular scheme or benefit type. For those schemes/benefits where the payment is not brought forward next week, these payments will be brought forward for double payment during the week commencing 30th March. Post Offices are also implementing upgraded social distancing measures including earlier opening hours on traditional pension payments days, enhanced security and distancing measures in post offices and the extension of the 'Temporary Agent' facility for customers. Further protections for customers will be introduced in the coming days. Further information at anpost.com/covid-19
ASTHMA SOCIETY
The Asthma Society of Ireland is assuring the 380,000 people who have asthma in Ireland, and the 500,000 people with COPD that there is no national shortage of asthma and COPD medication and appealing to patients to refrain from stockpiling medications during the current coronavirus pandemic.
CLEARY'S PHARMACY SKIBBEREEN
To all our regular customers: in the weeks going forward, please do one favour for us. Please, order your normal prescription four to five days in advance of collection if at all possible. This will reduce the pressure on our hard working staff and also make the waiting time for urgent prescriptions less. You can text in your order, or WhatsApp it, to 0873466448 at any time day or night. Alternatively, phone us at 028 21543. If you have an urgent prescription, please also do the same and we will arrange as quickly as possible. Please pass on this message to anyone you think might need it.
CORK CITY MARATHON
In light of the country's move to the delay stage of Covid-19 management and in the interest of public health, the Cork City Marathon, which was due to take place on May 31st, has been postponed until 6th September 2020. Participants who have already entered will be automatically deferred to the rescheduled date.
AN POST UPDATE
Post Offices to remain open and adapt measures for safe usage: Postmasters have assured the public that in the current Covid-19 pandemic Post Offices are remaining open as an essential service to local communities – and measures have been agreed with An Post to prioritise public safety. The Irish Postmasters' Union General Secretary Ned O'Hara said: "Social distancing will require Postmasters to limit the number of customers in the premises at any one time. 'The IPU also understands that the Department of Social Protection is working with An Post and will shortly announce new service arrangements to support social distancing. Hand sanitisers are being installed in all Post Offices as they become available and health and safety notices on social distancing are being placed in queuing areas. Opening hours are being extended and adjusted to suit local requirements and this is being kept under review. To reduce risk An Post has made an arrangement for vulnerable people to appoint a Temporary Agent for the collection of payments. Postmasters recognise the need for this measure and will be vigilant and observant of any risk of financial abuse.' Mr O'Hara stressed that the appointment of a Temporary Agent to continue collecting payments locally, will help to sustain local economies during the crisis and into the future. 'Where a Postmaster may have to self-isolate, arrangements will be made for payments to temporarily be available in a neighbouring Office. Postmasters would like to thank the public for the ongoing high-level of co-operation and support. If people have any particular concerns or questions they can phone their local Postmaster who is committed to being flexible and to serving the public, while fully supporting the national effort to minimise social contact,' Mr O'Hara concluded.
SEAFEST CORK
In light of the rapidly evolving situation and public health measures due to the coronavirus, a decision has been taken to cancel SeaFest, Ireland's National Marine Festival, which was due to take place in May 15-17 2020 in Cork. In taking this decision our priority was to ensure the health and wellbeing of both exhibitors and visitors at the event. We look forward to welcoming everyone to SeaFest again in 2021. European Maritime Day, which was scheduled to take place in Cork to coincide with SeaFest, is being deferred and new dates are being considered.
CUH MATERNITY HOSPITAL
Management at the Cork University Maternity Hospital have taken the following precautionary measures regarding visitor restrictions at the hospital with immediate effect:
Women admitted for induction of labour or in labour can have one nominated visitor
For all other inpatients, including Antenatal inpatients and Postnatal inpatients: No visitors allowed
For patients in the NICU: One parent only
For Outpatients: Only the women attending the appointment – No partners, children or companions
This is in the interest of patient care and in order to prevent the spread of infections within the hospital. Management regrets any inconvenience caused to patients and relatives by these necessary measures.
The situation will be reviewed on a daily basis.
The HSE has a page with information on COVID-19 Virus Infection and Pregnancy information for pregnant women and their families here.
Patients who suspect they may have Covid-19 symptoms should contact their GP or Public Health via telephone first: Public Health Number: 021 4927601 24-hour COVID care line: 1850 24 1850.
THE FILLING STATION
The Filling Station will be trading on the usual days at your markets BUT in a slightly different way to usual, to maximise social dstance and avoid physical contact: Customers place bottles for refills on the green mat. Customers please stand back from the stall while waiting for refills. Refills will be placed on the green mat. Customers place money in bowl on green mat, and collect change from same bowl. Thank you! We will make every effort to create a positive and safe atmosphere for you to shop in.
See you at the market! The Filling Station will be back at Clonakilty market after Easter.
AN POST
Covid-19: Extended opening times and signing procedures to lower risk to customers and staff. From today, An Post is taking a range of special measures to ensure the health and safety of customers and staff while maintaining Post Office and Mails & Parcels services nationwide. Post Offices and Financial Services: An Post and the Department of Employment Affairs and Social Protection (DEASP) are working closely on measures to assist customers and help the national effort to tackle the COVID-19 crisis. The majority of post offices will open from 8am this Friday, 20th March to facilitate OAPs who wish to conduct their business ahead of other customers. Customers impacted by Covid-19 may nominate a 'Temporary Agent' to act on their behalf by completing, in advance, a form available at post offices and online at anpost.com/tempagent. Post Offices have introduced Social Distancing and other practical measures to safeguard customers and staff. Post Office staff will capture customer details directly, avoiding the need for customers to handle counter equipment such as signing pads and pens. Display boards, floor signs and staff will remind customers to remain apart from other people while in the Post Office. Mails & Parcels Services: Due to the exceptional commitment of postal staff throughout the country we endeavour to maintain collection and delivery services for as long as possible. Customers are no longer being asked to sign for mail deliveries requiring signature, rather the Postperson will sign to confirm the delivery in the presence of the customer. Undeliverable items will be kept at An Post local delivery offices for collection by customers on production of proof of address and photo ID. Flight cancellations to and from a growing number of countries is impacting international services. See anpost.com for full details. A stamp price increase scheduled for March 18 has been postponed indefinitely while the country is in crisis.
AN SANCTÓIR BALLYDEHOB
An Sanctóir is now closed for public events until at least March 30th due to the covid-19 virus precautionary measures. We wish you all good health and strength and look forward to welcoming you back soon and celebrating being able to gather together again. The land here remains open but we have temporarily closed off some walkways which have become very waterlogged to give them a chance to recover.
ST PATRICK'S DAY MESSAGE
Cork's civic and religious leaders will address a shared message of civic and spiritual solidarity and support to the people of Cork on St. Patrick's Day. Cllr John Sheehan, Lord Mayor of Cork along with Right Rev Paul Colton, Bishop of Cork, Cloyne and Ross will join Bishop Fintan Gavin, Bishop of Cork and Ross at the North Cathedral, Cork. They will each address a message to the people of Cork and Cork people everywhere which will be broadcast over the Cathedral's webcam at www.corkcathedral.ie <http://www.corkcathedral.ie>

TEAGASC SERVICES
Teagasc advisory offices are open for pre-arranged appointments only and for staff who are unable to work from home. Each Teagasc location will set up one bio-secure office for essential one-to-one consultations. This will involve a double desk with a clear Perspex divider and a computer with 2 screens. Clients will be asked to wait in their cars to prevent contact in waiting areas and where essential clients may also have to sign forms in the office parking area. All Teagasc Basic Payment appointments will now be processed over the phone rather than an office consultation. Teagasc staff will contact farmer clients in the coming weeks. BPS application for clients, in so far as possible, will be done over the phone. All appointments to get Derogation plans completed for farmers will be processed over the phone rather than in an office consultation. Prior to application submission clients will be asked to signify agreement to the application through email or text. Teagasc staff will contact clients to make arrangements. On farm, Teagasc farmer discussion group meetings are being replaced with one hour phone meetings between farmers and their advisor. Farm visits by Teagasc advisors are taking place at the clients request and only for urgent issues. Social distancing and hygiene protocols will be adhered to. Visits for programmes where work can be completed with no contact with the farmer will continue. The Teagasc agriculture and horticulture colleges and education centers are closed to students in line with the government decision that schools and third level colleges close over the period 13 March to 29 March. Teagasc education staff, where practical, are working remotely. In the event that the closure of all schools and colleges is prolonged, Teagasc is arranging that guidance for self-study of theory elements of courses will be communicated through online channels. All Teagasc events have been postponed until further notice. This includes farm walks, conferences, and seminars. The transfer of information and knowledge to farmers and students will be through regular digital communication methods.
PLAYGROUNDS CLOSED
Cork County Council wishes to advise that with immediate effect all Council operated playgrounds, skate parks and Multi Use Games Areas are closed. Arrangements are currently being made to implement these closures and while recognising that not all playgrounds can be closed off physically, appropriate signage will be erected to warn against their use. Cork County Council acknowledges the specific HSE advice to parents on playgrounds which states, "While some playgrounds may be closed, those that are open may still be visited - but it is important to stress that appropriate social distancing, hand hygiene and respiratory etiquette measures need to be maintained in all situations." However, Cork County Council recognises that in the present circumstances, and particularly recognising that schools are closed, that weather conditions are improving and that there was significant usage of playgrounds over last weekend, it is prudent to take these step in the interests of public welfare.
MASSES CANCELLED
'In light of the continuing measures to protect public health announced by the Government including the requirement that the attendance at any event such as Mass must not exceed 100 people and that social distancing should be exercised, I now extend the request that the celebration of a public Mass with a congregation be discontinued also on weekdays. Mass today (Monday March 16th) will be the last public Mass with a congregation, apart from funerals and weddings, until further notice. Churches will continue to remain open for private prayer. Prayer resources are presently being prepared which people can use in their homes and should be available soon on the diocesan website - www.corkandross.org' – Bishop Fintan Gavin
GEN Z & TEEN TALKS EVENTS
All Gen Z and Teen Talks events have been cancelled until further notice
BRITTANY FERRIES UPDATE
Changes France-Ireland routes:
Brittany Ferries will cease its weekly rotation connecting Roscoff in France with Rosslare in Ireland. Kerry will, however, continue two rotations per week, carrying freight between Rosslare and Bilbao in Spain. We are systematically contacting all affected customers by telephone, email and SMS but there is enormous pressure on our contact centre staff. The speed of response may not be up to its usual standard for which Brittany Ferries apologises in advance. Passengers are being asked not to contact us by telephone but to visit the website www.brittany-ferries.co.uk/routes/sailing-updates for latest information. Brittany Ferries very much regrets the effect that this ongoing disruption will have on customers. Directors will continue to monitor the situation with a view to resuming normal service as soon as the situation allows. We respectfully ask all customers who are not booked to travel within the next two weeks to delay contacting our customer call centres. In addition, normal two-way interaction via social media may not be possible due to the volume of enquiries and availability of staff. Brittany Ferries apologises in advance for delays in usual response times.
CHURCH OF IRELAND SERVICES
Bishop Paul Colton is asking that all Services in the Diocese of Cork, Cloyne and Ross, be cancelled from today (16th March) until the given review date of 29th March, inclusive.
VINCENT DE PAUL
The Society of St Vincent de Paul in the South West region (Cork/Kerry) has announced that it is continuing to support people who request their help during the current delay phase of COVID -19 CORONA VIRUS.
Those seeking to contact the SVP are asked to use its telephone or online facilities as the
walk-in service at the Regional offices in Cork city and other offices in the Region will be
closed. This is to protect visitors and staff and release staff to deal with any increased calls for
assistance that may occur. Depending on the situation with local Conference home and emergency accommodation
visitations may be curtailed but alternative arrangements will be made to provide support.
SVP volunteers and members with underlying health issues or with immediate family with such issues have been advised to take extra precautions and not to attend meetings/visit clients.
All Vincents shops in Ireland are now closed until further notice in order to protect both our customers and our staff/ members alike. SVP church gate and supermarket collections are cancelled for the foreseeable
future. If you wish to request help from SVP the contact details are
Telephone: 021 4270 444
Email: [email protected]
KINSALE 7S
The Corona Virus Pandemic has resulted in the mass cancellation of many events worldwide. We had hoped to host the Heineken Kinsale 7s as scheduled on the May Bank holiday weekend this year. However, after careful consideration, consulting with stakeholders and speaking to medical professionals. We are unfortunately announcing the cancellation of the Heineken Kinsale 7s for 2020. The health and well-being of our volunteers, sponsors, patrons, guests and the surrounding area of Kinsale is our utmost priority. It's with a heavy heart this decision was made, and the gravity of the situation has been made abundantly clear by the Dept of Health, the Chief Medical Officer, the HSE and the government. Apologies again and should you have any questions. Please feel free to get in touch. (from www.kinsale7s.com)
JOBSEEKERS' PAYMENTS
Jobseeker Emergency Payments Guide: Employees affected by temporary layoff do not need to present in person at their Intreo Offices or social welfare branch offices. As a result, the completed COVID19 Jobseekers Emergency Payments form can be returned to the local Intreo Centre Office or the local Branch office of the Department in the county town areas. Alternatively, employees can post it to PO BOX 12896 Dublin 1.
KINSALE COLLEGE
Due to the Covid 19 outbreak and in line with Government and HSE guidelines Kinsale College has made a decision to postpone the Open Day in April 2020 and as a result we are postponing our advert with your company until further notice. We will be in touch again at a later date
SAILING IN BALTIMORE
Irish Laser Association and Baltimore Sailing Club have decided that it will not be possible to hold the Munsters in compliance with current advice issued from HSE.
'It is not possible to run an event of this size and comply with separation protocols on the shore, and although these are currently in place until March 29th, Baltimore SC and Irish Laser Association have taken the decision now to postpone the event, giving everyone as much notice as possible,' said a spokesperson.
Details of the rescheduled event will follow in the immediate future.
BRITTANY FERRIES
Brittany Ferries has outlined a series of changes to its schedules – which includes its service to Cork – in response to the on-going Covid-19 crisis.
Following her dry-dock in Poland, 'Pont-Aven 'will not return to service on Tuesday as planned on March 17th until at least April 10th.
'Pont-Aven' was scheduled to serve the following destinations: Portsmouth-Santander-Plymouth-Roscoff-Cork.
These changes will be reviewed by directors in the days and weeks to come. All passengers with existing reservations will be offered a full refund. Where possible - and acceptable to the traveller - alternative arrangements will be made on other Brittany Ferries services.
'On behalf of everyone in the company, I would like to apologise for the significant disruption this will cause to many customers,' said Christophe Mathieu, CEO Brittany Ferries. However, under the extraordinary circumstances of the current crisis, we have no option but to take decisive action now to respond to the challenges we face. We thank everyone for their understanding at this difficult time."
It is likely that customer relations teams in all markets will be extremely busy in the days to come. In addition, normal two-way interaction via social media may not be possible due to the volume of enquiries and availability of staff.
Brittany Ferries apologises in advance for delays in usual response times.
DARKNESS INTO LIGHT
'Darkness into Light', the flagship annual fundraising event for suicide prevention charity Pieta has been postponed until the autumn due to Covid-19. Chief executive Elaine Austin has reassured the many local organisers and fundraisers that the event, which has such significance for the many Irish people whose lives have been touched by suicide, will go ahead at a later date
Over 250,000 people were expected to come together in the pre-dawn hours of May 9th in almost 20 countries worldwide, but, given the evolving situation in relation to Covid-19 and mass gatherings, the charity has taken the decision the postpone the event until the Autumn.
'While the decision to postpone this year's event was difficult, the safety of local committees, fundraisers and the thousands of people who gather together to participate in Darkness into Light is our highest priority,' she said.
'The event will indeed take place, but at a more appropriate time when the threat of the corona virus has passed. We are assessing an autumn date and will confirm this as soon as possible.'
WEEKDAY MASSES
The Bishop of Cork & Ross has written to all priests in the diocese requesting that weekday masses be also discontinued from today March 16th. 'I now extend the request that the celebration of a public mass with a congregation be discontinued also on weekdays. This also applies to station masses. Mass today will be the last public mass with a congregation, apart from funerals and weddings, until further notice,' said Bishop Gavin.
'I would encourage each priest to continue to celebrate mass privately for the people of the parish and where available, to have it broadcast via webcam. My hope is that the people of your parish, while not able to join you physically, could join you spiritually in that mass. Mass will continue to be live streamed each day from the Cathedral at www.corkcathedral.ie
'Churches will remain open for private prayer. Prayer resources are presently being prepared which people can use in their homes and should be available soon on the diocesan website. Funerals, weddings and baptisms can continue to be celebrated.
I would encourage you to keep such celebrations to immediate family and close friends. The health authority's norms on limiting attendance at indoor gatherings to 100 people and the norms regarding social distancing are strictly binding on all.' Bishop Gavin is urging everyone to take precaution with their health.
'In these difficult times, we keep one another and those we serve in our prayers and we continue to offer Christ's message of comfort and hope in whatever way we can.'
BERE ISLAND
The Bere Island Project Group CLG has asked the public not to visit Bere Island until the end of March to help protect its community. They are also asking residents to limit travel in and out where possible. Also, the island's heritage centre is closing until March 30th.
PUBS CLOSURE
Several pubs and restaurants in West Cork have announced they will be closing from today or tonight until further notice with many more expected to follow suit as the crisis continues. Cork city has seen several bars close including 15 of the Heritage Bars owned by Benny McCabe, which include The Crane Lane and Mutton Lane Inn. Other city bars closed include Electric, Reardens, The Oliver Plunkett and many more.
CLONAKILTY
Scannells Bar,
An Sugáin,
Apple Bettys,
The Courtyard and the
Arís Café and Wine Bar
Shanleys Bar
BANDON
The Munster Arms Hotel
Copper Grove Bar
The Old Market Bar
Warren Allen Collections
SKIBBEREEN
CROSSHAVEN
CASTLETOWNBERE
BANTRY
Wharton's Wild Atlantic Fish & Chips in Bantry
O'Connor's Seafood restaurant
WEST CORK'S GOT TALENT
West Cork's Got Talent Junior & Senior Finals that were due to take place in Bandon which is in aid of Jack & Friends Centre For Autism have been postponed.
A new date will be announced shortly. Please keep your tickets as they will be valid for new dates.
RYANAIR FLIGHTS
Ryanair has released a statement to reassure their customers during the Covid-19 crisis.
CEO Michael O'Leary said the airline wants to reassure passengers that they are doing everything they can to minimise risk and that they have raised many of their procedures, beyond the protocols required by the authorities:
· We have enhanced our overnight cleaning with every aircraft interior being treated with hospital-grade disinfectant.
· Our fleet is fitted with extremely efficient HEPA (High Efficiency Particulate Arrestors) filters, which remove particles in the air, down to the size of microscopic bacteria and virus clusters (with an efficiency of better than 99.99%).
'We hope these policies will reinforce your confidence so that you can book your flights with Ryanair as this Covid-19 crisis will pass and life will return to normal.We are well prepared to face these challenging times and we are working hard to put the safety of our people and customers at the forefront of all our services,' said Mr O'Leary.
ALL PUBLIC WEEKEND MASSES DISCONTINUED UNTIL FURTHER NOTICE
Bishop Fintan Gavin of the Cork & Ross Diocese has said all public weekend masses are discontinued until further notice.
Weekday masses, baptisms, weddings and funerals will continue with less than 100 people present.
Bishop Gavin will celebrate mass in the Cathedral at 11.30am on Sundays and this will be live streamed on www.corkcathedral.ie
BANDON PARISH
All masses in Bandon Parish including weekend and weekday are discontinued until further notice.
Bishop Fintan has made necessary changes to ensure all parishes in the Diocese of Cork & Ross adhere to these restrictions.
Gatherings must be less than 100 people and given the normal attendance numbers at morning mass, we can not ensure we adhere to this restriction.
Bishop Fintan has asked that Priests offer Mass privately for the people of the Diocese.
SKIBBEREEN CANCELLATIONS
This weekend at St Patrick's Cathedral in Skibbereen there will not be public masses.
The cathedral will be open for personal prayer.
The Newsletter is available at the door with up-to-date information.
Skibbereen Chamber of Commerce is postponing its networking events and meetings for now,
St Vincent de Paul Society Skibbereen have made the decision as a precaution to cancel the bingo held in Abbeystrewery Church Hall on Monday night and they will reschedule at a later date.
CORK UNIVERSITY HOSPITAL (CUH)
Further to previous notification, Cork University Hospital will be reducing/rescheduling outpatient appointments from Monday 16th March. Please note the following services will not be impacted and patients are to attend as per their appointments:
Dialysis
Dressing clinic
Warfarin clinic
Endoscopy
Cystic Fibrosis
Infusions
Radiology
Hepatology
Gastroenterology
Therapies: Physiotherapy, Occupational Therapy, Dietetics, Speech & Language
All regional cancer centre appointments in the Glandore and Orchid Centre
EEG/EMG
Cardiology Diagnostics
Ophthalmology outpatients
All other appointments are being rescheduled, unless patients are directly contacted by the hospital to attend their scheduled appointment. Surgeries will proceed as normal unless patients are contacted by the hospital and advised otherwise. Cork University Hospital apologises for any inconvenience this may cause to patients.
Visiting restrictions remain throughout the hospital and CUH wish to thank the public for their patience and support at this time. The hospital will continue to keep the public updated. If you have a query in relation to COVID- 19 please contact the national helpline on 1850-24-1850. Also the most up-to-date information will continue to be available at www.HSE.ie/coronavirus
WORKING ARTS STUDIO SKIBBEREEN
Due to the sensible and responsible precautions being taken to limit the spread of Covid-19, we have cancelled tonight's exhibition opening of Michele O'Connor Connolly's 'The Conversation is Open'. We regret any inconvenience cause but know that you will agree with and support our decision. Go raibh míle maith agaibh, stay healthy, Paul & Marie.
MACRA NA FEIRME
In an effort to protect its members and reduce the risk of Covid-19 transmission, Macra na Feirme has suspended all competitions, face-to-face meetings, events and international travel until further notice.
'This is an unprecedented situation and it is imperative that we all play our role in helping government succeed in protecting the Irish public from Covid-19,' said Thomas Duffy, Macra na Feirme national president.
Macra na Feirme sent a notice out to members on 12 March 2020, notifying them of the immediate suspension of activity. Macra na Feirme National Office staff have been advised to work from home until further notice but staff can be reached by email and where possible on their mobiles.
'As an organisation that serves young people, our foremost concern is the health and wellbeing of our members and staff. The government has sent a clear message that Covid-19 is a public health threat and we do not take those concerns lightly' stated Macra na Feirme chief executive Denis Duggan. In regard to club and county activity including meetings, instructions have been given to members to suspend all meetings and make use of technology to ensure social distance.
ACCESS CREDIT UNION
As the COVID-19 Coronavirus outbreak has now entered the 'Delay Phase', Access Credit Union (formerly Skibbereen and Bandon Credit Unions) is taking the necessary steps to ensure continued service and access to funds.
'We have a robust business continuity plan, and in the unlikely event, that we have to close our branches you can still have access to your funds online or through your current account and our member service team will be there to answer your calls,' they have said.
'The continuity plan is continually being reviewed, and we have put measures in place to allow staff to work remotely, so the credit union can continue delivering services to our members and answering queries as they arise.'
For now, business continues as usual, and all branches remain open.
In a statement, Access added: 'We have introduced new hygiene measures in our branches. All of our tellers are wearing gloves to minimise any possible transmission and, we have marked one-metre spacing in our queue lines, and we ask members to keep this gap from other people while waiting in the queue.
If you do not want to visit the office or want to set up online banking or open a current account, please follow the links: Go to https://www.accesscu.ie/Register-for-Online-Access to register for online access to our Online Banking facility or go to https://www.accesscu.ie/Current-Account to open a Current Account. Keep an eye on www.accesscu.ie as well as social media for further updates.
CORK COUNTY COUNCIL MEETINGS
Cork County Council wishes to advise that there will be a number of changes to its current meeting schedules. Divisional meetings scheduled for Monday March 16th have been cancelled. All Municipal District meetings together with all other committee meetings, such as Strategic Policy Committee, scheduled up to March 29th have been cancelled. The Development Committee meeting schedule for Friday March 20th has also been cancelled.
Cork County Council's Full Council meeting scheduled for Monday March 23rd will take place. However, in the interests of staff and public health this meeting will not be open to the public or members of the media. The meeting will take place with a minimum number (quorum) of members in attendance in order to conduct statutory business only. Any statutory business scheduled for MD meetings next week will automatically go to full Council on March 23rd.
Cork County Council will continue to review its service arrangements in light of this emerging situation.
REFUNDS FOR CANCELLED EVENTS
Applications for refund of Special Exemption Orders for events cancelled due to Coronavirus COVID-19 will be accepted for any events cancelled between March 13th 2020 and March 29th 2020. Documentation to be provided to apply for a refund:
• Completed Fee Refund form
• A copy of the licence granted in court confirming the stamp paid, and a licence date between March 13th March 2020 March 29th 2020. The date ranges for refunds due to cancellation of events will be kept under review and in line with any further Government announcements.
ELEANOR SHANLEY AND MIKE HANRAHAN
The above gig, scheduled for Friday March 20th in Casey's of Baltimore, has been cancelled. The organisers hope to reschedule at a later date but if you are seeking a refund call 028 20197.
BANDON DISTRICT COURT
As there is no Judge available to take the list next Monday the court will be adjourned. This is not due to coronavirus and there are no decisions made, as yet, of any changes to other court dates as a result of the virus.
All custody remand cases shall stand remanded to the next Court to be held in the District which is Macroom District Court on March 18th March and all other matters are adjourned to the next sitting of the District Court in that Court Area which is Bandon on March 19th. To paraphrase the above: all custody cases to Macroom on the 18th and all other cases to Bandon on the 19th.
MASSES IN KERRY
From now to Thursday next: Regarding masses (daily and weekend) and other liturgies in the context of Covid-19 pandemic, the diocese of Kerry will celebrate no public masses this weekend or St Patrick's Day. No public weekday masses will be celebrated.
TROCAIRE LENTEN APPEAL
Trócaire has taken the decision to cancel all public outreach activities in Cork and nationwide during the development agency's Lenten Appeal. Trócaire CEO Caoimhe de Barra said: "Each year, our teams travel all over Ireland throughout Lent to deliver talks, exhibitions and other events aimed at highlighting our campaign and raising the funds needed to help millions of people around the world. 'This is a vital time of year for Trócaire's fundraising, but the safety of our supporters, volunteers and staff comes first.
In light of the risk posed by COVID-19, we believe it is the responsible decision to cancel these events this year. We have also taken a number of other steps to help in the fight to stop the spread of the virus, including cancelling all but essential travel from Ireland to our programmes overseas.
Our teams around the world will continue to carry-out life-saving programmes, thanks to the generosity of people in Ireland. But we must do what we can to guard against spreading the virus and putting the people we work with at risk.' COVID-19 has been identified in five of the countries Trócaire works in. All currently have lower infection rates than the island of Ireland.' Cork can still donate online at trocaire.org/donate or by phoning 1850 408 408.
ARTS AND CULTURE
The Minister for Culture, Heritage and the Gaeltacht, Josepha Madigan TD, has met with representatives from the National Cultural Institutions, The Arts Council and the wider arts community following the announcement of new, unprecedented measures to combat Covid-19 and protect public health.
They discussed the measures announced and their effects on the organisations and the sector in general. It was decided to monitor the impact on the sector and to continue robust engagement in relation to the matter and to ensure continued cooperation in respect of implementing Government measures.
The measures include the closure of all Cultural Institutions until March 29th. It is advised that indoor mass gatherings of more than 100 people and outdoor mass gatherings of more than 500 people should be cancelled. Organisations and individuals currently funded under the Arts Council Strategic Funding, Arts Centre Funding, Arts Grant Funding and Festival Investment Scheme, Round 1 have been advised that the Arts Council will honour all funding commitments that have been made to them and that there will be no financial penalties for organisations/individuals that are unable to deliver key activities/key services arising from the impact of the COVID-19 virus.
Organisations that may face cash flow challenges during this time will be able to draw down up to 90% of their Arts Council funding commitment, with immediate effect. This should, in turn, assist them in honouring immediate financial commitments.
Organisations are asked to prioritise commitments to artists – as this is a particularly challenging time for them. In relation to National Parks, visitor centres are closed but parks and reserves remain accessible to the public. Visitor facilities at National Monument sites which are operated by the Office of Public Works are also closed.
All Gaeltacht, Irish language and island development organisations and island transport service providers are prefunded in order to ensure that they can meet their financial commitments until the end of May.
This measure will provide a level of comfort for employees of these organisations and ensure that they continue to be paid as normal in the medium term at least.
DRIVING TESTS
The Road Safety Authority (RSA) sought and has received advice from the public health authorities who are managing this public health crisis. Based on that advice we are suspending all driving tests following the conclusion of the last test today Friday 13 March 2020.
The suspension of driving tests will run until 29 March 2019 and this will be kept under review. We understand that this will cause inconvenience to our customers, but it is the correct measure to take given the public health advice concerning social distancing and given the personal nature of the driver testing service.
RSA driver testers are in are close proximity to members of the public, in a confined space, for up to 40 minutes on each driving test. Those who have a driving test scheduled during this period will have the test rescheduled free of charge and we will be directly in contact with candidates in the coming days.
Updates around the re-starting of driving tests will be published on rsa.ie and RSA social media. For those who wish to make a normal application for a driving test please be advised we are continuing to receive and process applications as usual. However, appointments will not be scheduled in such cases until the driver testing service resumes.
Where there are exceptional circumstances eg. emergency and essential service drivers, needing a driving test, we will make all reasonable efforts to accommodate these customers.
GREAT IRISH BAKE
The Great Irish Bake for Temple Street, that was scheduled to take place this April, has been postponed until Friday, 5th June.
Temple Street Foundation has made the decision in light of the current COVID-19 situation to protect the well-being and health of supporters, patients and families around the country. The Great Irish Bake for Temple Street, proudly supported by Gem, will now take place in the summer and members of the public can register online or by phone to host their own baking event and help raise vital funds for sick children.
MERCY HOSPITAL
Between now and March 29th, the Mercy University Hospital has instigated
severe reductions in activity.
1. All out-patients appointments are cancelled with effect from
Monday next (March 16th)
2. All elective surgery is being cancelled with effect from Monday next (March 16th)
3. All day case procedures, inclusive of endoscopic and pain procedures are being cancelled with effect from Monday next March 16th). There will be exceptions to the situation to address critical needs. In such cases patients will be contacted directly by the hospital and provided with appointment details. Please do not attend the hospital unless you are contacted by the
hospital and provided with a specific appointment.
CORK COUNTY COUNCIL MEETINGS
Following a special meeting of party and group leaders this morning a decision has been taken to defer all Cork Council meetings until 29th of March and then re-assess the situation. The provision of Council services will continue to be provided where possible and will be monitored on a daily and weekly basis.
Any issues of public concerns can be dealt with through elected members or Council staff directly over the phone. Any pending closing dates for grant applications will be extended and decisions on pending grant applications will be postponed for now.
TEACHERS' CONFERENCES
The three teaching unions, the ASTI, INTO and TUI, have today taken the decision to postpone our forthcoming Easter conferences. We have taken this decision having kept the developing Covid-19 situation under review over recent weeks and in light of the measures announced by Government yesterday.
At all times, the health and safety of our members, our students and the general public is of paramount importance. We urge our members to follow all public health advice provided as our country seeks to deal with the challenges posed by this unprecedented health crisis.
MICHAEL COLLINS TD OFFICE
Cork South West Independent TD Michael Collins has closed his offices in Bandon, Skibbereen and Bantry until he gets further instructions and all clinics have been cancelled. He has advised anyone with queries to contact him on 086-3174606.
LONDON IRISH CENTRE
We are very sad to announce postponement of all four St. Patrick's events at the Centre. We have taken this decision as a precaution, and in line with global actions being taken in response to the fast-changing coronavirus crisis.
We are equally sad to announce that the London St. Patrick's Day Festival, for which we are Creative Partner, has been cancelled. The health and wellbeing of our vulnerable and elderly clients is our top priority. We are also very conscious of the safety of our audiences, artists, volunteers, and staff.
We simply cannot justify bringing together crowds of people, especially the vulnerable, in the midst of this pandemic. Many months of planning and preparation went into our programme, so we postpone these events with a heavy heart. However, we will be back.
As well as planning service continuation for our vulnerable clients, we are already working hard to reschedule events and will have updates soon. Full refunds will be made to all ticketholders who would like a refund. Any queries to [email protected].
NATIONAL TREE WEEK
Coillte in partnership with the Tree Council of Ireland has made the decision to postpone National Tree Week 2020 and all related public events until further notice. 'We understand this will disappoint many people who had arranged Tree Week planting events around the country, but we must prioritise the health and wellbeing of our communities.'
DE BARRA'S CLONAKILTY
All music events at DeBarras have been cancelled for the rest of March. Where shows are ticketed we are currently looking to reschedule them. Refunds are available at the point of purchase for these shows. However, if possible, to support artists, we would ask you to consider holding onto your ticket until dates are rescheduled. For more details visit debarra.ie
DOWN SYNDROME IRELAND
In the interest of public health and to help protect our members with Down syndrome, their families, our staff and volunteers from the spread of COVID-19 Coronavirus, Down Syndrome Ireland has made the decision to postpone our planned World Down Syndrome Day Celebrations in the Phoenix Park on March 22nd until further notice.
Our annual Purple Run will take place at a future date to be agreed. Please note that all existing registrations will be valid for the new date. Down Syndrome Ireland is in urgent need of funds during this difficult time - donations of any size through www.downsyndrome.ie would be greatly appreciated.
WEST CORK RALLY
The Clonakilty Park Hotel West Cork Rally is has been postponed. Check out our Facebook page or the website for full details.
WEST CORK SCHOOLBOYS LEAGUE
The 2020 West Cork Schoolboys League season was due to get underway this weekend - but the kick-off has been postponed until further notice.
GAA
All GAA at club, inter-county and educational level has been suspended until March 29th.
CORK INSTITUTE OF TECHNOLOGY
All CIT campuses will be closed from 6pm this evening (March 12th) as per Government instructions. This includes all campus locations:
CIT Bishopstown Campus
CIT Cork School of Music
CIT Crawford College of Art & Design
CIT Blackrock Castle Observatory
National Maritime College of Ireland
We will communicate further as appropriate
SKIBBEREEN AFC (SOCCER)
All football related activities at the club including schoolboys and adult levels to be cancelled until March 29th.
SKIBBEREEN FURTHER EDUCATION & TRAINING CENTRE
Skibbereen Further Education & Training Centre will remain closed until 29th March.
BALLINHASSIG VARIETY SHOW
Ballinhassig Variety Show cancelled. Show is being deferred. A new date will be announced shortly. Please keep your tickets as they will be valid for new dates. Keep safe everyone
Subscribe to the Southern Star's YouTube channel, like us on Facebook and follow us on Twitter and Instagram for all the latest news and sport from West Cork.