Our wardrobes come under a lot of pressure in December when our social lives crank up a notch - or five.
There's family gatherings, lunches with friends, school nativities, work parties etc – it can be exhausting.
The last thing we want on top of all that is to look into our wardrobes and utter those dreaded words 'I've nothing to wear!'
Marie Cronin of Sola Boutique in Bantry has vast experience in the fashion industry and has selected some of the season's key trends to make it a stylish, as opposed to stressful, Christmas.
Her emphasis is on outfit building and making sure we all have those wardrobe essentials to see us through the 12 days of Christmas – and beyond.
STITCHED UP
Knitwear is a bigger than ever trend this year, and it's all about the detail. The emphasis is very much about large cables and detailed stitching in each piece, says Marie. 'Mustard was quite big at the beginning of Autumn and for Christmas, shades of cranberry and plums are very strong. The turtle neck is also very popular this year.'
Lots of people feel knits can be impractical as they're too warm, but a combination of bare leg, ankle boot and oversized knit worn over a cami is a winning look.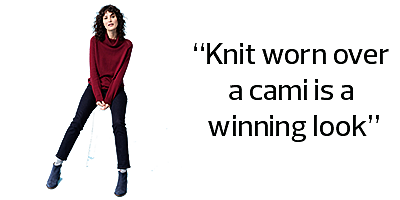 WALK ON THE WILD SIDE
Unless you've just landed from Mars, you'll know that animal print is where it's at for this season –it's everywhere.
Lots of people have avoided it as they've felt it's not for them with images of Bet Lynch perhaps dissuading them.
But Marie insists that it's great way to update your wardrobe, once you keep things subtle.
'You can introduce animal print very subtly and stylishly through your accessories. We stock White Stuff boots which feature a little nod to the trend in a very effective way. It's a way of tapping into the trend without being a slave to it.'
DRESS TO IMPRESS
It doesn't matter if you plan on being naughty or nice… you need a day dress in your wardrobe.
We mean one that's easy to wear, and makes you feel great; not one that you perhaps need to lose a few pounds to feel comfortable in, not one that you don't have the right underwear for – one that you can reach in, throw on and are good to go.
Marie says: 'An easy to wear day dress is perhaps the most essential item in your wardrobe at this time of year. They are perfect for these special Christmas lunches as well as those important work days.
Label Kyra and Ko have a beautiful colourful range of dresses this season in rich colours of winter heathers, like the one pictured right. And of course pockets are always a bonus.'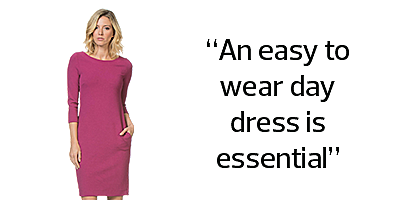 SUPER STARS
If it's good enough for Kate Moss, it's good enough for us. The super model has long been a fan of the star motif, and the star and moon pattern is a look that's been big on international catwalks this season.
Marie says it's one that's easy to wear for all ages, is fun and works just as well for day time as party time. It's popular on knits, and blouses.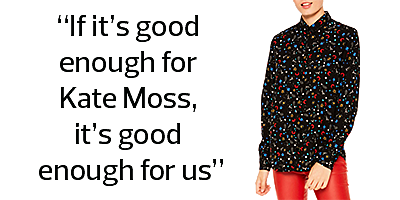 SPARKLE
Get ready to shine brighter than ever this Christmas. Sequins are always popular at this time of the year but for 2018 the look has gotten the green light for day, as well as party wear.
A sequin pencil skirt looks great with a chunky knit and would be a great office to bar look; while a glitter weave sweater with jeans or leather leggings would be a festive look for Christmas shopping or lunch date.
The general advice when it comes to this look is that more is more so don't hold back. It is the season after all.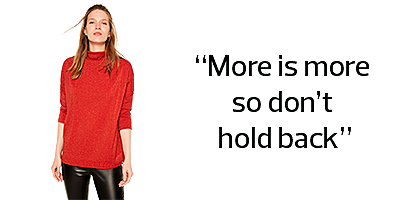 In partnership with Sola Boutique