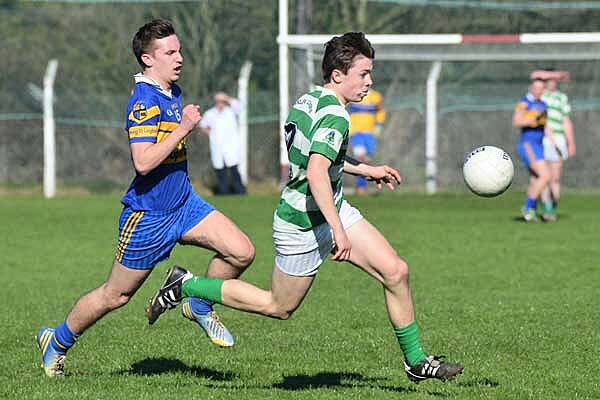 BY JOE KENNEFICK
A BIG crowd is expected at Kinsale on Saturday evening when three-in-a-row seeking Valley Rovers take on deadly rivals Carrigaline in the final of the South East U21 A football championship.
When the draw for this competition was made it was a certainty that these two teams would make this final and both have had facile wins to reach this stage.
Carrigaline defeated Kinsale 2-22 to 1-5 in their semi-final while Valley Rovers had an equally easy 2-12 to 0-2 win against Ballinhassig.
Carrigaline and Valley Rovers have dominated this championship in recent times and have shared the last three titles between them.
Carrigaline won in 2012 and went all the way to the county final where they were unlucky to lose to O'Donovan Rossa after a replay while Valley Rovers went a step further in 2013 when they brought the county championship to the division for the first time when they scored a spectacular win over Clonakilty in the final.
Having retained their divisional title last year, Valleys were unlucky to lose to eventual winners and Cork football kingpins Nemo Rangers.
Of course, their most recent meeting in this competition was last year when Valley Rovers kicked 1-2 without reply in the final minutes to win on a score of 1-6 to 0-8 and set them on their way to retain their title.
Carrigaline will have Stephen O'Reilly in goal and he will be well protected by Shane Griffin, Eoin O'Connor, Kieran Kavanagh, Kevin O'Connell and Daniel O'Reilly.
Brian Coakley at midfield is a very good player while in forwards Killian McIntyre, Stephen McGuire, Jamie De Puis and Billy Pope they have a forward unit that know how to score.
Valley Rovers should have David Lynch in goal and in front of him will be seasoned defenders in Ben Murphy, Ian Crowley, Johnny Kiely, Jack Lyons and Tomas O'Brien. Dara Murphy will be hard to beat in the middle of the park while Dara Looney, Jack Murphy, Tadgh O'Brien, Eoin Fallon and Jason Crowley are a potent attacking unit.
Both teams are represented in the Cork U21 panel with Valley's Dara Murphy and Carrigaline's Killian McIntyre showing their worth.
For Carrigaline to win they will need their backs to keep a tight rein on the Valley's forwards and they will also need Coakley, McIntyre and De Puis to turn in really big performances.
But if Dara Murphy wins the midfield battle for Valleys, then they have the forwards to complete the three in a row after a close battle.