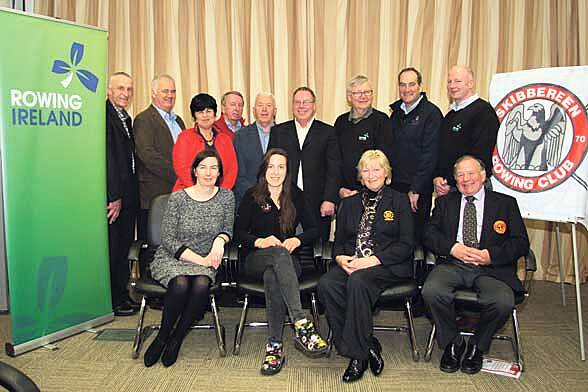 A RACE will take place every four minutes over the two days of this year's Skibbereen Rowing Club Grand League Regatta, which was launched at the National Rowing Centre in Farran Wood, on Tuesday night.
The popular event will be held on April 11th and 12th, as part of the Rowing Ireland Grand League Regatta Series that also includes the Dublin Metropolitan Regatta (May 23rd) and the Cork Regatta (June 20th and 21st).
The Grand League was established by Rowing Ireland in 2010 and has since become the premier domestic rowing league in Ireland, contributing to the development of numerous athletes at both junior and senior level. The Grand League series provides rowers at all levels with the opportunity to perform and develop their racing prowess in a fair and competitive environment.
There is a range of competion, with eights, fours, pairs, single sculls, double sculls and quads offered from junior 16 up to senior level. There are also quads and single sculls offered for younger junior 14 and 15 athletes. Around 700 crews and 2,000 athletes compete at Skibbereen Grand League Reggata every year with a six-lane race running every four minutes over the two-day event. Its a mammoth event to organise and takes up to 100 volunteers to run sucessfully each year.
Prizes for the overall and divisional winners of the Rowing Ireland Grand League Regatta Series are kindly sponsored by Tony Dooley, Kanghua Boats.
Skibbereen Rowing Club itself was founded in 1970 by three Skibbereen men with a passion for rowing, Danny Murphy, Donie Fitzgerald and Richard Hosford. Since then the club has won an astonishing 146 national titles and has had 100 athletes representing Ireland at all levels – including at the Sydney, Athens and Beijing Olympics in addition to the inaugural Singapore Youth Olympics, and at senior, U23 and junior world championships.