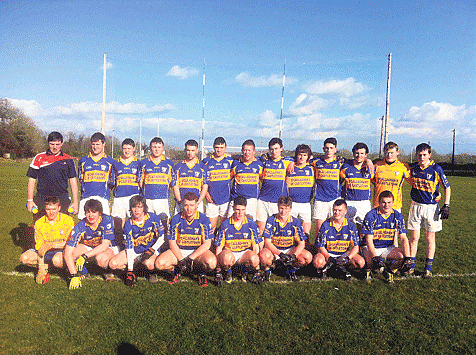 Diarmuid Ó Mathúna 0-13
Ballinascarthy 2-6
(aet)
WEST CORK GAEL REPORTS
DIARMUID Ó Mathúna caused a shock in the Clona Milk South West U21 B football championship when they knocked out the reigning champions, Ballinascarthy, after a semi-final tussle played at sunny Ahiohill last Saturday evening.
'It was an incredible battle. It takes two good teams to make a quality game. Fair play to Ballinascarthy, it was real nip-and-tuck stuff up to the very end,' said Mathúnas selector John Horgan.
A titanic encounter between last year's champions Ballinascarthy and a doughty Mathúnas 15 went down to the wire, involving two periods of extra-time, and it looked like the sides would have to meet again, being deadlocked, 2-6 to 0-12, in the dying moments of an intriguing encounter.
Then in a last frenetic sally into enemy territory, Mathúnas ace attacker Gavin O'Leary cut in from the right touchline and sent a delightful ball between the uprights, a quality point worthy of winning any match.
Gallant Ballinascarthy gathered their forces for one last foray into the enemy lines, but, as so often happened during the game, their attack was repulsed and moments later the final whistle sounded.
The champions had finally been dethroned, and surprise packets and dark horses Mathúnas proved that their victory over Clann na nGael had been no flash in the pan as they marched triumphantly into the decider, where last year's finalists Kilmeen await them.
While Mathúnas clocked up an impressive 13 points on the scoreboard during the 80 minutes, they failed to raise a green flag.
In fact, the concession of two majors in the first half almost cost them dearly, keeping the champions in the hunt and undoing much of the early good work. It was something not lost on selector Horgan.
'We got off to a great start, but the two goals were killer blows; simple mistakes by us. We were in control being four points up, but the concession of the goals allowed Ballinascarthy come right into the game,' Horgan said.
With Matt Draper and Kevin O'Donovan ruling the early midfield exchanges, by the close of the opening quarter Mathúnas had surged four points to the good, quality scores from Jack O'Callaghan, Ryan Hayes, Kevin O'Donovan and a free from the unerring boot of O'Callaghan setting up the winners nicely.
When Ballinascarthy did manage to work the ball into scoring positions, they found Mathúnas full-back line of Sean Buttimer, Gearóid O'Donovan and Michael Barrett in uncompromising mood, while further out William Horgan, Padraig O'Driscoll and Jamie Lucey were battling for every ball.
But then with the portents looking positive, disaster struck in the 19th minute. Daniel Nyhan, brother Cathal, and Daniel O'Brien dovetailed sweetly and with a clever Ballinascarthy ploy of drawing the Mathúnas cover working a treat, Eoin O'Brien was left with the simplest task of beating Gavin Aherne.
While Jack O'Callaghan gave a positive reply, pointing in the 22nd minute from a free, three minutes later the Reds struck again. This time Daniel Nyhan, Eoin O'Brien and Cian Hennessy all combined as the latter billowed the Mathúnas rigging for a second Ballinascarthy goal.
Two well-taken points by Eoin O'Brien and Daniel Nyhan sent the losers in at the interval two points in front, 2-2 to 0-5, something that given their meagre possession, they took with open arms.
But as they had done for much of the opening half Mathúnas continued to call the shots on resuming, despite spirited Ballinascarthy play from Chris Ryan, Dave O'Brien, the Nyhan brothers, Mikey Kirby, Eoin O'Brien and Cian Hennessy.
While the Reds creativity was admirable, their scoring ability was being seriously curtailed, the commitment of Mathúnas backs simply incredible.
Scores by the enterprising Ian O'Sullivan, a Gavin O'Leary free and a peach of a score by O'Leary in the 38th minute saw the side's level, 0-8 to 2-2.
The see-saw nature of the game continued unabated, a Daniel Nyhan free in the 50th minute, a wonderful stop by Ballinascarthy goalkeeper Jason Helen deprived Jack O'Callaghan of a certain goal four minutes later and a fine score from the subsequent 45 by O'Leary, 2-3 to 0-6 – the side's level yet again.
When Ryan Hayes opened up the Ballinascarthy defence for a delightful point in the 56th minute, it looked like Mathúnas would prevail.
However, the introduction of Gerry Ryan had resulted in more of a cutting edge appearing in the losers' attack. They won a free and from a difficult angle Chris Ryan sent the match into extra-time, 2-4 to 0-10.
Two incidents of note punctuated the first period of extra-time. Ballinascarthy were reduced to 14 players when Cian Hennessy received a second yellow card and a Daniel Nyhan free in the fourth minute, 2-5 to 0-10.
When Daniel Nyhan put Ballinascarthy two points to the good, 2-6 to 0-10 with eight minutes left, it looked as if they had survived, but a barnstorming finale by Mathúnas that saw two Jack O'Callaghan frees in the last spell, plus that dramatic O'Leary winner, propelled Mathúnas to the grand finale.
Scorers:
Diarmuid Ó Mathúna: Jack O'Callaghan 0-5 (3f), Gavin O'Leary 0-4 (1f, 1 45), Ryan Hayes 0-2, Ian O'Sullivan, Kevin O'Donovan 0-1 each.
Ballinascarthy: Eoin O'Brien 1-1, Cian Hennessy 1-0, Daniel Nyhan 0-4 (2f), Chris Ryan 0-1f.
Diarmuid Ó Mathúna: Gavin Aherne; Sean Buttimer, Gearóid O'Donovan, Michael Barrett; William Horgan, Padraig O'Driscoll, Jamie Lucey; Matthew Draper, Kevin O'Donovan; Ian O'Sullivan, Gavin O'Leary, Sean Hennessy; Stephen Moore, Ryan Hayes, Jack O'Callaghan.
Subs used: Alan O'Sullivan for Moore (50), Michael O'Driscoll for Hayes (70), Joe Forbes for O'Driscoll (75).
Ballinascarthy: Jason Helen; Dave O'Brien, Chris Ryan, Gearóid O'Leary; David Walsh, Daniel Nyhan, Daniel O'Brien; Cathal Nyhan, Sean Ryan; Barry Walsh, Luke Murray, Mikey Kirby; Sean Condon, Eoin O'Brien, Cian Hennessy.
Subs used: Ben Murray for Condon (35), Gerry Ryan for Luke Murray (41), Stephen Shanahan for Barry Walsh (56), Aidan Ryan for Ben Murray (74).
Referee: Mick O'Mahony (Kilbrittain).