We look back on the epic 1994 Cork SFC finals between Castlehaven v O'Donovan Rossa
There was a lot at stake in the 1994 Cork senior football final. Castlehaven v O'Donovan Rossa. Two neighbours battling for the top spot. Local bragging rights. In front of record crowds at Páirc Uí Chaoimh it took two games to separate these great rivals. KIERAN McCARTHY looks back on an event that, for a few weeks on and off the pitch, dominated life for both parishes
*****
LEGEND has it that before the 1994 Cork senior football final, a Skibbereen farmer planted a bull in his field to scare off Castlehaven supporters who snuck into the field on a nightly basis to take down his O'Donovan Rossa flag.
The red and white flag planted in Skibbereen soil could be seen from Castlehaven, so it became a target. Until the bull was unleashed. Other flags (those that braved open air) and animals weren't guarded as closely. For a few weeks anything that moved was considered fair game.
There is a tale of a sheep painted blue and white and left loose in the mart in Skibbereen or how both sides tried to claim the island floating off Tragumna as their own or when the (neutral) old creamery in Castlehaven was painted blue and white, from top to bottom, in the deepest, darkest hours of night.
The rivalry between O'Donovan Rossa and Castlehaven was at its peak ahead of the 1994 county final. This was two parishes that touched, two neighbours entwined in one another through families, work and life itself, two local football clubs colliding at this stage of the championship for the first time.
It was unique, a once-off and there was a lot at stake. More than just bragging rights. No-one wanted to lose this game. You could see the tension locally. It hung heavy in the air. It was very real. Too real in some cases when it overstepped the mark from good humoured to out of order. That soured this event for some. And, 25 years on, it still does for others. (I was told recently that I shouldn't write this feature and that it shouldn't be recalled – Sports Ed)
O'Donovan Rossa defender Gene O'Driscoll remembers there was nothing quite like the run-up to this derby battle.
'Both teams were probably isolated from what was going on because we were so focussed on the final, but outside of that there was a huge rivalry. There were roads painted red and white on the Skibb side and blue and white on the Castlehaven side, and there was all sorts of stuff going on. They were tense times,' O'Driscoll recalls.
'There was always the local rivalry but this probably heightened it a certain degree. At times did it cross the line? Ya, it probably did. But as a team we were focussed on us and Castlehaven were just the same.'
The late Southern Star Editor Liam O'Regan noted in his editorial column that 'the pre-match hype revealed, at times, worrying signs of over-reaction'.
An uncle of Castlehaven manager Jim Nolan sat in the stand in Páirc Uí Chaoimh on Sunday, September 25th, 1994 for the drawn game. Pat Nolan is originally from Baltimore but lives in Ballycastle in Mayo. He travelled down for the game that had captured the imagination of the outside world, not just the two parishes involved. Pat reported back to his nephew Jim afterwards that he had never before witnessed the tension that was there that day. It was etched on the faces of both sets of supporters and heard in their war cries. No-one wanted to lose.
***
THE BACKGROUND
In the lead up to the final, Joseph 'Joe' O'Sullivan of O'Donovan Rossa set the scene when he said, 'A Castlehaven and Skibbereen showdown is the ultimate – the game of the century.'
The Skibb men won the club's first and only county senior football title in 1992, as 33-1 outsiders. Early in 1993 they captured the All-Ireland senior club crown – the first and only West Cork team to ever hold this title. And that matters. They had – and still have – what Castlehaven have never had. But Castlehaven have some firsts of their own – the were the first of the two to go senior and they brought a county senior football title west in 1989, three years before the Rossas did.
In '94, these two were the best in the county. Nemo had been binned in the semi-final by Castlehaven, Skibb had dumped out the Barr's. The country boys ruled. (Country teams were in the ascendancy then and won nine out of ten SFC titles between '89 and '98)
Left standing were two powerhouses packed with great players. The Rossas had John O'Donovan, Mick McCarthy, Tony Davis, Don Davis, John Evans, Denis O'Driscoll. In the Castlehaven ranks were Niall Cahalane, Larry Tompkins, John Cleary, Martin O'Mahony, Denis Cleary, Brian Collins. There was little to separate the two on paper.
***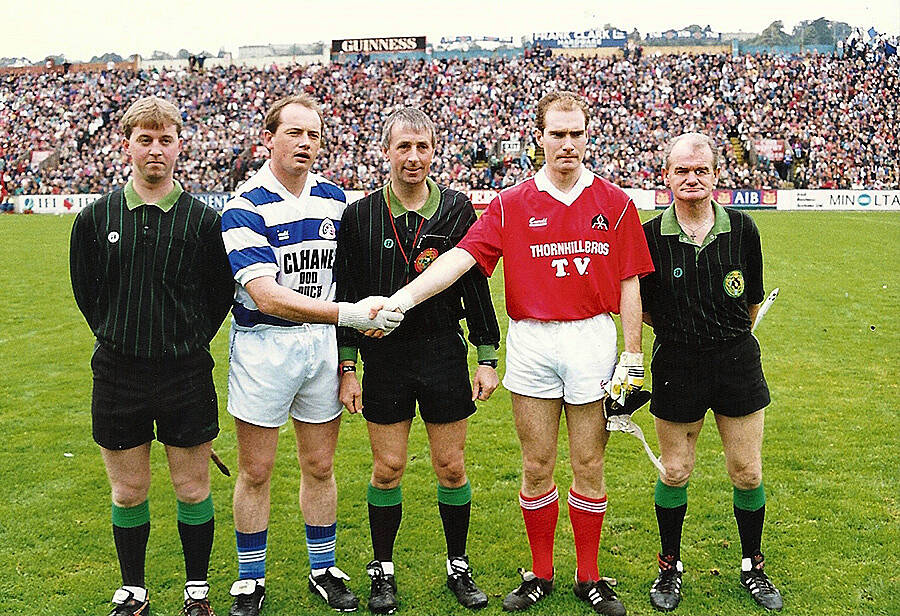 ACT 1
Niall Cahalane was pretty pissed off with himself after the first game. The Castlehaven captain felt he didn't play well at all. That rankled with him. The upside was that his team didn't lose and they had a second chance – but so did O'Donovan Rossa, and they knew how to win replays. Just ask Éire Óg of Carlow in the 1993 All-Ireland club decider.
On the final Sunday in September 1994, over 22,000 poured into Páirc Uí Chaiomh to see who would take the west. The parishes of Skibbereen and Castlehaven were emptied. This was it. But they couldn't be separated. 1-9 apiece. Tense, passion-filled and riveting, it had lived up to the expectations.
Castlehaven bossed the first half, despite an Ian Breen penalty pushing Skibb into a 1-1 to 0-3 lead. By the break, Skibb trailed 1-7 to 1-3, John Cleary's deflected shot hitting the net on the stroke of half time for Castlehaven. Rossas dominated the second half, with Brian O'Donovan in midfield leading the charge and Mick McCarthy tormenting the Castlehaven defence – and it was Small Mick who kicked the leveller four minutes into injury-time. Honours even. They'd have to meet again. A chance for Niall Cahalane to redeem himself, he felt.
'I can assure you it wasn't one of my best outings with the club. I was very disappointed with my own performance. That's what I remember. Even still,' he says.
'I wouldn't have been annoyed for just three or four days, I'd have been annoyed until I got the chance to fecking play again. That was with any game, club or county. I would be annoyed until I had my next outing and had the chance to put it right again.
'I had myself driven distracted for the two weeks in between the games because I felt that I didn't leave enough on the pitch.'
And then there were the injuries. Skibb lost Cork senior Tony Davis after 18 minutes of the drawn final. He carried an injury into the game and struggled. That was a savage blow for O'Donovan Rossa and he was ruled out of the replay two weeks later, too.
'Tony was carrying an injury, it was an Achilles problem he had. He was a huge loss,' recalls Gene O'Driscoll, who was moved from right half back to centre back to fill the void left by Davis – and the Caheragh import O'Driscoll revelled there, especially in the second half of the drawn final.
'Physically, missing Tony made a big impact, but he was also a huge presence in a game like this because he had great experience. When a game is finely balanced and there is little between the teams, when you take a big name out of Skibb, it's like taking Niall or Larry out of Castlehaven. There are some guys you just can't replace.'
Castlehaven had their walking wounded too after the drawn game. John Cleary and Larry Tompkins were both injured and big doubts for the replay. Now there was another two weeks of build-up to the sequel and plenty to talk about.
***
When the Castlehaven team bus rolled out of Páirc Uí Chaoimh and crawled slowly down alongside the river after the draw, heads were down. Jim Nolan recalls seeing a gang of young Castlehaven supporters that started waving their flags when they saw the bus.
'I'll always remember that,' Nolan says, 'I said to the lads "whatever is going to happen, we are not going to lose this match." Before we got to Ballinassig on the way home the team was lifting again, they were really up for it, which was incredible.'
But there were the injuries to Tompkins and Cleary, two of the main men. Tompkins had damaged shoulder ligaments but the outlook was worse for Cleary, who snapped his groin taking a free. He knew instantly he was in trouble. It turned out to be the worst injury he'd suffer in his career and would eventually rule him out for six months. Adding to his woes, he missed the free.
The rumour mill was in overdrive ahead of the replay. Tompkins was out. Then he was in. And he was out again. Davis was out, in and out again. The Hokey Pokey wasn't a scratch on it. And all roads led back to Páirc Uí Chaoimh for the replay and the west was still up for grabs.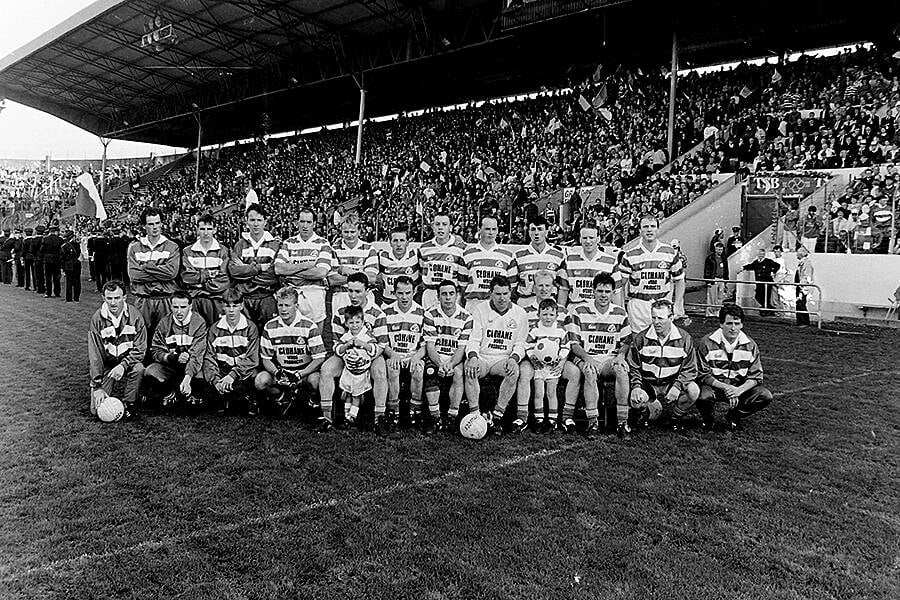 ***
ACT 2
Tompkins was fit enough to start, but not in his usual midfield slot alongside Cahalane, who was a man on a mission. Instead, Castlehaven moved Tompkins in full forward. Cleary didn't start but was on the bench. There was no Tony Davis starting for O'Donovan Rossa, a fierce blow, while Don Davis wasn't 100 per cent either after an illness.
Without Tompkins beside him, there was more pressure on Cahalane to deliver in midfield. And he did. The Southern Star awarded him a 10/10 for his performance that day.
'A colossus in this game as he ruled the entire midfield and proved too good for both O'Donovan and Skinner in turn. Man of the match.'
Cahalane redeemed himself.
'I don't think the same pressure was on us for the replay when you consider we were supposed to be without two of our star performers,' Cahalane explains.
Tompkins did make it, and alongside Cahalane, they delivered, like they had against Nemo in the semi-final. Tompkins kicked six points (four frees) in the replay, while at the other end the Skibb attack was finding the going tough against the Castlehaven rearguard.
Castlehaven led 0-7 to 0-5 at half time, Mick McCarthy trimmed the gap to a single point on the restart, but then Tompkins swung over two beauties. At one stage in the second half Castlehaven led by four before Mick McCarthy rolled off two points to narrow the lead again. It wasn't enough.
Tony Davis was summoned off the bench and put in corner forward, but couldn't make an impact. Likewise, the injured John Cleary was drafted in for Castlehaven.
'I wasn't even at one per cent, not to mind saying I wasn't at 100 per cent. I could barely walk,' Cleary recalls.
'It was the last minute, I caught a slip of paper off the secretary and ran in, maybe to waste a few seconds. We were a point up. Then when the ball came out it landed into my hands, I couldn't kick it, so I fisted it off to someone and we went up the field and got a point.'
A few weeks later Gerry McEntee at the Mater Hospital in Dublin operated on Cleary, putting him back together, and by then he had a county medal in his back pocket after Castlehaven triumphed by 0-12 to 0-10. They had taken the west.
'The ones you win, you remember fondly. The ones you lose, you park the bus and want to forget them,' Gene O'Driscoll says.
'I don't have many memories of the replay. But I had a sense that we were privileged to be part of something special there. There was the build-up, the sense of anticipation was palpable. I haven't seen anything like that since. You wouldn't get at inter-county games now.'
They say there was 30,000 at that replay. How accurate that figure is, we're not sure, but it was a bigger crowd than the drawn game. Both teams played their roles in a wonderful spectacle. Both games lived up to expectations.
'Somebody had to win, thank God it was us,' Cahalane said afterwards, and 25 years on, and despite all he achieved in the game – winning two All-Ireland SFC titles, two All-Stars and seven Munster SFCs – captaining Castlehaven remains the highlight of his career.
'There is no doubt about that,' he confirms.
'It was a game that grabbed the imagination of people, even outside of Cork. I think it must be close to a record crowd that turned up on both occasions.
'There were a few of us who were lucky enough to have been able to walk out at Páirc Uí Chaoimh playing in front of full houses in Munster finals, and to do that with fellas from your own parish, your club, who you went to school with, is special.'
***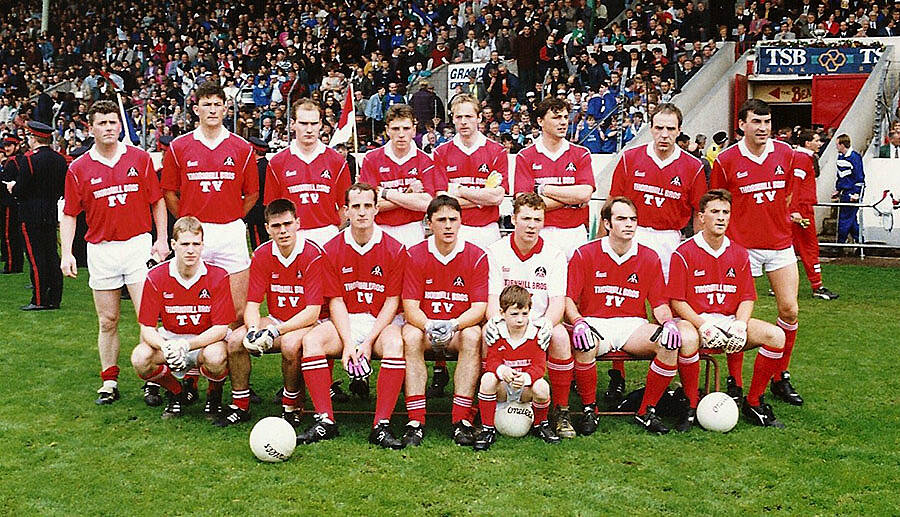 THE AFTERMATH
County champions in 1992, All-Ireland kings in '93, county finalists again in '94, they were the glory days for O'Donovan Rossa. A magnificent team that had it all – power, class and experience. There was a sense too though that those heady days were coming to an end.
'We didn't just arrive in 1992 and '93, it had been a work in progress. There was a lot of work, time and energy invested to get us there,' Gene O'Driscoll says.
'Winning the county was a huge achievement and then the ultimate was to win the All-Ireland. For some of us who had been at it a long time it was always going to difficult to top that. Another county title would have been nice. Do I have regrets? No. We were county champions and All-Ireland champions.
'The fact it was against our biggest rivals, of course it would have been nice from that point of view, but this Skibb team achieved an awful lot.
'Did we help contribute to those games and the occasion? Skibb played their part, no doubt. You have to say congrats to Castlehaven too. It was a one-off and you won't ever get a rivalry like that again.'
Jim Nolan admits it was a relief to win the '94 replay, the second Cork SFC title for Castlehaven, but they had to wait until 2003 for their next one. Still, the memories of 1994 stand out above all others.
'It was once-in-a-lifetime occasion. If it happened again I don't know whether it would be the same,' Nolan muses.
That's the general feeling from everyone involved in that two-game saga: we will never see the likes of it again. The build-up. The anticipation. The noise. The fear. The atmosphere. The games. The drama. The heroes. The bull guarding the O'Donovan Rossa flag. A blue and white sheep. This had everything and while there could be only one winner, it took two teams to conjure up magic that's still talked about today.
The victorious 1994 Castlehaven team will be honoured at this Sunday's Cork SFC final in Pairc Ui Rinn to mark the 25th anniversary of their success.