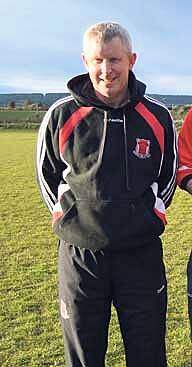 Rate yourself on a scale of 1 to 10 on how funny you are?
9/10, so funny one joke does in the year.
Highlight of your sporting career? Winning Drinagh's first league title back in 1984. The first is always the sweetest.
Most dialled number on your phone? Everyone rings me because I'm so popular. Okay, time for the truth, it's my wife, Eileen, really because she is looking at me writing this …
What's your karaoke song? I don't do karaoke, but I can 'sing' a good version of The Auld Triangle, at a push.
Tell us an interesting fact about yourself? It has to be sports related. I won a Cork county novice medal for the high jump in 1984. (a close second would be that I like hedge clipping).
Best-ever holiday? Rome 2013, it's a fabulous city.
If you won the lotto what would you buy first? College fees for the girls (Declan has three daughters with his wife Eileen). It won't happen though because I never buy lotto tickets.
Separated at birth, who's your celebrity twin double? It has to be Danny de Vito, doesn't it?
What's your favourite word? B......... it's unprintable.
If you could change any part of you what would it be? I'd like a new hamstring to play for the Drinagh Rangers' Legends in the Liverpool Legends' game on Saturday, July 25th.
Your most treasured item of clothing? My Drinagh Rangers' hoodie – it's essential clothing for the sideline in the winter.
Favourite cartoon? The Invincibles.
If I was an animal then I would be a ... cheetah
What question would you liked to have been asked in this interview? Who are my sporting heroes? They are Jimmy Barry-Murphy, Sonia O'Sullivan, Roy Keane and Eamonn Coughlan.