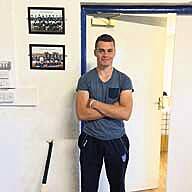 Rate yourself on a scale of 1 to 10 on how funny you are? I'd say I'm a six. I'd be a quiet fella but sharp enough at times.
Highlight of your sporting career? Captaining Bantry Blues to the U16 B hurling county final win in 2011, but hopefully that will change this Friday.
Most dialled number on your phone? The Brick Oven Pizzeria in Bantry when I'm ordering a large heart-stopper.
What's your karaoke song? I don't sing because I've a voice like a crow but if I'd enough in me after hours I'd chance Sean South to make the old fella proud.
Tell us an interesting fact about yourself? I live on an island.
Best-ever holiday? Probably the weekend of the All-Island football competition in Inis Oirr two years ago in Galway. Great craic. You could write a book with all the stories, and it was a good session.
If you won the lotto what would you buy first? All the land on Whiddy Island to farm and build a mansion on it.
Separated at birth, who's your celebrity twin double? I don't think I have one but I've as much chance of looking like Jack the Ripper as anyone else, I suppose.
What's your favourite word? Shoulders, for many reasons.
If you could change any part of you what would it be? My two left feet, so I could kick a point.
Your most treasured item of clothing? My Bantry Blues' tracksuit – I'd kill the mother if anything happened to it in the wash.
Favourite cartoon? The Simpsons.
If I was an animal then I would be a ... Kerryman.
What question would you liked to have been asked in this interview? Will you have a county hurling and football medal in your arse pocket by the end of the year? Yes. Hon the Blues!