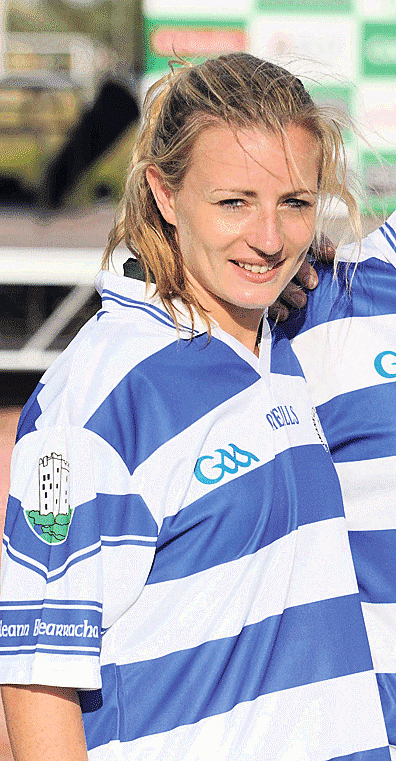 Rate yourself on a scale of 1 to 10 on how funny you are? I'd say I'm definitely a 10 when I'm after a few drinks.
Highlight of your sporting career? Receiving an All-Star award at the GAA World Games in Abu Dhabi a few weeks ago. To top it off, my parents were there to see it.
Most dialled number on your phone? The local chip shop. It will never be as good as home though.
What's your karaoke song? I've been known to put on a great show alongside the lovely Stephanie Price singing I Was Born To Make You Happy by Britney Spears.
Tell us an interesting fact about yourself? I used to work in The Southern Star in the front office with the Annes, Eibhlín, Marie and John.
Best-ever holiday? Going back home for my sister's wedding last year and getting to see my niece and nephews again.
If you won the lotto what would you buy first? I'd buy flights for all my family and friends to come visit me in Sydney.
Separated at birth, who's your celebrity twin double? Well, according to the celebrity lookalike app, back in the Bebo days, I was the double of Liza Minnelli!
What's your favourite word? Facetious, because it contains all the vowels in alphabetical order.
If you could change any part of you what would it be? Oh, where to start...
Your most treasured item of clothing? It used to be my Cork jersey but more recently has become the personalised Castlehaven jersey I received from my home club. Hon the Haven!
Favourite cartoon? Jakers the Adventures of Piggley Winks. Myself and Mairead Courtney missed many a lecture in college to watch it.
If I was an animal then I would be... a dog, although Paula Hegarty might not like me anymore...
What question would you like to have been asked in this interview? I would like to have been asked to tell a funny story from my childhood so I could share this story with everyone. I was four years of age and I really needed to go to the bathroom. We tried to make it home in time but unfortunately as I climbed a wall my bladder failed me. Before I knew it Orla Courtney was up the wall after me. She slipped, fell and broke her arm. Sorry Orla!