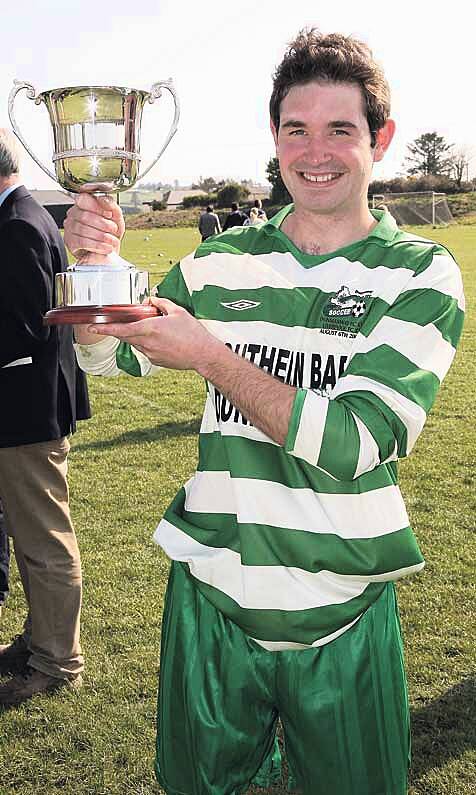 Rate yourself on a scale of 1 to 10 on how funny you are? I think I am funny so I would say I'm a definite 8 but my fiancée would disagree.
Highlight of your sporting career? It has to be winning this season's mygaff.ie Cup. I have won a few other titles in my time with Dunmanway Town but this trophy is extra special.
Most dialled number on your phone? Well, I'm getting married this year so, no surprise, it is my fiancée Mariena O'Donovan's number that appears the most on my phone.
What's your karaoke song? (long pause) I'm partial to any of Randy Travis' songs.
Tell us an interesting fact about yourself? I don't know really. I have won the trophy for being the top scorer in the West Cork League (Beamish) mygaff.ie Cup three times. Will that do?
Best-ever holiday? I went to Spain a few years ago with some of the lads from Dunmanway and it was an absolutely savage holiday. Details are sketchy though for some reason ...
If you won the lotto what would buy first? A big house.
Your most treasured item of clothing? Oh, that is a tough question. I have a few treasured items alright but I can't pick one out on its own, to be honest. I suppose the Dunmanway jersey I had for Sunday's cup final is special (laughs).
Favourite cartoon? The Lion King although that is not really a cartoon, is it? I'll say The Lion King anyway as I really enjoyed it.
If I was an animal I would be a ... a dog (laughs out loud). I'm not sure why, to tell you the truth, but I reckon it would be good fun being a dog for a day or two.
What question would you like to have been asked in this interview? I can't think of one to be honest, as I want to get back to the dressing room to celebrate with the (Dunmanway Town) lads now! Thanks!