Having opened their showroom and shop in Colomane just outside of Bantry in July 2018, fitout experts ACRA have been able to transfer their two decades worth of experience in the commercial flooring market to the domestic one.
Speaking to The Southern Star, ACRA's Maria Stephenson said: 'We are specialists in a wide variety of flooring. From a domestic flooring perspective we fit carpets, luxury sheet & vinyl tiles, solid wood or laminate wood flooring'.
ACRA provide a complete service for all your flooring requirements including design.
'With over 20 years' experience you can be confident that our work will be carried out efficiently and to the highest standards possible.'
Commercial
ACRA are also well-known for their larger scale commercial work.
'Our team has two decades worth of experience in commercial fitouts including providing specialised flooring for computer halls, data centres and high technology environments.
'Local clients have included the Ludgate Hub in Skibbereen and the Primary Care Centre in Schull'.
Complete package
ACRA can project manage your complete fit including offering design solutions or they will work to your design.
Their flooring systems are made to exacting standards tailored to meet or exceed clients' requirements.
'We offer a complete flooring package from raised flooring to floor coverings and paints, stud partitions & hung ceilings. We also undertake floor covering restoration, sell quality cleaning products and have a variety of machines for cleaning floors and carpets available for rent'.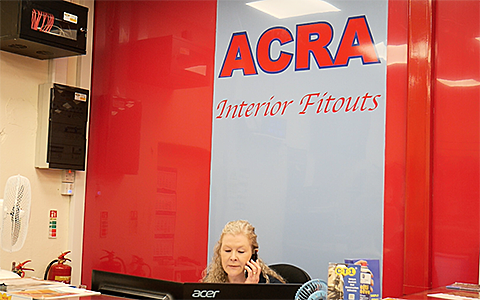 Maria Stephenson will be on hand to answer any of your questions
ACRA also offer floor restoration or they can take up an existing floor and replace it with more modern and up to date flooring.
ACRA offer large suite of services whether you're a commercial or domestic customer including project management, fitout, raised floors, clean rooms, wall and floor finishes, ceilings, and partitions. They also provide safety flooring and floor covering.
An extensive range of flooring is on view at their Colomane showroom.
'So, whether we are fitting a vinyl floor to the kitchen in your home or supplying integrated raised floor finishes, we apply all the skills, knowledge and passion that we have built up over 20 years to ensure you get what you want, on time, to specification and within budget'.
Pay a visit to the showroom to see all that is on offer or call them up on +353 (0)27 55675 to discuss your requirements.