A WEST Cork native is at the forefront of a campaign to examine more closely the effect the use of technology, over textbooks, is having on secondary school students.
Nicola Kearns (nee Muckley), herself a former teacher who also worked at a senior level in educational management, has pleaded for a more cautious approach to the introduction of tablets and laptops in our senior schools.
The Bantry woman says that a large body of international research – sampling 72 OECD countries – has, in fact, found that students perform more poorly if they have used technology as opposed to the 'old-fashioned' system of textbook learning.
'I know it may seem very trendy now,' said Nicola, 'but that doesn't make it right. It is really too early to see what damage could be done. '
However, she cited the OECD report that researched students aged 15 years old, and found a 'significantly' reduced standard of performance after learning via technology, like tablets and laptops.
Nicola, who recently featured on RTÉ's Six One news, said she knew of parents who had initially welcomed the technology introduced to their schools in September, but by the following February they had 'hit a brick wall.'
They found their children had no physical materials to work with, as textbooks had been eliminated and their only filing systems were virtual ones.
A lot of schools that have introduced this technology are allowing teachers to devise their own Powerpoint presentations, and then rely on the children to interpret them, and transcribe them onto their own technology.
Learning via technology has been proven to be less effective than the old pen-and-paper method where students have to form words. Humans tend to retain information more accurately when they are invested in transcribing it onto paper rather than by typing it.
Increased screentime may also be causing a premature deterioration in our young people's eyesight.
Furthermore, there are concerns about teenagers having greater access to the internet.
Nicola says her own children would have had an internet curfew in the past, where the wifi would be shut down well in advance of bedtime. Now she is being told that it must stay on because they are finishing homework, or sharing information with another student, or waiting for part of that day's presentation in school to be emailed to them by a friend.
While some schools have introduced security software on the laptops, the vast majority of the children are able to intercept this and render it useless.
'In one school where the laptops had security software installed, the children worked out how to disable it within the first six weeks of the school year, allowing them to browse whatever they wanted,' she said. 'Children are far more tech savvy than most of the adults dealing with this.'
What's more you don't know when your teens are doing homework, or when they are on YouTube watching videos.
With most parents struggling to keep tabs on their children's use of the internet, put a limit on screen time, and protect them from bullying and pornography, bringing this technology into the classroom, and making it an integral part of their learning and homework, is a dangerous route to go down, Nicola believes.
And while some parents believed the introduction of technology would eliminate the need for heavy schoolbags, this hasn't turned out to be the case in most instances, she noted.
'I picked up my son's schoolbag recently – and it was like there were two concrete blocks in it,' she said, adding that many children are still bringing several copybooks to school for transcribing, and other books, and the laptop is simply another weight in the bag.
'I would be far more in favour of the schools having two sets of textbooks – one at home and one in the school – rather than rushing headlong into this technology without having tested it properly.'
There is another element to the exercise that is worrying some parents: the cost. Some companies supply the laptops en masse, but then there are additional maintenance contracts, insurance costs and security software, all adding up to a very expensive lesson for parents.
Nicola, who has many years of experience in the secondary education system, says she is horrified to find that the Department is forging ahead with its 'Digital Strategy for Schools 2015-2020'.
Its website says the plan, which has over 80 actions, sets out a roadmap, 'to bring the Irish education system further along the path to being the best in Europe at embedding digital technology in teaching, learning and assessment by 2026.'
Parents need to be consulted on this, and properly, said Nicola. 'We are not technology-bashing. We just want to put the brakes on this until we know more, or can see if there is a benefit to it.' We know that technological messaging gives a dopamine hit to the brain, she says, similar to the hit addicts get from their drug of choice. So why are we facilitating our children to become technology addicts?
'Some schools are ditching the laptops for fifth and sixth year. Why? Because the stakes are too high. Our State exams are still paper-based. Yet some children's writing is just a spidery scribble now, because they aren't used to writing anything.'
She added: 'As far as I can see it, our children are being used as guinea pigs in an experiment that we don't know the outcome of yet. Smoking was trendy, too, at one point, and now we are paying the price for that.'
Kinsale school is a 'pilot' for Dept's digital strategy
KINSALE Community School is a pilot school for the Department of Education's digital strategy.
But principal Fergal McCarthy doesn't believe technology should be used exclusively.
'ICT (information and communications technology) clearly has a place in education but it has to be used in a targeted way,' he says. 'There is incontrovertible evidence that ICT can, if used correctly, be a very powerful learning tool. But we should not completely rely on it.'
The Clonakilty man is only too aware of the drawbacks to technology, too.
'When people talk about the weight of schoolbags today, and the role of technology, it makes for a very compelling argument, but a balance needs to be met,' he points out. 'We know that technology can lead to sleep deprivation, distraction, multi-tasking and overall have a negative impact on learning when compared with traditional methods. Paper provides superior levels of learning, it is a tactile experience,' he adds.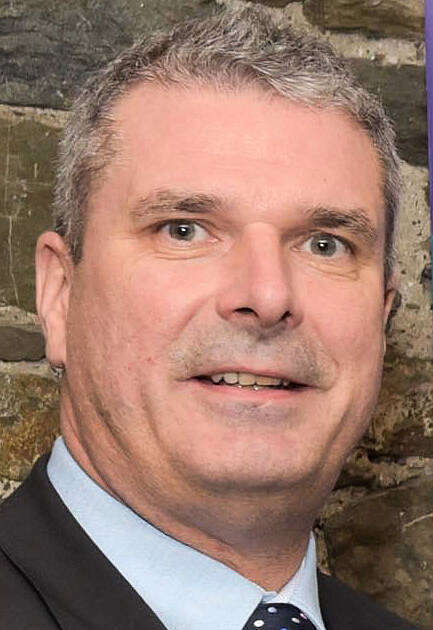 The blue light emitted by the likes of iPads has been known to disrupt students' sleeping patterns, therefore leaving them struggling to concentrate in school the next day.
'It's not fair or reasonable to expect them to work on a medium that has an adverse effect on them,' he says.
The teacher's role has changed fundamentally since the introduction of technology, explains Mr McCarthy. 'Where once they were the purveyors of information, now every child has access to that information. So the teacher has moved from being the fountain of information to being the curator of that knowledge. And, yes, we can use ICT for a special purpose, but it needs to be understood, and we should not completely rely on it.'
It's a matter of skilfully blending different systems of learning, he says.
'What we see is a need for a skilful approach to utilising ICT's positive effect, but equally realising it has limitations and consequences and needs to be delivered in a skilful way,' he continues.
Mr McCarthy says the 'clamour' towards using iPads as an exciting way of reading or doing homework needs to be seen in the context of the research which consistently shows that the technological learning experience is in no way comparable to traditional methods.
– SIOBHÁN CRONIN