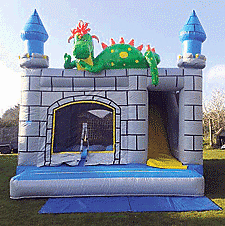 By Kieran O'Mahony
IT left mother-of-two Roisín O'Neill very deflated, but the theft of a bouncy castle was no laughing matter.
Roisín and her husband Peter, who live in Newcestown, had hired the bouncy castle from a family friend to celebrate her daughter, Saoirse's recent Holy Communion.
But when they woke up the following Monday morning, they were shocked to see that the bouncy castle had been stolen.
'It was a great attraction all over the weekend and the children and their friends had great fun using it. On Sunday night we deflated it in the garden and couldn't believe when we woke up to see it had been stolen from our garden.