OVER 2,700 customers were affected by a major electricity outage in Dunmanway this morning, which affected the town centre and surrounds.
A meeting of the local municipal district branch of Cork County Council continued in the town, but the option to link in online had to be abandoned.
A source said the meeting was conducted by a form of 'candlelight' in order to proceed as planned.
Councillors and Council officials had agreed to meet in the town in order to enjoy a brief 'Christmas lunch' in the local hotel which had to be postponed.
The outage began at around 9.30am but has now been restored.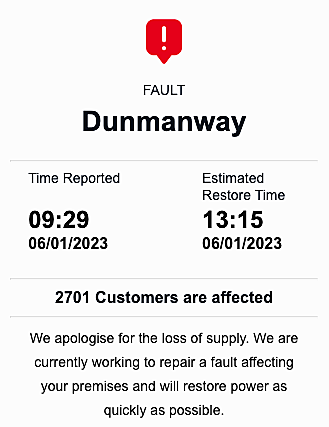 Despite the powercheck app giving an estimated time of 1.15pm for the power to be restored, a local engineer who had said they were hopeful to restore the power 'sooner rather than later' has confirmed to The Southern Star that all customers are now back online.
ESB staff were redirected from their assigned jobs this morning to resolve the issue.