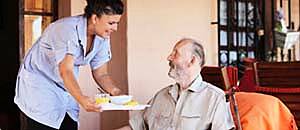 WEST Cork native Tadhg Daly's Nursing Homes of Ireland organisation is backing the Nursing Homes Week which takes place from June 22nd-28th.
Mr Daly, from Drimoleague, says the week will celebrate the positivity of nursing home life and the excellent care it is providing to older people in our local communities.
Nursing home residents, their relatives and friends, staff and wider communities will celebrate the outstanding, life enhancing health and social care provided by dedicated staff within nursing homes in our local communities.
Homes will be hosting 'traditional' celebrations that include family days, parties, music, arts and crafts, activity sessions, day-trips, barbeques, games, talks, exhibitions, cooking, gardening. This is the third year nursing homes will participate in Nursing Homes Week.
Lots of 'novel' celebrations are also likely to be organised, as last year's celebrations included everything from a Mardi-Gras themed party, to Phantom of the Opera themed masked ball, beach-themed party, X Factor competition, casino day, fashion show, mad hatters tea party, art exhibition, transformation of a chapel to a cinema, combined resident/school sports day.
An NHI Oireachtas Open Day will also take place in Leinster House during the week (Wednesday 24th) at which challenges and opportunities facing the private and voluntary nursing home sector will be presented to TDs and senators.
Mr Daly's Nursing Homes Ireland represents 370 private and voluntary nursing homes in communities across Ireland. For more, see nhi.ie