Brownie's Bite - Food with Chef Matthew Brownie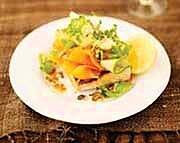 The Food Academy is a training programme aimed at supporting and nurturing start-up food businesses. Bord Bia, SuperValu and the Local Enterprise Offices have joined forces on this initiative to provide a consistent level of food marketing knowledge to new and early-stage food business owners.
It's been six months now since the second intake of Food Academy producers were taken in from around West Cork with 16 food producers going forward for a trial period of 12 weeks throughout a number of SuperValu's within the Cork & West Cork region.
From chocolate, eggs, savoury snacks to ready meals, juices and breakfast cereals, both Irish and International consumers are in for a treat this summer with the best of Irish products.
This programme is designed to give small producers a big chance to get their products on the shelves. Some of the topics addressed at a series of Food Academy workshops being delivered nationally include new food/ drink product development, raising and managing funds for food business. It will also look at growing sales through branding and packaging design, food and drink safety labeling and preparing for buyer/ distributor meetings.
On completion of the programme, participants will have the tools necessary to assist them to build a successful food/ drink business in Ireland and begin looking at the export market.
Most of the SuperValu stores have a Food Academy area displayed in each supermarket with stocked local Irish producer's products with most of each product explaining the person behind their product. It you're looking for something special, Irish and unique the look for the Food Academy stalls in your local SuperValu.
If you would like to contact me:
www.facebook.com/tlcletsgetcooking
www.facebook.com/matthew.brownie.77
www.scratchmypork.com
Recipe
Smoked salmon and avocado salad
Ingredients
1 loaf ciabatta
2 ripe avocados, stoned and sliced
1 lemon
1 cucumber
2 handfuls mixed fresh herbs, leaves picked
1 punnet cress, snipped
2 tablespoons mixed seeds (pumpkin, sesame,
sunflower and poppy seeds)
1 orange, halved
Extra virgin olive oil
Sea salt
Freshly ground black pepper
200 g smoked salmon
Method
Cut the ciabatta in half lengthways, then cut into four equal-sized pieces, about 10–12cm/4–5 inches square.
Place the sliced avocado in a bowl and squeeze over some lemon juice to stop it from discolouring.
Using a potato peeler, slice the cucumber into long, thin strips on top of the avocado.
Add the herbs and cress.
Squeeze a tablespoon of juice out of the blood orange into a bowl,
Add 3 tablespoons of extra virgin olive oil.
Season it well and give it a mix.
Toast the ciabatta bread
Place a square of ciabatta on each of four plates, then top each with a quarter of the smoked salmon.
Drizzle 1 tablespoon of the dressing over the salad and very gently mix with your fingertips.
Top the smoked salmon with the salad.
Finish your delicious starter with a sprinkling of toasted seeds, using half a tablespoon per plate, and garnish with a lemon wedge.
CHEF'S TIP
Use a combination of smoked mackerel, smoke salmon & fresh prawns as a twist on the recipe
A Brownie point....
In 2001, there were more than 300 banana-related accidents in Britain, most involving people slipping on skins.