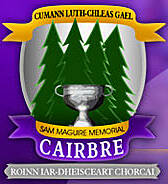 BY KIERAN McCARTHY
IN an 'unprecedented' move, the Carbery GAA Board made a ruling at Monday night's board meeting to keep South West U21 A football finalists Clonakilty and Castlehaven on opposite sides of the final for Sunday's divisional decider.
In Carbery Rangers' GAA grounds in Rosscarbery, the two dugouts are on the same side of the pitch, but the Carbery board has taken the decision to have the teams on opposite sides this weekend.
A toss of a coin was held to decide which team would receive the dugout, with Lady Luck favouring Castlehaven.
'I don't think it will have any bearing whatsoever. They could put the two dugouts behind the goals if they wanted to because the players will play away. It's been overblown. I don't think it will make one bit of a difference,' Castlehaven U21 manager John Cleary said.
A Clonakilty official told The Southern Star the club would not be commenting on 'this unprecedented situation'.