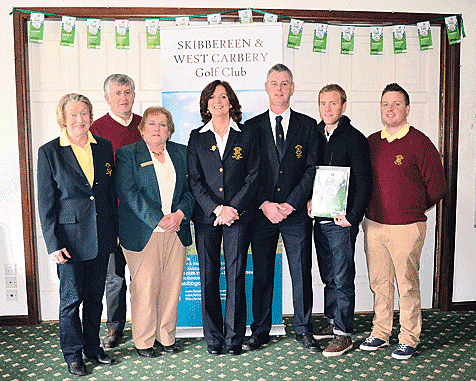 SKIBBEREEN & West Carbery Golf Club celebrates its 80th birthday this year and everybody is invited to its year-long party!
Working closely with the Confederation of Golf Ireland – the umbrella body of the GUI, ILGU and the PGA – the club has developed new strategies to showcase its fantastic playing facilities and to attract new members of all ages to the club.
The club has a Pay as You Golf membership on offer. For a basic fee of €175, plus a GUI/ILGU affiliation fee, Pay As You Golf members pay as they play at a discounted rate per round of just €10 for 18 holes or €5 for nine holes. The first three rounds are free and the club's 'buddy system' helps newcomers to find playing partners.
This offer is open to new applicants or for anyone who has been a lapsed member for two years or more. To download a membership form, visitwww.skibbgolf.com and click on membership or call the clubhose on 028-21227.
Also, for ladies who have never played the game before or those who would like to come back to golf, there's the ladies' 'Get into Golf Programme'. Assisted by officers from CGI, the ladies' captain Una Murray has drawn up an eight-week introductory programme. The first evening is free and all equipment will be supplied.
PGA Club Professional Ian Stafford will provide the technical coaching and will be assisted by a number of club volunteers. There is a free taster session on Friday, April 17th. To book a free place contact the club.
Also, Monday nights see the return of the nine-hole men's High/Low competition which will commence in April. This programme welcomes any men who would like to try the game under the guidance of members for a nominal fee on the night. Equipment will always be available for newcomers.
CAPTION
Pictured at the Pay As You Golf launch in Skibbereen & West Carbery Golf Club, were, from left, lady president Margaret Foley, president Brendan Hamilton, ILGU official Marion Pattenden, lady captain Una Murray, captain Frank Ryan, the club's first Pay As