Four-time All-Ireland winner Jennifer O'Leary has bowed out of the inter-county camogie scene on the highest of highs.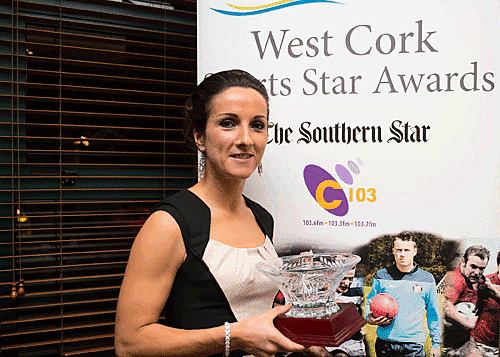 BY KIERAN McCARTHY
JENNIFER O'Leary has bowed out of the inter-county camogie scene on the highest of highs.
The eight-time All-Star and four-time All-Ireland winner was crowned the 2014 West Cork Sports Star of the Year at Saturday night's awards ceremony held in the Celtic Ross Hotel, Rosscarbery. It's the second time that the Barryroe woman has won this particular accolade (2002), with these popular awards run by the Celtic Ross Hotel, The Southern Star and c103.
Having previously retired from the inter-county scene in late 2013 she returned to make a huge impact last year, helping Cork win the All-Ireland title while she was also crowned Munster Camogie Player of the Year.
But Jennifer has decided that now it is the perfect time to step back from inter-county for good.
'I could never have drawn up an ending like this. I always said that I wanted to finish on a high but what that high would be I could never have predicted,' Jennifer told The Southern Star.
'Camogie-wise, 2014 was a great year. The drive was there, the talent was there and I have been lucky that I have played with such great teams down throughout the years. To finish this way is superb. I am happy. I know in my mind that this is the right time and the right decision.
'I have enjoyed so many happy times and happy experiences with Cork over the years. It's been a long road with Cork, since I was 13 when I started playing with the minors.
'I feel now it's time to move on with my life, to explore different avenues, to maybe try something different, maybe play a bit of football, maybe do my own bit of training and challenge myself in other realms, and play with my club up in Middletown. We've started training already.'
Jennifer lives in South Armagh with her husband Paul, she works as a teacher in Carrickmacross and lines out with her local team Middletown. She'll continue her club career and predicts a bright future for Cork camogie.
'There is new talent coming up and I think they can make such a big impact with Cork,' she said.
'I know that drive will still be there and that thirst for success will still be there. The girls are determined to go out and prove that they can do it again.
'The journey I made last season (from Armagh to Cork), you can do it for a year but I don't know could you do it for more than that. It was a bit easier for me last year because I was in Cork a lot ahead of my wedding in July.
'I just feel it's a bit unfair on other people as well. I have to think about other people and it's not just about me. For my own sense of sanity I think I need to be in one place and focus on one place.'
Don't miss this Thursday's Southern Star for all the news, interviews and photos from the Celtic Ross West Cork Sports Star awards.