Newcestown boss John Wilson chats to John Murphy about the background to the club's superb 2014 South West JAHC title triumph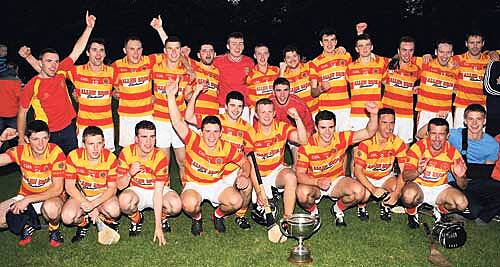 BY JOHN MURPHY
WHAT a memorable year it was for Newcestown in the South West junior A hurling championship.
Garnering the Flyer Nyhan Cup when their second string defeated neighbours Diarmuid Ó Mathúna in the divisional final, it bridged an incredible 22-year gap. The wait is over.
Padraig Condon, Daniel O'Mahony, Barry Buckley, and John Wilson comprised the Newcestown junior A hurling management team, the quartet doubling as selectors.
The four hurling sages from St John's got great assistance from Sean Twomey also as they successfully plotted their opponent's downfall on the glorious victory trail that their junior hurlers embarked on, ending with captain Mark Courtney lifting Flyer Nyhan.
It was a victory against the odds, a rarity in this grade, only Bandon in 1975 and 2009 managing to match it with their second team.
John Wilson is a member of a long standing and reputable Newcestown GAA family who have served their club at all levels in recent years on the playing fields and worn the famed red and yellow with distinction.
A carpenter by trade he has carved many a niche (pardon the pun) during his illustrious playing career. He was a member of that famous Carbery senior hurling county winning side of 1994, featured for Cork at minor, U21 and intermediate level, while, of course, with his beloved Newcestown he has won numerous honours down the years, capturing several West Cork championships.
So he is well qualified to give a hands-on account of Newcestown's hurling exploits during the season just ended.
But perhaps one of the sweetest and probably most cherished achievements to date was his involvement with Newcestown's junior A hurling team who rewrote the history books in 2014.
Magical
He takes up the running as he reminisces on what was a magical playing season for the St John's boys, while giving an in-depth insight on what makes this wonderful club tick.
They defeated reigning champions Dohenys (after extra-time), Clonakilty, St Oliver Plunkett's and Diarmuid Ó Mathúna on an unbeaten rollercoaster championship ride through West Cork, while at county level they went narrowly under, after a replay, to eventual junior A champions, Castlemartyr.
'We were delighted with how the year turned out,' Wilson said.
'Our intermediates and juniors all train together and this year our second team (junior A) seemed to have had that extra bit of self belief and confidence that perhaps they could go all the way. Our most important match ironically enough was the first round game against 2013 champions Dohenys.
'We had only around 19 players available that day and to come up and beat Dohenys after extra-time was, to me, the most remarkable achievement of our championship campaign. It was the start we needed and everything seemed to gel and take off from there.
'During the campaign we lost a few important players at various stages. Jack Meade was a huge loss to us at midfield for the final. We also had a goalkeeping crisis when our goalkeeper got injured. In fairness, Kieran Kelly was drafted in and did a great job at short notice, so in an overall context we improvised well. Also the intermediate selectors did not impinge on our selection if at all possible.'
Was there any special approach or tactics or did they just take each game on its merits in 2014?
'None whatsoever, we took each game as it came and thankfully it all fell into place,' Wilson said.
'Granted, we lost some players to the intermediate team as the games unfolded, but the replacements slotted in well for us.'
We put it to Wilson that other sides seem to have to work that bit extra hard to beat Newcestown teams in any grade; their unbounded spirit, championship ethos and commitment making them difficult opponents. Was this myth or fact?
'I really cannot put my finger on it. We always had heart down through the years,' he said.
'As the young lads come up along the line it rubs off on them. If you don't possess that heart with Newcestown you are considered a bit weak, so that is how we work. Everyone from U12 upwards gives their all in the club's cause.'
Apparently in training schedules, there is an unwritten rule that former players, where possible, chip in and give a hand – surely that must be hugely beneficial in advancing the standards within the club?
Helping out
Wilson felt this was certainly the case and the collective training approach was suiting them, while the vastly experienced former players were only too willing and able to row in behind the club cause by helping out.
'We do certainly. In my group a number of former players helped out and did in the junior A hurling campaign this past year,' Wilson said.
'Most people have young children but we spread the load around and I must say the response is always good. I have to agree it probably is an advantage to have that bit of experience to pass on to the young players.'
Finally, what are the hopes and expectations of Newcestown as they attempt to go even one better in the 2015 season?
'That is a tough one to answer just now,' Wilson admitted.
'Our hurling axis is based first and foremost around our premier intermediate team. They are the mould makers, the principal side and where I am coming from at junior level it is hard to predict how we will get on in the championship next year.
'You could go out and play your league games with, say, 20 lads, basing your possible championship team around them. Unfortunately when intermediate hurling championship day comes around, there is a distinct possibility that you could lose three or four players to that team.
'It is really based on the premier intermediate side's progress and that is to be expected. That is the way it is and should be. But despite this I would be optimistic that we will do well again at the junior A hurling level in 2015, if, as in 2014, we make the intense effort,' concluded an upbeat Wilson.
So the bar has been set at a high level this past year by Newcestown. They have sowed the seeds of endeavour and reaped a rich and bountiful hurling harvest, particularly in West Cork.
It will be hard to improve on what has been a magnificent 2014, but knowing Newcestown they will leave no stone unturned as they face into what promises to be another fascinating playing season for this truly remarkable club.
Like the famous advertisement states: We lead, others follow.