Cork senior hurling selector Johnny Crowley is optimistic ahead of the new campaign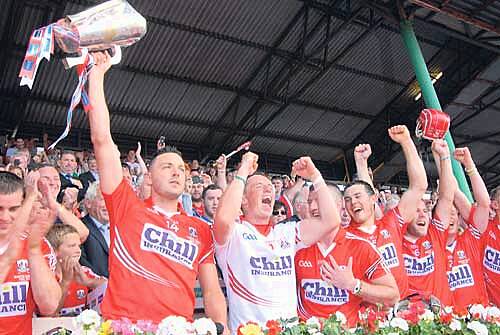 BY NOEL HORGAN
ALTHOUGH they came within seconds of winning the All-Ireland in the drawn final against Clare last year, not everyone was convinced the Cork hurlers would be capable of making a similar impact in 2014.
It was accepted they would be competitive, but there could be denying they were the inferior side over the two games against Clare at Croke Park, and, with Kilkenny and Tipperary – the two teams that headed the ante-post betting on last year's race for All-Ireland glory – expected to bounce back strongly, to qualify for a second consecutive final was going to be no easy task for the Rebels.
Just to negotiate the minefield that the Munster championship appeared to be was no small order for Jimmy Barry-Murphy's men, all the more so since the draw hadn't been particularly kind to them.
They had to meet Waterford in the opening round, and, if they got over that, Clare were next up, with either Tipp or Limerick in the opposite corner if Cork advanced to the Munster final.
Both Clare and Tipp would have been rated above Cork at the start of the provincial campaign, with Limerick on par with them, and Waterford marginally behind in the rnakings.
To say that Cork didn't get off to the most auspicious start in Munster would be an understatement, as they had to come from nine points behind to salvage a draw against Waterford (1-21 apiece).
Dispatched
They smoothly dispatched the Decies in the replay (0-28 to 0-14), however, and they were equally convincing winners over Clare in the semi-final (2-23 to 2-18), a result which did much to fuel the notion they were a vastly-improved side from last year.
They didn't reach the same heights in the final, but the most important thing was that they achieved the desired result against a Limerick (2-24 to 0-24) team that had made a gallant defence of their provincial crown, garnered at Cork's expense in last year's decider.
It gave Cork their first Munster title since 2006, and it was obviously a huge confidence-booster ahead of the All-Ireland series.
Perhaps the most encouraging aspect of Cork's progress through Munster was the input from championship debutantes Mark Ellis, Alan Cadogan and Aidan Walsh, while Bill Cooper was another who showed he was a valuable addition to the team from last year.
So, the consensus was that, after two years of painstaking work trying to develop the panel and strengthen the team, the management had finally got all the pieces to fall into place, and that Cork had a stronger hand going into an All-Ireland semi-final than had been the case in 2012 and 2013.
It was always going to be difficult to keep the winning run going against Tipperary, who, after going under to Limerick by just two points in the Munster semi-final, had built up considerable momentum when advancing through the qualifiers at the expense of Galway, Offaly and Dublin.
Taking everything into account, it seemed as if Cork and Tipp were very evenly-matched, and nobody could have envisaged what was to transpire when they collided in Croker last August.
It turned out to be a humiliating experience for JBM's men, who finished ten points (2-18 to 1-11) in arrears – the heaviest defeat endured by a Cork team in a championship game against Tipp since 1965.
Needless to say, they shipped a lot of criticism in the wake of it, not least because some elementary errors contributed largely to their demise on the day.
As well as gifting Tipp an early goal, they struck some terrible wides in the first half, clocking up nine in all, which were the main reasons why, instead of going in ahead, they were two points adrift at the break.
They fell apart completely in the second half, however, and, all in all, their performance was well below the required standard at this level.
It certainly paled in comparison to what they had produced in Munster, and perhaps that's the most pertinent point when it comes to assessing Cork's future prospects in the wake of their nightmarish exit from this year's championship.
In claiming the scalp of defending champions Clare and shading the issue against a Limerick side that, having earlier ousted Tipp in Munster, came within a whisker of flooring eventual kingpins Kilkenny in the All-Ireland semi-final, Cork had shown they are well-equipped to compete against the top teams.
One abysmal display doesn't alter that fact, and it seems reasonable to suggest it was merely a case of the team under-performing massively in the All-Ireland semi-final.
They might not reach the summit next year, but, based on all the evidence provided over the past 12 months, they would be entitled to feel they are numbered among five or six teams in with a realistic chance of doing so.
Optimistic
Selector Johnny Crowley is certainly optimistic about the immediate future, and he contends the positives easily outweighed the negatives over the past 12 months.
'We won our first Munster title in eight years, and we also earned promotion to Division 1 in the league, so everything was going according to plan until the All-Ireland semi-final disaster,' Crowley said.
'Even in that game, we were still in it at half time, having played poorly, and I thought we were there with a good chance, but we just didn't perform at all in the second half.
'We are still at a loss to explain why it all went wrong, but I suppose it was just one of those things that can happen in sport. I'd say most people would realise the display against Tipp wasn't a true reflection of the team's true worth.'
Stressing that nobody was more disappointed than the players by what happened, Crowley said the management hadn't lost faith in them as they attempt to get the show back on the road in 2015.
'They are a great bunch of lads, they played some tremendous hurling in Munster this year, and I think we proved we can be a match for any team on our best form,' Crowley said.
'Having said that, we will again be leaving no stone unturned in a bid to strengthen the squad, and we have brought in about 18 new players, who will have the benefit of about four or four weeks training under Dave Matthews before the Waterford Crystal Cup.
'It's anyone's guess how many of them will make the cut, but we will be giving them every opportunity to stake a claim for a place on the squad for the league,' Crowley revealed.
Making the point that Cork had contested three All-Ireland semi-finals and had lost an Ireland final replay, since 2012, Crowley feels that significant progress has been made under the current management.
'Ultimately, we'll be judged, as is always the case in Cork, on whether we can deliver an All-Ireland or not, and that's obviously the main target in 2015.
'There's no doubt in my mind we are genuine contenders, and maybe Mark Landers coming in as coach will give us a fresh impetus, although he has a hard act to follow in Kieran Kingston, who did a tremendous job this year,' Crowley acknowledged.