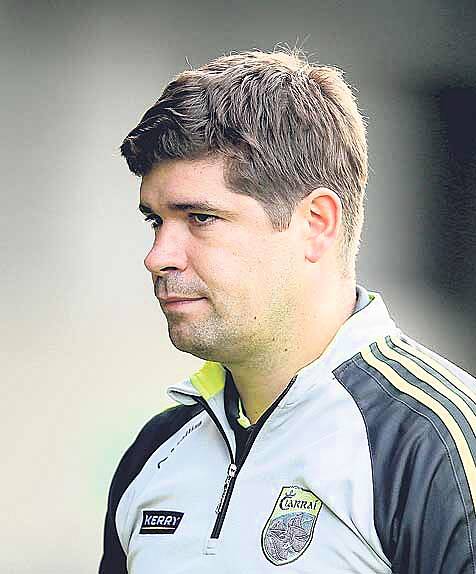 BY KIERAN McCARTHY
KERRY need to get physical against Cork in Saturday evening's Munster SFC replay in Killarney, insists Kingdom boss Eamonn Fitzmaurice.
In the drawn game it was noticeable that Cork had an edge on Kerry in the physical stakes, and Fitzmaurice has demanded an improvement from his players this weekend.
'The funny thing was that 40 seconds into the game Peter Crowley hit Mark Collins a great belt of a shoulder. After that we didn't seem to have any huge physicality in our game,' Fitzmaurice admitted.
'But to be physical you have to get at the ball and get to the man, the last day we just weren't getting to the man. It was another one of the areas in where Cork beat us hands down. They were more physical and more aggressive.
'Absolutely that is one of the areas where we will have to try and up the ante a bit.'
The Kerry boss added: 'We didn't work hard enough as a group (in the drawn game), definitely not. When you don't work hard enough against a team that are going to come in droves, you will be found out.
'There are a lot of areas where we were second best. Cork got it right on a lot of fronts and both on the side-line and on the field I think Cork was better on the day, so we all have to improve.'
The tactical battle in Saturday's rematch will be watched with interest as it's accepted that Cork's Brian Cuthbert got the upperhand on Fitzmaurice the first day out.
The Kerry manager expects Cork to 'throw something different' at his side on Saturday, and the onus is on the home tean to react better to this than they did in the drawn game.
'They played very well the last day so they probably won't move that much away from it. Then again, in the league game they surprised us with the way they played,' Fitzmaurice said.
'They had a surprise up their sleeves the last day. I wouldn't be overly surprised if they threw something different at us the next day. We just have to react better to that if it does happen.
'I think they have a lot of good players who are capable of playing in a lot of different positions. Take Paul Kerrigan the last day, he could play corner-forward, he could play as an advanced half-forward, he could play as a deep wing-forward for you or he could play as a sweeper which he did the last day, effectively so until he got the black card.
'I think, no more than ourselves, they have a lot of flexibility in their group. They can play a lot of different ways. I think they will throw something different at us.
'They'll probably stay loyal enough to the way they played the last day because it was effective, they played very well and they made it very hard for us.'
Fitzmaurice has been busy trying to tighten up the Kerry defence since the drawn game after the concession of three goals. The Kerry backline has been identified as a weakness, and Fitzmaurice admits it's a concern.
'All of the goals (in the drawn game) were preventable and it is something we've been working on because if you're going on to try and win championships and if you're conceding three goals every day out, you're not going to win championships. It's as simple as that,' he said.
'The lads know themselves where the mistakes were made. They don't need me to be pointing out on videos to them that the goals weren't good enough. It's a cause for concern of course.
'It is something that we have to work on and it's something that we have got to get right for Saturday and for the games after that, if we are still involved be it going down the qualifying route or going straight to Croke Park.
'It is an area of concern and it has been an area of concern, it was one of the things we got right last year from the point of view of winning the All-Ireland.'