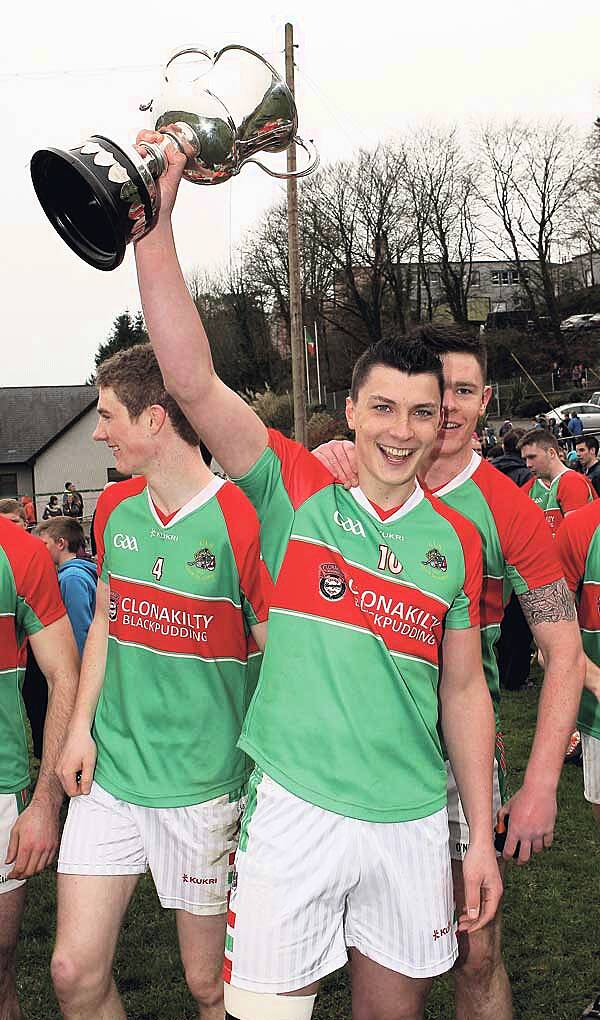 Rate yourself on a scale of 1 to 10 on how funny you are? Well, personally, I think I'm hilarious and find myself laughing at my own jokes so I'd give myself a solid eight.
Highlight of your sporting career? Captaining Clon to a third West Cork in a row last Sunday was probably the proudest day of my life. It's closely followed by my performance in pitch and putt a couple of weeks ago. My hurling grip was aided my pitching (which was outstanding), but my putting really let me down and Sean White won. We've yet to find a sport he's not good at.
Most dialled number on your phone? I'm not really one for phone calls, but my physio Sinead Lynch has been the reason I even kicked a ball in the last two months and she's always just a text away.
What's your karaoke song? Anybody that knows me knows I can't sing, but if I could it would be Come My Little Son by Luke Kelly, although Girls Just Wanna Have Fun is up there too.
Tell us an interesting fact about yourself? When I was small and I was getting given out to for being bold, I used to tell mam that the bold Martin was gone and the good Martin was back. Unfortunately that line doesn't work with her these days.
Best-ever holiday? Albufeira with the lads was unforgettable. The museums were thought provoking and sights there are breathtaking.
If you won the lotto what would you buy first? Aaaahh, to be honest, I'd buy a replacement Liam Farr Cup. It's a little bit shook these days. I think a team holiday out to Cillian Fitzpatrick would be another thing that I'd have to do.
Separated at birth, who's your celebrity twin double? The look-alike app on Bebo said I looked like Chad Micheal Murray… but it also said I look like Nora Jones so I wouldn't really bank on its results.
What's your favourite word? 'Laaaaaaaaads', which is always followed by 'How's life?'
If you could change any part of you what would it be? If I could have Jack Cowhig's left foot I'd be delighted. Wouldn't mind being able to sing like Neil Deasy too.
Your most treasured item of clothing? My Kennedy Cup tracksuit from 2008. I have it hanging up in my wardrobe at home.
Favourite cartoon? Pokémon was the business back in the day. Recess and Animaniacs were favourites too.
If I was an animal then I would be a ... goat.
What question would you liked to have been asked in this interview? Do you think Clonakilty can turn this U21 success into senior success? If we eat enough Clonakilty Cuisine gluten free products from Scally's Supervalu then I've no doubt about it.