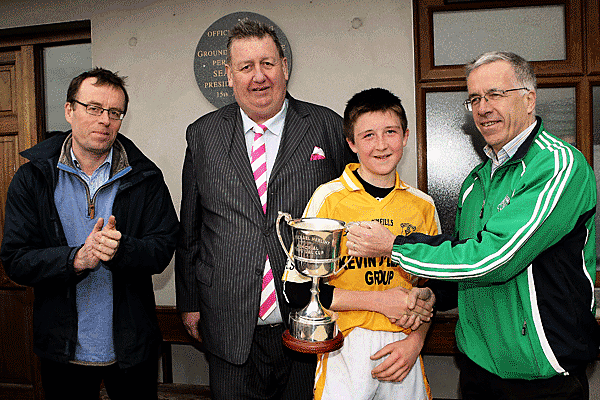 THE first of the U8 monster football blitzes was held in Clonakilty GAA grounds last Saturday morning.
The monster blitzes have been a big success for the GAA over the past two years with numbers attending getting bigger every year.
A new part of the monster blitzes this year is the skill testing where at every blitz the player does one skill, and last Saturday, at half time in the second game, all the players were asked to kick the ball with their non-dominant leg into an empty goal.
Different skills will be done over the summer in both football and hurling. Last Saturday the skill was the punt kick. Now players and coaches have a month to practice it until the next U8 blitz. Our next blitz is U10 hurling on Saturday, April 11th and you can book online on the Rebel Óg website.
Next week is development squad week with all the different squads out either playing or training. First up is the Cork U15 football squad who are training in Balineen at 10am on bank holiday Monday.
On that same evening in Kilmichael, at 4pm, the Carbery/Beara U14 A and B squads are playing the Mid West region in the final of the inter-divisional tournament. This will also double up as a Cork U14 trial, as both of these teams will form one of the Cork teams in the tournament in Waterford in the summer.
On Tuesday, in St Vincent's GAA grounds, Cork, both the U15/16 Carbery/Beara squads are playing in there respective finals. On Wednesday, in Brinny at 3pm, a Cork U15 selection will play St Fachtna's U16 team in a trial game.
Both the Cork U15/16 football squads are playing on the Friday with the U15 away to Wexford and the U16 playing Kildare in Fermoy. All Cork squads will be announced on May 1st for their respective tournaments in the summer.
The Dr Herlihy First Year Cup final was played last Sunday in Rosscarbery with Hamilton High, Bandon, winners over Clonakilty CC in a great game of football. Over 180 first year players have played in this tournament with 12 teams taking part over the past three weeks. Some outstanding games of football were played but none better than Clonakilty CC and Colaiste Pobail Bheanntrai in the semi-final with Clonakilty winning by a single score in extra time on a score of 10-8 to 8-13.
A big thanks to the schools and teachers who took part and the clubs that provided the pitches, and also to the Carbery senior board who have promoted and provided referees for the games. It is planned to run a hurling first year blitz in early May.
You can contact James McCarthy, GDA, on all coaching matters on 087-7799531 or email [email protected].