Talented West Cork athlete is in winning form, again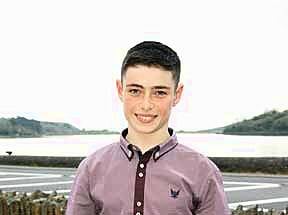 TALENTED West Cork athlete Darragh McElhinney won a gold medal at the Glo Health All-Ireland Schools' Track and Field Championships in Tullamore last weekend.
A recent winner of a Celtic Ross Youth Sports Star award, McElhinney was one of seven Coláiste Pobail Bheanntrai athletes in action last Saturday.
The Glengarriff teenager (pictured) controlled the boys' junior 1,500m throughout before extending his lead in the final 300 metres to win gold with five seconds to spare over the runner-up.
In the intermediate girls' 3,000m, Caoimhe Harrington led from the start until about three metres from the finish line, when she was unfortunately pipped by a Leinster athlete.
This race was soon followed by the intermediate boys' steeplechase, in which Liam Cotter, who is eligible at this age group again next year, battled valiantly in a fast run race, finishing in sixth place.
The girls' junior relay team of Lorainne Murphy, Eve Murphy, Sophie O'Sullivan and Sophie Harrington ran an excellent race throughout, but were narrowly beaten in to third place by a very talented Bandon Grammar team, thereby just missing out on a medal.