Check who was selected on the 2014 Muskerry hurling team of the year.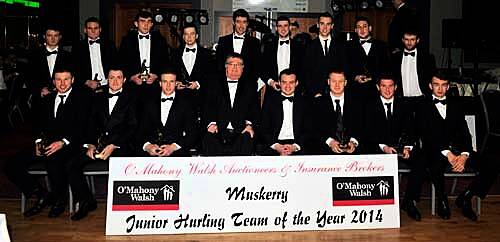 THE 2014 Muskerry hurling team of the year was announced at the Muskerry GAA/Auld Triangle Sports Star awards ceremony on Saturay night.
The Muskerry Hurling Team of 2014 is as follows: Jonathan Buckley (Cloughduv), Paul O'Sullivan (Cloughduv), James O'Leary (Kilmichael), Kevin Horgan (Donoughmore), Andrew Cronin (Cloughduv), Michael Hodge (Ballinora), Bryan O'Halloran (Ballinora), Darragh Ring (Cloughduv), Conor Cotter (Kilmichael), Sean O'Connor (Cloughduv), Peter Kelleher (Kilmichael), Shane Sexton (Donoughmore), Patrick Fitton (Ballinora), Michael Murphy (Ballinora), Donal Corkery (Cloughduv).
The hurling team was sponsored by O'Mahony Walsh Auctioneers and Insurance Brokers, and were presented to the players by Barry Walsh of O'Mahony Walsh.