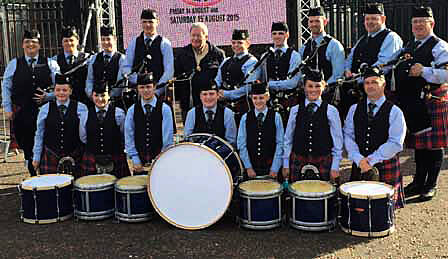 By Kieran O'Mahony
AFTER coming second in the World Pipe Band Championships in Glasgow, the St Patrick's Pipe Band from Bandon will hold a victory parade in the town on Sunday August 30th.
It's been a busy month for the band, which also took 2nd prize and the Best Pipe Corps prize, at the Ulster Championships in Rostrevor in Co Down.
In the build-up to the World Championships, the St Patrick's Pipe Band were touted as favourites to win the contest and they won Best Band in an online voting poll too.
All their instruments and uniforms were transported by road and ferry, while members and supporters flew over. Daily practices were held on Glasgow's city streets in front of large audiences.
On the day of the qualifiers, the band played a march, a strathspey and reel selection for the four judges. They were thrilled to find that they had made it through to the final, having won their qualifier with top marks, and fantastic comments from the judges.
'The band played with great confidence and strength and the young members were not fazed by the large crowds that surrounded them in the tuning area,' said Louise Finn, a bass drummer with the band. 'After another clean performance, it was down to the judges to decide the fate of the group,' she recalled.
'The band knew they had done all they could and hoped it was enough to secure a place in the top six and they were delighted when it was announced they were second. Pipe Major Joy Lane was presented with a large plaque, the John Neill Memorial Shield.'
All the members of the band are also grateful to those who helped and supported them throughout the year, Louise added.