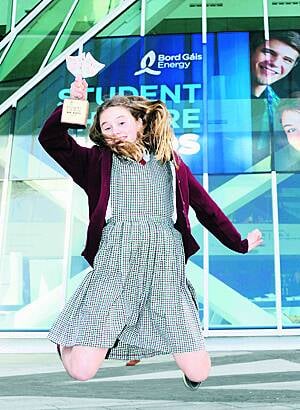 BORD Gáis Energy has announced that St Joseph's Girls' NS in Clonakilty has won the primary category of the Student Theatre Awards.
The winners were announced at a special awards show hosted by actor Simon Delaney at the BGE theatre. Over 2,000 students representing 57 schools around Ireland attended the ceremony.
St Joseph's Girls NS received the Overall School Musical award in the primary awards for their production of Annie Junior. The judges loved the emphasis that the school had put on accents which made the production seem more like a professional one than a school play. In addition, Tola Ní Shúilleabháin – a 6th class student –was awarded the Best Supporting Role award for her performance as Miss Hannigan in the musical. The judges were 'thoroughly impressed with Tola's very realistic portrayal of the character', they said.
As part of the prize, the school will receive a bursary from Bord Gáis Energy.
Bord Gáis Energy set up the Student Theatre Awards two years ago to recognise and reward participation in drama in schools across Ireland. The competition was open to primary school students from 3rd – 6th class and all students in secondary school and featured 11 categories including best direction, best set and best overall play.
This year's judging panel included Harry Potter star Evanna Lynch; actor Simon Delaney; award-winning animator Mårten Jönmark from Brown Bag Films; fashion designer Emma Manley; managing director of Coco Television Stuart Switzer; manager of the Bord Gáis Energy Theatre Stephen Faloon; and Bord Gáis Energy Theatre sponsorship manager, Tanya Townsend.
Dave Kirwan, chief operating officer, Bord Gáis Energy, said the awards were set up to recognise and reward all the great work that is going into schools drama around Ireland – from outstanding musical talent to brilliant costume and set design.
For more, or to register for next year's awards, see www.bgesta.ie