KIERAN McCARTHY chats to Gene O'Driscoll, John Evans and Ian Breen about O'Donovan Rossa's fairytale 1992/93 campaign
**********
'GENE O'Driscoll, he's a hard man to say no to,' John Evans quips – and he should know because he tried it once and it didn't work.
Ahead of O'Donovan Rossa's 1992 campaign John was in semi-retirement. It wasn't official, but he was settling into life outside of club football.
He was 37 years old, didn't line out with his club the season before, and life was busy as it was. Three young kids, aged between six and two. Another to follow. Living in Blackrock in the city. And Skibb was 50 miles west.
'I thought my football days were gone,' John admits.
Gene O'Driscoll had a different vision however.
The Caheragh man, who had been playing with the Skibbereen club since 1987, was part of the senior set-up's new management team in '92, as a player-coach. He was 28 years old, the grit and steel in the Skibb defence with plenty to offer on the pitch, but full of ideas off it too.
'John is a quiet man but, by God, he did his talking on the pitch,' Gene says of the former Cork footballer and All Star (1983).
'He was a Rolls Royce of a defender. He stood up against the best at inter-county level, the Mikey Sheehys of this world, and was never found out.
'We were a new management group and we couldn't let one of the best in the county just walk away. I felt it was worth pursuing.'
John remembers the phone calls to his home in Blackrock. This was the era before mobile phones. Gene did most of the chasing. Martin Crowley, a selector, was also on the case.
John had plenty of admirers, but the Rossa legend needed to be persuaded.
'I remember ringing him, but he said no,' Gene explains.
'I kept ringing him, pestering him. I didn't have a lot to sell except the vision I had and that it would be a shame if he missed out. After numerous calls John finally agreed. We said to come down and play a few games and if you don't enjoy it I'll leave you alone. If you do, we'll push on.'
The rest is history.
Gene had been involved with the Rossas team that won the 1990 Cork U21 football title. He spotted the talent coming up. Don Davis, Kevin O'Dwyer, John O'Donovan, Brian Carmody and Brian O'Donovan all started that U21 triumph against Beara in November '90. They all started in the club's greatest-ever moment too: the All-Ireland club senior football final replay win against Éire Óg on March 28th 1993. What they needed was to be surrounded by experienced characters, like John Evans. He became the cornerback in an otherwise youthful full-back line that included John O'Donovan (21) and Frank McCarthy (20).
'Lads like Kevin and Frank and Neville Murphy, they were about 18 or 19 years of age, and I was twice their age,' John points out.
This is a comeback story that has a dream ending. John Evans anchored a defence that was the platform for the greatest season of any West Cork football team ever: the 33/1 no-hopers who beat the bookies as well as the best in the county to win the club's first-ever Cork senior football championship title. Munster and All-Ireland honours followed too. A campaign sent from the Evans.
***
One of the reasons John Evans was slow in committing to lacing his boots again was because after he turned 30 he suffered with injuries.
'Every summer when the ground got firm I picked up hamstring injuries,' he says.
'I was ruined by them. They finished my inter-county career as well.'
He missed two games in Skibb's 1992 county campaign, and both in the summer months – the round-two dethroning of reigning champions Duhallow in June and the quarter-final win against Muskerry in July. The latter has always stood out to Ian Breen as a huge moment in the development of this Rossas team.
That was the day when 'Small' Mick McCarthy said enough is enough.
'Mick was a joker, great fun to be around, but this was the first time that I saw a real serious tone to him,' Breen reveals.
The Skibbereen team trailed by three points at half time in Dunmanway, having played with the wind. They were being outclassed and were staring at another championship exit.
Since they came out of the intermediate ranks in 1985 the Rossas didn't make an impression at senior level, barely landing a punch of note. They were 33/1 that season for a reason. One round-one exit ('89). Three second-round defeats ('86, '88 and '91). Two quarter-final knock-outs ('87 and '90). They were hardly setting the world on fire. And here they were again, wilting.
Small Mick was captain this season. He was a man who always put his club before his county. It was no secret that the Rossas meant everything to him.
'He gave his heart and soul to Skibbereen,' John Evans explains.
'We had a lot of very good players, we had some great players and then we had Mick McCarthy – he was the difference,' Gene O'Driscoll adds.
Small Mick was the difference-maker against Muskerry as the Rossas faced another quarter-final exit.
'We were three points down at half time, playing shite, and Mick took over at half time and really lifted the roof,' Ian Breen says. These two go back a long way. They soldiered alongside each other for years, with club and school. Ian captained the St Facthna's team that won the Skibb school's first Corn Uí Mhuirí title in 1982; Small Mick and Tony Davis were stars on the team, too. These three were in their prime in the early 90s. Real leaders who led in different ways.
'He wasn't prepared to leave what we had achieved in the early rounds count for nothing. It changed our whole way of thinking,' Breen continues.
'Mick was an established Cork player, had won two All-Irelands, and he was sick of us getting knocked out in the early rounds of the championship. He just had enough. He slammed the table, I'll never forget it. The old dressing-rooms in Dunmanway were on the left-hand side when you went in, there was only a partition between the dressing-rooms, and I'd say even what Mick was saying the opposition heard and they probably couldn't believe it either. It was really coming from the heart. We came out completely transformed in the second half. That really resonated with me.'
Early in the second half Muskerry led by five points, but the Rossas rallied, Small Mick converting a penalty as he finished with 1-8, and Pat Davis added a late goal. The Skibbereen team won 2-12 to 1-11, and marched into the semi-finals. Belief was growing within the group that they could achieve something special. Momentum was building. The team was gelling. Aghada were defeated in the semi-final to set up a county final showdown against the city aristocrats Nemo Rangers.
***
Joe O'Driscoll previously told the Star that he was convinced O'Donovan Rossa was going to win the 1992 Cork SFC final. It wasn't cockiness, instead it was confidence. They backed themselves (literally). They had the firepower: Small Mick, Cavan senior John Brady, Pat Davis, Don Davis, Joe O'Driscoll, Neville Murphy. This Skibb team also had a defence they backed to handle any opponent. Nemo's star-studded full-forward line of Joe Kavanagh, Paul Lambert and Colin Corkery combined for four points from play in the '92 decider. Nemo had kicked goals in every round en route to the final in Páirc Uî Chaoimh, but the Rossas rearguard shut the city boys down. Future All-Star goalkeeper Kevin O'Dwyer. The full-back line of Evans, O'Donovan and McCarthy. The brilliant half-back line of Gene O'Driscoll, Tony Davis and Ian Breen. This defence had everything.
'We had a mixture of steel, football, pace, game understanding and experience – and we needed to draw on all that. It was a mixture of those who could play and those who could stop, and the balance was good,' explains player-coach O'Driscoll. Ian Breen credits the Caheragh native with adding a steel to this Skibb side. Gene doesn't take a step back, on or off the pitch. Strong and assertive, he is armed with a booming voice that demands attention. He got it that season.
'Gene got the group going as a team rather than individuals,' John Evans explains, but it was a tough ask for a man in his late 20s to balance playing, coaching and working, as well as being a husband and dad. Back then Gene worked as a fruit and veg wholesaler, supplying shops and restaurants. He had his own lorry on the road. The days were long. Gone before the kids were up. Often home when they were already in bed.
'There was often a time when Julie would meet me at training with my gear bag, I'd be just back from my day's run, and the session would be planned out. I won't say it was easy, but I had put up my hand and I was going to take on the role. When you take something on, you just get on with it. Coaching was easy in one sense – it was to get the ball into Mick as often as you can. Go from A to B as quickly as you can, and get the ball to him.'
Small Mick became the first-ever Skibbereen man to lead the Rossas to a Cork senior football title – Nemo humbled, 2-9 to 0-10. Skibb's captain fantastic then led the way through Munster. Newcastle West away. All-Ireland champions Dr Crokes dethroned in Skibbereen. St Senan's toppled in Killarney. The Rossas now ruled Munster. Next stop: Lavey in Derry. A trip no one will ever forget, including Michael Scanlon of C103.
***
County Sound, as it was known then, now C103, started covering GAA matches in the summer of '91. Twelve months later O'Donovan Rossa's dream season landed.
'Outside of The Southern Star doing what it has always done so well, along comes local radio and it was the first time people could hear local guys being interviewed. I've always said that in a way C103 made O'Donovan Rossa, but O'Donovan Rossa made us; it was a marriage made in heaven,' Michael Scanlon explains.
Scanlon and the late Paudie Palmer joined the Rossas bandwagon, as it rolled through Cork and then Munster – and next up was a trip to Northern Ireland for the All-Ireland semi-final against 1991 champions Lavey in Derry.
'The first thing we faced when we went over the border near Dundalk was a big British Army checkpoint. You had to stop. The army guys came, looked into the car. Paudie and myself were scared for our lives, we had wires and plugs and radio equipment in the boot so our fear was they'd open the boot,' Scanlon says.
'The North then was very different to what it is now. At the time it was dotted with towers and the rumour was there were listening posts for the British Army and they could hear what was being said in a car, so Paudie and myself had a very quiet journey!'
Scanlon describes the match itself as 'crazy'. It became known as the Battle in Ballinascreen. Lavey had two players sent off inside 14 minutes. John Evans recalls an intimidating atmosphere. The Rossas' football did the talking as they won handily, 2-10 to 0-4, with Small Mick utterly brilliant with 1-9.
'Our commentary was also going out on Highland Radio in Donegal. We had a fella called Michael Magee on co-commentary with Paudie, and the three of us were sitting on the front row of the stand looking down into the tunnel where the teams came out. At half time the boys behind us started firing bottles into the tunnel as Skibb were coming off. We were ducking the bottles, trying not to get hit. It was a different place back then to now,' Scanlon says.
Such was the blaggarding at that game, the GAA changed its rules after so that no team would have home advantage in All-Ireland semi-finals. It was neutral venues after this. Skibb survived, and even though it was a long trip home for players and supporters – buses and trains – there was an All-Ireland final to look forward to.
***
The Rossas landed in Dublin on Tuesday, March 16th, ahead of their showdown with Carlow and Leinster kingpins Éire Óg in Croke Park the next day. A minibus met the Skibb team at Heuston Station. They were staying at the West County Hotel on the Old Lucan Road, but the journey was far from straightforward.
'I'd imagine if you were a bus driver in Dublin you should know your way from the train station to the hotel, but this fella got lost,' Gene O'Driscoll laughs.
'I remember him having to stop and ask for directions.'
The bus itself had seen better days. No surprise then that it broke down, and a replacement bus was called to ferry the team to its destination.
'It was eventful but it did lighten the mood,' says Gene.
That mood darkened the next day when the Rossas, in the unfamiliar blue of Munster, failed to light up the big stage. Instead, Éire Óg looked like the champions in waiting, building up a three-point lead inside the final quarter.
'The first day out, I felt our eyes were completely off the ball. We thought it was a matter of going up, beating the Carlow champions and bringing home the cup. We were very lucky,' Ian Breen admits. No surprise as to who bailed out the Skibb team missing the injured John Brady.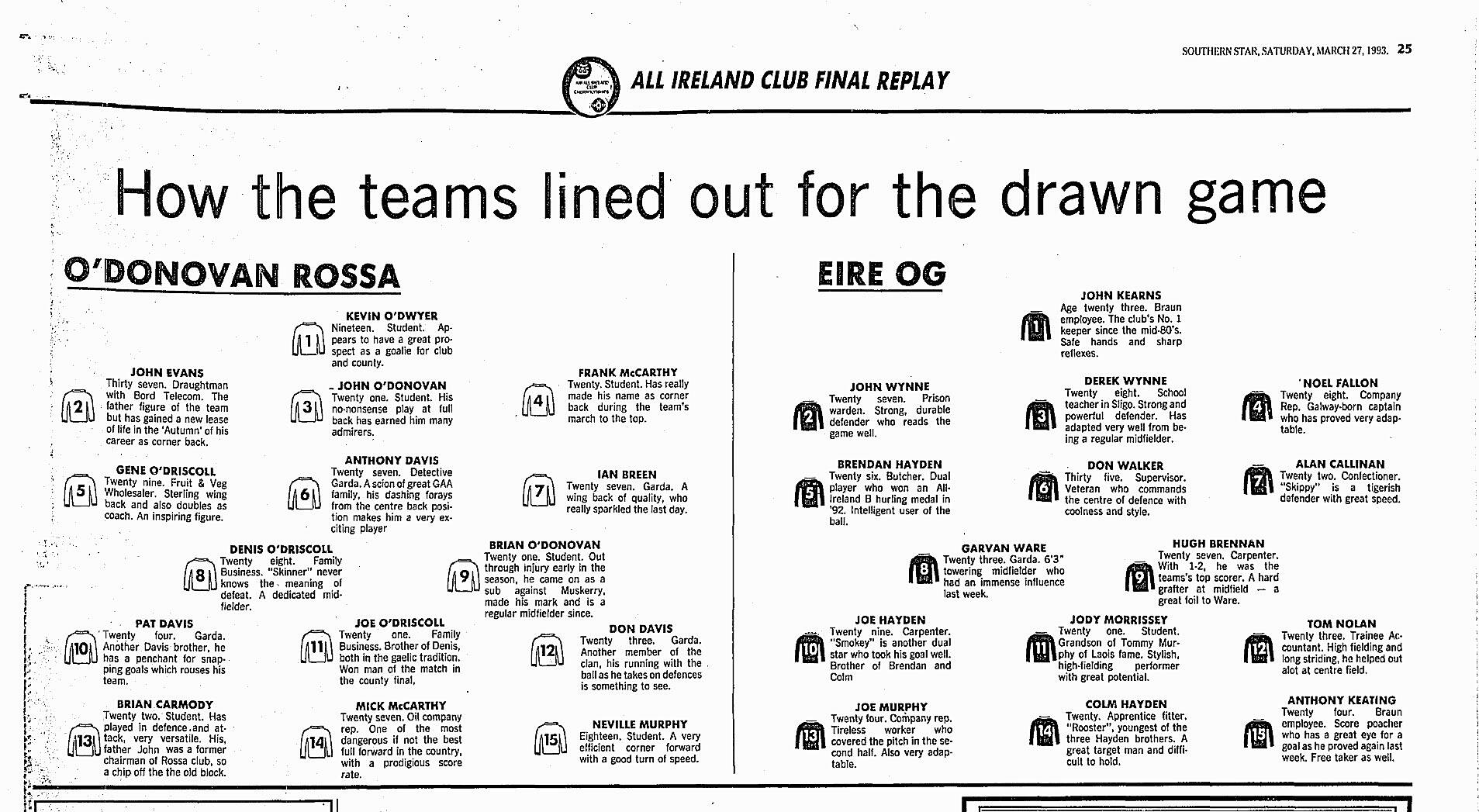 Small Mick kicked the final three points to earn Rossas a draw and a second chance. He scored 1-8. It was one of his best performances.
'Would we have won a county or All-Ireland without Mick? As good as we were, probably not. He was our go-to guy. The bigger the day, the bigger the pressure, the more he loved it,' adds Gene O'Driscoll.
The Rossas had got out of jail in the drawn game, 1-12 to 3-6, but were determined to make amends in the replay 11 days later at the Gaelic Grounds. This is the greatest day in the club's history: they became All-Ireland club senior football champions. John Evans, coaxed out of semi-retirement, 12 months earlier was magnificent. Man of the match Ian Breen was immense. Gene O'Driscoll shook off his hamstring woes to lead. Tony Davis showed his class. Defensively Skibb stepped up and tightened up. It was tense to the end, including Éire Óg's late disallowed goal. The Rossas won 1-7 to 0-8. Magnificent. Incredible. Historic. It's a feat no West Cork team has matched since. A fairytale.
'It was a moment in time and to be part of it is something I will always cherish,' adds Gene O'Driscoll. And every other member of that great Rossas team would echo that thought. The stuff of legend.
Read the full 8-page special feature on a special season via our ePaper.