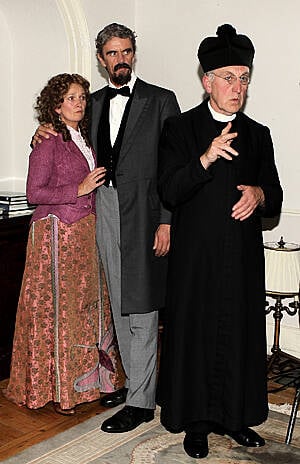 By Siobhán Cronin
A WELL deserved standing ovation brought the opening night of Maria Young's play 'Rossa' to an end, last Sunday night in Skibbereen's Town Hall.
The fitting tribute from the packed hall confirmed the play as a must-see for any fans of history or with an interest in one of the most important periods in the Irish fight for freedom.
The play tells the story of Reenascreena's Jeremiah O'Donovan Rossa, who is described as 'Ireland's greatest Fenian' and whose funeral oration, by Padraig Pearse, is one of Irish history's best-known speeches.
The story, with many references to West Cork, is told by both Rossa himself, and his wife Mary Jane Irwin, and is as much about the couple's relationship as Rossa's relationship with Ireland – indeed Mary Jane (Nora Scannell) remarks at one point that her husband was in love with another woman even before they got married – Eireann.
Most of the story takes place in various prisons in England where Rossa was incarcerated by the British having been convicted of treason to the Crown.
It is often bleak, following the various stages of his mistreatment, including beatings, strippings and regular episodes of enforced starvation. But there are also light moments, and several intimate exchanges with Mary Jane.
While there is a 12-strong cast, there is no doubt that the audience's warm reception for the play was largely down to the fine performances by the two main actors: Declan McCarthy as Rossa and Nora Scannell as his wife.
A tall, slim McCarthy was perfectly cast as the patriot, and managed to convey his declining physique, through malnourishment and neglect, as the years passed before the audience.
The role was a challenging one: he recited several impassioned speeches as Rossa appeared in court, in jail, at public meetings, and in long letters to his wife. But he never faltered, and in fact it would be hard to imagine another actor fulfilling the role as effectively.
Mary Jane, played by Nora, followed a very believable emotional journey from love-struck young woman, to angry middle-aged 'widow' (her description) as her husband languished in jail, through their reunion, and in their golden years.
The audience learned that, in the early years, she was none too happy with her husband's determination to antagonise his jailors, as she believed it was prolonging his incarceration, leaving her to provide for their children back in West Cork.
While the two main actors were wonderful, special mention should also go to the set directors – Con Minihane and Charlie Keohane – who managed to perfectly portray the desolation of 19th Century English jails, an atmospheric courtroom and Mary Jane's home, all with minimal props and very little disturbance between scenes.
The play is based on the 1945 award-winning drama by Roger McHugh and is a collaboration between Kilmeen and Skibbereen drama societies and Baltimore and Schull drama groups.
It will be performed in Rossmore this weekend (July 25th and 26th) at St Mary's Theatre at 8pm, and is well worth catching. Booking is on 086 4481086.