'We are as familiar with the hands of our family members as we are with their faces' – that's the message from Maura O' Connell, of West Cork Casting Studios, Dunmanway.
It's the reason the casts she makes of people's hands are so popular. They become family heirlooms.
Maura began her casting business by making casts of bumps for pregnant women. When she saw a video of a family holding hands in cast, she fell in love with the idea of getting little hands memorialised and framed.
Then a client asked her could she do older hands as well. So she did a 94-year-old man holding his five-year-old grandchild's hand.
Casting memories
'That was very special,' she says. 'An adult child holding a parent's hand is a very different emotion entirely'.
In effect, she's casting a memory that all the family can look back on.
Having initially studied social science Maura worked for many years as an adult guidance counsellor.
'This gave me excellent listening skills which I now employ in my casting business,' she says.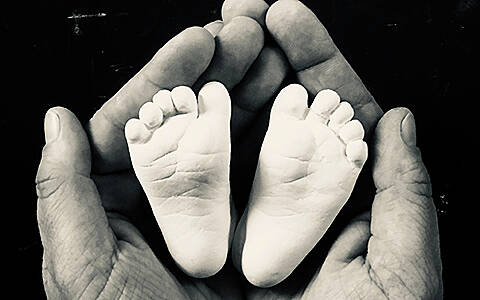 Maura began casting pregnancy bumps before moving on to hands and feet
'It's not just a matter of clients coming in and making a mould of their hands. You're chatting and hearing their stories as you work with hands.
'Those hands have done a variety of jobs through life. And our hands don't lie. Our life story is there in every wrinkle and scar and line'.
Skin-safe material
The material she uses to make a mould is the same material used by dentists to take impressions. It is completely skin-safe and gives wonderful definition.
Something as small as a hangnail or a paper cut will show up on the finished cast. Making a cast takes twenty five minutes.
Weddings and wedding anniversaries are another popular request. The couples' hands are captured and the details of the rings are amazing. They make great wedding presents which last longer than photos.
Recently she's done three generations of one family which will be a treasured memory. She has also cast the hand of three-time All-Ireland winner Sean Óg Ó hAilpín.
Another request came from a wife who wanted a cast of the sole of the boot her husband, who has motor neurone disease, wore when he climbed Carrauntoohil.
Plans to expand
In 2020, Maura plans to travel to other West Cork towns offering baby hand and feet casting events, in shopping centres and similar venues.
If you are interested in any of the services Maura offers you can contact her via westcorkcastingstudio.ie, [email protected], Facebook, Instagram or call 0868771297