With stores in both Skibbereen and Clonakilty, Fuchsia Footwear has become synonymous with comfort and quality in West Cork.
On October 11th, Fuchsia Footwear on Pearse Street in Clonakilty will host a special event in association with Danish shoe manufacturer ECCO.
There will be spot prizes throughout the day as well as several pairs of ECCO shoes to give away.
There will also be a select range of ECCO shoes on special offer across the weekend.
ECCO is a brand synonymous with excellence and value for money, which is why Kevin O'Regan, owner of Fuchsia Footwear, has cemented such a strong relationship with them.
At the event an expert from ECCO shoes will be in store to offer free advice on shoe fittings to the public.
This is a wonderful opportunity to get an expert view on fittings and which shoes are best suited to an individual's needs.
Speaking to The Southern Star, Kevin says that he's inherited a very strong heritage of footwear retailing in West Cork, from the Kirby's & Hurley's in Clonakilty and Connolly's in Skibbereen.
Both shops were synonymous with comfort and quality and he's built on that legacy of comfort based footwear, while at the same time keeping up with trends in the footwear and fashion industry.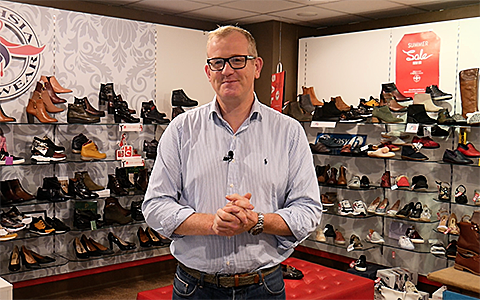 Fuchsia Footwear owner Kevin O'Regan has been in business for 14 years
Fuchsia Footwear provides shoes for infants to grandparents in a wide range of sizes including wider fittings.
'We also cater for larger sizes up to 14 and 15 in men's shoes and up to 11 for ladies'.
With the winter season upon us there is a need to think more practically about our choice of footwear and as ECCO stockists, Fuchsia Footwear have you covered by stocking a large selection of Gortex lined products.

'We get cold and wet not because of the weather but because we don't dress appropriately for it,' Kevin says.
'Gortex is water proof and breathable giving the benefit of dry, comfortable, warm feet no matter what the weather'.
If you can't make it to ECCO day on October 11, Fuchsia Footwear also have an online presence.
'Our website is another shop window,' Kevin says of www.fuchsiafootwear.ie.
'However the ethos of our shops is that the customer is number one. Customer service is paramount,' he says.
'And that's what keeps us going. We like to think that we are well known throughout West Cork for a wide range of good quality products combined with excellent customer care'.
Fuchsia Footwear will host a special ECCO day at their Clonakilty premises on October 11th. For more information visit www.fuchsiafootwear.ie or follow them on Facebook.