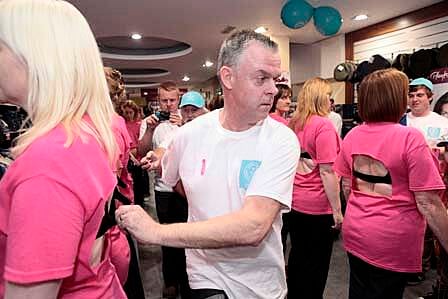 BY JACKIE KEOGH
SKIBBEREEN'S Sean Murray is about to become big in Japan but it is all down to dumb luck.
A couple of weeks ago, Sean got an email from someone called Taka Shoyama, purporting to work for Collaboration Inc – Japan's biggest TV station with an audience of 12 million viewers – kindly asking permission to use his famous bra unhooking video.
'I deleted it, thinking it was spam,' said Sean, who unabashedly admitted that he also deleted the second request. It was only when the TV producer rang him directly that he thought: 'Doh!'
Sean said the Japanese company are doing a programme called the World Number One, which is due to be aired before the end of January, featuring quirky, good news stories.
'They wanted to know if they could use our video clip,' Sean said of the event that took place in his shop on Main Street, in October 2013 and became a Guinness World Record.
On that occasion, Sean unhooked 91 double-clasped bras in one minute using one hand – a feat that hands down beat the 69-bra record set in 2012 by Dennis Storm of Holland.
Denying that his talent has anything to do with the fact that part of his business is in lingerie, or that his dexterity has anything to do with a misspent youth, Sean said: 'It is, as I've been told, a unique and useless talent at my age and stage in life.'
Sean told journalists earlier in the week that he was working on another charity idea. 'It will involve undergarments but it will involve two hands this time,' he promised.