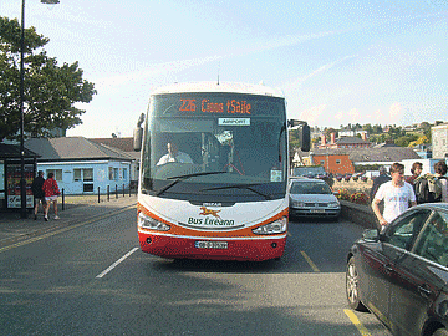 By Siobhan Cronin
BUS Eireann in Cork is upgrading its fleet within weeks, which should help with the demand for additional and revised services, the company's acting regional manager announced last week.
Addressing a meeting of the Bandon-Kinsale Municipal District, Martin Walsh said that 15 new double decker buses and additional coaches and Expressway buses were due to be delivered at the end of January.
'We will be targetting some of these areas,' he said, after hearing concerns from councillors about various services in the region. The question of changing the drop-off location for the Kinsale bus, because the quayside is considered dangerous, was raised by councillors.
Mr Walsh said it was currently being considered, as was an alternative turning location.
Cllr Tim Lombard wondered if Ballygarvan could be included on the route of one of the Kinsale buses. 'An amount of people would be able to use this service then and it would be amazing,' he said.
Mr Walsh responded to earlier queries about late arrivals of buses, saying that traffic was an issue this year since the colleges returned. 'We are busier since the colleges came back than we have been in previous years.'
A number of councillors commented about the service from Crosshaven which had changed route. Mr Walsh responded saying the decision was taken to direct some of the buses via the Brightwater estate, as there were now a lot of houses there.
And he added that he realised there was a lot of 'frustration' from Crosshaven customers when the bus had to turn left into Carrigaline in the mornings, rather than going directly into the city centre. 'We are hoping to make big improvements on that,' he said. 'But we have to get a licence from the NTA to make any changes.'
Regarding the Kinsale buses, and comments about some routes going via the Airport, Mr Walsh said the business park there provided a lot of customers for Bus Eireann, including in the Amazon building.
Also Bus Eireann endeavoured to ensure the Kinsale buses' timetable was 'clock face' as in, every hour, or on the half hour, to make the timetables more accessible for tourists.
'We have been criticised for complicated timetables in the past,' he said, 'which can be a barrier to new customers.'
When one of the councillors said the 7.30am bus from Fountainstown didn't get commuters to the city centre by 9am, so was virtually useless, Mr Walsh replied there was a later bus which by-passed Douglas, and got there earlier as result.
There was also a suggestion of Ballinspittle being included on the Kinsale service.
'If you send a bus to Ballinspittle, it will mean one less to Kinsale during the day,' the Bus Eireann rep said.
Cllr Lombard said he had many letters from local people on the 'high road' in Crosshaven who had lost their bus service and were 'very disappointed' it had been changed.