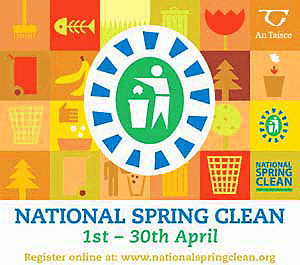 THE National Spring Clean will get its West Cork launch on Monday in Dunmanway.
Now in its 17th year, it is Ireland's biggest anti-litter initiative. Last April saw 5,112 clean-up events happen all around the country.
The launch in Dunmanway will take place at 11am at the Square, encouraging locals to take part in the collection of over 500 tonnes of litter nationwide.
Last year, about 35% of the litter collected was recycled.
When participants register for the National Spring Clean, they will receive a clean-up kit with valuable tips for a successful clean-up event, and a poster to advertise it.
The pack also includes plastic bags in which to collect the litter – and a reminder to recycle where possible. There are also tabards to keep clothes clean and gloves to keep hands safe.
Any area can now share their event on the Spring Clean Facebook page, allowing groups to interact with others and share ideas and tips. To hold a clean-up in your area, register at www.nationalspringclean.org where you can complete the form and return it by Freepost. or register by phone on 01 4002219 or email [email protected]