Business Connect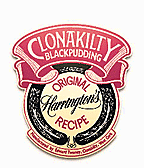 CLONAKILTY's best-known export, black pudding, is making a name for itself in the UK.
The company has just announced that Sainsbury's customers will now be able to purchase Clonakilty Blackpudding in many of its stores throughout Britain.
Sainsbury's have given Clonakilty Blackpudding a trial listing initially, running for 12 weeks to test sales for a longer term commitment with Clonakilty Blackpudding.
The West Cork iconic food firm is hoping to encourage any Irish living in the UK to indulge their passion for the pudding by puchasing it in great numbers, and thereby ensuring it has a longer shelf-life in the well-known supermarket.
The pudding was unveiled in the stores on January 1 and will now be available in the retail giant's 43 Sainsbury stores in the London area and across southern England.
The product available on the shelves in the UK is the 200g Gluten Free Clonakilty Blackpudding, available at a discount price of £1.50 for the trial period. To boost the promotion, the company has launched a high profile competition to tempt locals living abroad to pick up some of the product.
'To support the new availability with Sainsbury's, we are running a 'selfie competition', offering one lucky person the chance to win a weekend stay at Inchydoney Lodge and Spa in Clonakilty in West Cork,' Louise Barker of Clonakilty Blackpudding told The Southern Star. The prize includes return flights from London to Cork.
Entrants are asked to take a fun and creative 'selfie' (picture of themselves with a mobile phone or tablet) outside a Sainsbury's store with a pack of Clonakilty Blackpudding in the picture. Once they upload it to the Clonakilty Facebook or Twitter page with the hashtag #ClonakiltyatSainsburys, they will be entered into the draw.
There will also be a range of runner-up prizes on offer, including Clonakilty t-shirts, aprons and Sainsbury vouchers.