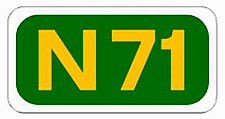 By Kieran O'Mahony
WEST Cork is being short-changed by the National Roads Authority (NRA) when it comes to the N71.
At this week's Cork County Council meeting, local councillors called on Cork County Council to request Minister Paschal Donohoe and the NRA to upgrade the N71 from a national secondary road to a national primary road.
'This road is crying out for an upgrade, and the NRA are treating West Cork shabbily. I actually never travel that road as it's dangerous and a nightmare to drive,' said Cllr Joe Carroll.
There was general consensus from all councillors from the Western Committee of the Council that the N71 needs a serious upgrade and also that something needs to be done at both sides of 'Chip Van Corner' at Curranure, Innishannon.
Cllr Kevin Murphy said this has been an ongoing issue and that councillors have been putting motions down for years for the N71 to be upgraded from a national secondary road to a national primary road.
'Everyone knows secondary roads get little attention from the NRA, and a full agreement came from a Western Division Committee recently that we should ask Cork County Council to agree to an upgrade and it deserves to be changed. We have no national primary road in West Cork,' said Cllr Murphy.
'The NRA are appallingly slow in doing repairs to this route. Also the 'Chip Van Corner' at Innishannon continues to be one bug bear with crashes at the corner on several occasions and it needs further investigation. It may need a non-slip new surface and the installation of rumble strips. 'Chip Van Corner' is also a scenic spot and that piece of scrap of a chip van is an eyesore and a blight on the picnic area and it's a distraction.'
Cllr Rachel McCarthy said that the N71 stretches from Bishopstown to Beara and that if the number of lives lost on this road were counted up, people would be shocked at the figure
'Chip Van Corner' also needs fixing and a life was lost there in recent years. New warning signs have been put up, but cars have knocked them down and there have been accidents there on a regular basis. Work has been done to make this a safer stretch but it's not where we need it to be. And with the Wild Atlantic Way on the N71, this will lead to increased traffic on this route,' said Cllr McCarthy.
Cllr Michael Collins said councillors were 'worn out' talking about it and 'that the powers that be just aren't listening' while Cllr James O' Donovan said the 'lack of funding for the N71 is a disgrace.'
Cllr Tim Lombard also said there has been a lack of progress on funding for the N71 for decades and that something needs to be done about 'Chip Van Corner.'
Chief executive Tim Lucey said he supports the upgrade of the N71 to a primary road, as it's the key route to West Cork.
In relation to 'Chip Van Corner', he said there have been significant improvements in recent years with signage from both sides.