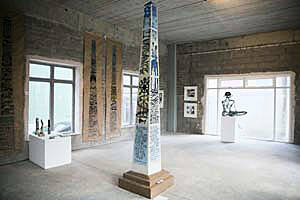 WEST Cork Creates is the title of a rare and unique exhibition of collaborative projects between professional artists and crafts makers, designers and photographers taking place currently in Skibbereen.
The show is on view, 10am-6pm daily (excluding Sundays), at the O'Driscoll Building on Levis' Quay until 13th September (2015) under the auspices of A Taste of West Cork.
It was officially opened last weekend by Dee Forbes (president and managing director of Discovery Networks Northern Europe) and is curated by renowned artist and print maker Coilin Murray and professional craft maker and author Alison Ospina. It showcases bespoke projects specially commissioned.
The joint works came about through an open call for a submission of ideas for original creations. A final 13 projects were selected, on the basis of their exceptional innovation and originality. These form the core of the show with a selection of the usual work of each of the collaborators also exhibited.
Examples of the sort of work that visitors to the exhibition will get to see include a basket maker who teamed up with a visual artist on a piece representing the elements (Earth, Air, Fire and Water) using materials such bog oak, willow, paper and charcoal.
Another pairing sees a silversmith and cutlery maker team up, resulting in beautiful jewellery and knives with semi-precious stones set into the handles.
Extra features of this vibrant exhibition will include talks on the process of collaboration, demonstrating how the vision of the artist combined with the knowledge of materials and skill of the designer/crafts maker and the techniques learnt and shared. Some artists will show photographs, video and recordings of the experience.
It is a fun 'behind the scenes' look at what took place in the lead-up to the exhibition adding an extra element of personality and emotional buy in to those in attendance.
Recognised as a highlight of the summer festival calendar, 'A Taste of West Cork Food Festival' has broadened its scope to showcase, not only the best of food, but also the amazing arts, craft and design for which West Cork is renowned.
West Cork Creates, is supported by Cork County Council through its arts officer Ian McDonagh, the Craft Council of Ireland and the West Cork Craft Guild.
Entry is free of charge. For more information see www.atasteofwestcork.com