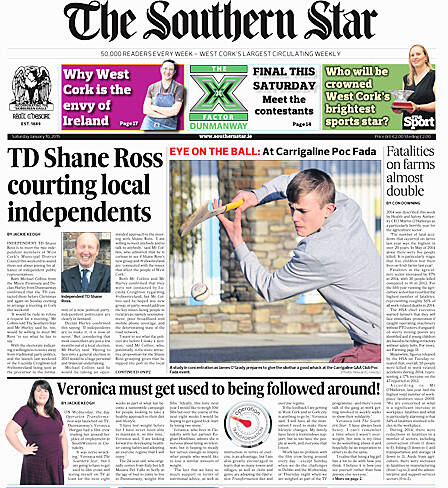 IN NEWS…
TD Shane Ross courting local independents
Fatalities on farms almost double
Veronica must get used to being followed around!
Skibb school site works under way
Beara hospital fire drama
Clonakilty streets to be dug up this year
Durrus walkway opened
Artist moved by plight of Bandon woman
Dunmanway 'X Factor' final this Saturday – meet the finalists
Kinsale Golf Club book launched
Macroom ploughing – first competition of the season
COMMUNITY…
Why West Cork is the envy of Ireland
IN SPORT…
Who will be crowned West Cork's brightest sports star?
GAA: Who's in charge of the West Cork senior football teams for 2015? We'll tell you
Soccer: Round-up of the mygaff.ie cup action
Bowling: Interview with Christy Mullins, West Cork Sports Star Hall of Fame entrant
Motorsport: Three pages of Cork motorsport, including a review of the 2014 action
WEST CORK LIFE...
Fashion: Buy your key items now
Wildlife: Yellowhammers on the 'red list'
Gardening: Take a close look at what's happening
PLUS LOTS LOTS MORE!