THE 15th Cumann Staire Uibh Laoire Journal is in the shops and is as usual a packed resource of local historical information and memories.O'Sullivan boys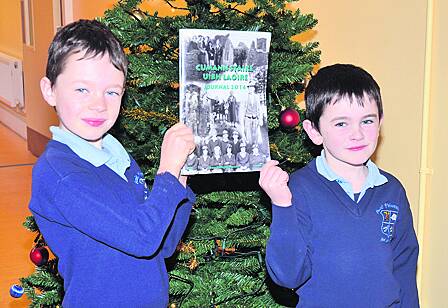 BY CATHERINE KETCH
THE 15th Cumann Staire Uibh Laoire Journal is in the shops and is as usual a packed resource of local historical information and memories.
Founder member Peter O'Leary is remembered fondly in this issue, which is a mix of stories and photos.
'We've over 30 photos in a photo gallery as well as the articles, so we're combining the journal and what was the Uibh Laoire Photographic Journal,' says chairman and editor Sean O'Sullivan.
There's a very interesting piece on a little-reported skirmish which happened at the unveiling of the monument at the Mouth of the Glen. The story of the engagement at the site, which was the first since 1916 against crown forces, has been well told in recent publications. However, the skirmish as Jack Lynch unveiled the plaque is little known except locally.
'There was no newspaper reports about it even though around here we'd always have heard that it happened in 1970 but this is the first time there's actually been something written up about it and we came across the poem which was written in the aftermath,' Sean says.
There's a wealth of stories from the '50s, '60s and '70s. There's a piece on the road safety car rally as well as a piece on the first Ballingeary Agricultural Show, which has an uncertain future.
Sean highlights the story of the Denis Moynihan Quintet, a local showband in the 60s the heyday of the show bands which had regular engagements.
Keimaneigh NS was visited by the Paddy Crosbie's 'School Around the Corner' and Sean explains that Paddy Crosbie in fact holidayed for many years in Tuirin Dubh. 'He would have known the parents of all the children involved'. Videos made at the time by Paddy Crosbie, and which are available in Vimeo, are listed in the article.
There's a tale of youth from the South Lake Road, stories of Derryleigh and original poems from this year's Daonscoil, the school manuscripts of 1938 are translated, there's information on lichens, wedge tombs, Inchigeela's Anglican church and the story of James Cronin a soldier in WW1. The Land War in Ballingeary is examined, a list if local and unusual Irish words are explained and 'Cogar' magazine is remembered.
Available in Ballingeary, Inchigeela and Macroom Bookshop, the journal has been winging its way to the four corners of the globe.