Our special report, on the 40th anniversary, reflects on the terrifying ordeal of the Fastnet yacht race in 1979 that claimed the lives of 15 competitors.
By Robert Hume
AT 10am on Saturday August 11th 1979, a total of 303 yachts set sail from Cowes on the Isle of Wight, not realising what was ahead of them.
For skipper David Sheahan and his 17-year-old son, Matthew, on Grimalkin – one of the smallest boats (named after the witches' cat in Macbeth) – it was 'the biggest challenge of their lives'.
Founded in 1925, the six-day Fastnet race follows a 608-mile course to the Fastnet Rock, the most southerly point of Ireland, and back to Plymouth, via the Scilly Isles. Until that year, there had been only one death.
The 6pm shipping forecast brought news of near-perfect conditions. One yachtswoman described it 'like going on holiday'. But, unknown to competitors, a gale was brewing some 2,000 miles away in the Atlantic.
The yachts inched down the Solent strait in very gentle wind. On Monday they were becalmed in fog off Cornwall, but about midday the fog lifted and they rounded Lands' End. The next 300 miles would be rough and unpredictable.
Crews got the first hint of the danger to come when BBC Weather forecast Force 8 winds.
On Grimalkin, David Sheahan reduced the sails and radioed Lands' End: 'Getting a little choppy out here,' he said. Fellow crewman Nick Ward observed a strange 'ochre sky' before things started to turn nasty.
As night fell, and the wind whipped up, yachts lay scattered across the Western Approaches, with radio antenna broken, rudders lost and masts snapped.
There was now a Force 10 storm heading their way, said the forecast. 'We were confident we could cope with it,' said David's son Matthew.
But it was no ordinary storm. A 40ft wave knocked Grimalkin on its side, catapulting Matthew overboard. As hypothermia set in, he said, 'brains slowed down' – he 'forgot' how to do his jacket zip up.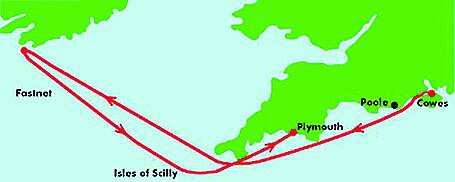 Yachtsmen were thrown out of their cockpits and left dangling in the sea by their safety harnesses. In the cabins, galley stoves and tins of food flew from side to side with every lurch.
Many yachts had no radios and instead launched distress flares. The crew of the Trophy clambered into their liferaft – a decision that would cost three of them their lives.
'The most frightening aspect was that so many things happened at night,' said Barry O'Donnell on Sundowner. 'The noise of the waves was incredible … every oncoming wave blacked out everything else …'
Throughout Tuesday the storm ran unabated. Helicopters were scrambled from Kinloss and Culdrose but huge waves and Force 11 winds made rescue attempts impossible.
'Nothing we can do for you at the moment … Good luck!' came back the frightening reply to David Sheahan's Mayday call.
Moments later, Grimalkin was rolled over by a giant breaker. Matthew thought he was going to die. It made him angry. A body floated by: he knew it was his father, drowned. Meanwhile, fellow crewmen, Nick Ward and Gerry Winks, were slumped lifeless in the cockpit.
As conditions eased on Wednesday, a Dutch frigate picked up the first two dead.
Helicopter crews began plucking survivors from the ocean. They brought up Nick Ward who had been alone for half a day, battered by the waves, while his friend, Gerry, lay dying in his arms.
Even the Irish Continental Line ferry, St Killian, carrying 600 passengers and 200 cars, assisted the rescuers.
Over the next two days, many yachts ended up in Irish ports – around 40 in Crosshaven. Grimalkin, half-swamped, was found by a freighter and towed into Waterford. Regardless, skippered by Midleton businessman Ken Rohan, was rescued after six attempts and brought into Baltimore harbour; another Irish yacht, Golden Apple of the Sun, owned by Hugh Coveney, (father of the current Tánaiste Simon) was towed, rudderless, into Cork. A huge crowd welcomed the Casse Tete as it was towed into Courtmacsherry.
Only 85 yachts reached Plymouth – among them Morning Cloud, former British Prime Minister Edward Heath's vessel.
Fifteen sailors lost their lives. Two non-competitors, and four others shadowing the race, also died. Margaret Winks, Gerry's widow, knew she would have to scatter his ashes at sea and dreaded it: 'I feel the sea has taken too much of him.'
On August 15th, The Washington Post's Christian Williams, reported: 'No matter who takes home the trophy, this year's Fastnet Race will be remembered as the biggest disaster in ocean-racing history.
'By late today, there were 17 confirmed deaths and 25 yachts sunk or abandoned in the sudden gale that hit the North Atlantic between Britain and Ireland, directly on the course of the race.'
Williams described the evening on board Tenacious, Ted Turner's yacht, which was to eventually win the ill-fated race:
'Isn't anyone going to carve the roast?' [chef] Jane Potts called out to Bobby Symonette, a veteran blue-water sailor who was hurrying by to his duty station.
'My dear,' replied Symonette, in his calm Bahamian accent, 'There are not many who will eat tonight. And those that do will be sorry.'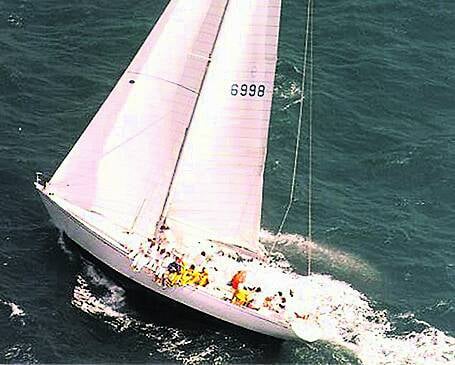 'The storm struck Tenacious a few moments later [see photograph of the Tenacious, above, courtesy of Afloat.ie, the eventually won the race].
As Turner and his crew would learn only later, it struck the entire fleet simultaneously, and it struck with the force of a B52 attack. More than 140 sailors would require rescue by Royal Navy helicopters and search vessels of every description before the night was over.
The Royal Ocean Racing Club, sponsor of the biennial race, said 13 of the dead were British, one was Dutch and one, Frank H Ferris, was an American.'
Later, in the article, Williams recalls arriving back in the UK: 'When Turner's yacht docked … they knew they had been through more than just another gruelling Fastnet Race. Immediately as the boat touched shore here, one crewman leaped off and ran to the race office for news of the competition. When he returned, smiles on board faded.
'My God,' he reported, stunned. 'There's a crowd of people up there and they're all crying and they ask you if you have heard anything about their husbands, or their boyfriends. It's like a tragedy here, not like a race.'
One competitor told The Southern Star that deaths could have been avoided 'if competitive zeal had taken second place to common sense'.
Crews had been warned three days earlier of Force 8 gales, claimed another, but heavy sponsorship meant they could not pull out.
THE 15 COMPETITORS WHO DIED (yachts in brackets):
Paul Baldwin, (Gunslinger); Robin Bowyer, (Trophy); Sub-Lt Russell Brown, (Flashlight); David Crisp, (Ariadne); Peter Dorey, (Cavale); Peter Everson, (Trophy); Frank Ferris, (Ariadne); William Le Fevre, (Ariadne); John Puxley, (Trophy); Robert Robie, (Ariadne); David Sheahan, (Grimalkin); Sub-Lt Charles Steavenson, (Flashlight); Roger Watts, (Festina Tertia); Gerrit-Jan Willahey, (Veronier II); Gerald Winks, (Grimalkin).
Rescue as vivid today as it was 40 years ago
By Jackie Keogh
THE Robert – a 48ft Watson lifeboat – was back in Baltimore on Friday, August 2nd, [see below, photo by Anne Minihane], and with it came a raft of memories for the crew who were called out on Monday, August 13th 1979, the night of the Fastnet Race Disaster.
'It was great to see the old lifeboat back in her colours with Baltimore Lifeboat on her stern,' said Kieran Cotter, coxswain of Baltimore RNLI.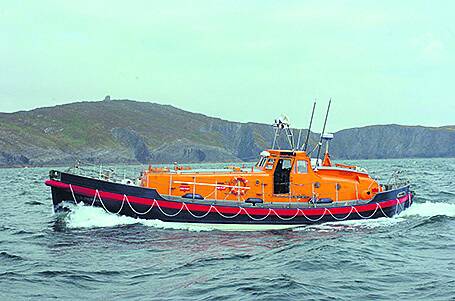 It was in Baltimore for the 40th anniversary of the Fastnet Race Disaster and The Robert may stay for the 100th RNLI anniversary, which will take place on September 8th.
The vessel represents many years of life-saving service, according to Kieran, who admitted: 'I rarely look back on things but this is one night that is still vivid in my memory.'
The Fastnet Race started, as it always does, in Cowes in the Isle of Wight on Saturday, August 11th, but it was a severe summer storm that resulted in lives being lost in the treacherous seas.
Meanwhile, off the Fastnet Rock – which is the picturesque but frequently treacherous turning point in the race –the crew of Baltimore RNLI worked from 10pm to 8am to bring a yacht and its crew to safety.
Kieran [pictured, below] set the scene by pointing out that 40 years ago things were vastly different to how they are today. Of course, the route remains unchanged, but today the boats are bigger, much better equipped, and the crew can no longer be leisure-time enthusiasts. They must have a proven track record that includes training and serious competitive race experience.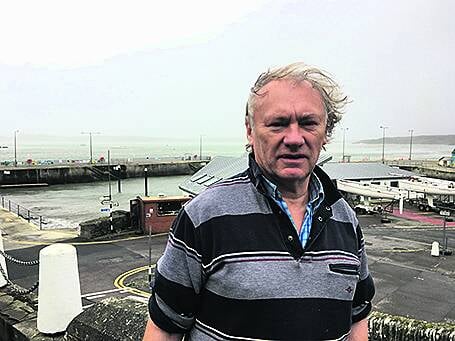 Reading from the yellowing pages of the 40-year-old record book, Kieran confirmed that the crew received the call at 10.05pm and they were mobilised by 10.15pm.
Richard Bushe, the acting hon secretary, set out the timeline: he recorded how the keeper at the Fastnet Lighthouse – in the days when it was manned – notified them that there was a vessel in difficulty.
The boat they initially went in search of had, like 20 other boats, made it safely to Schull, but on their way back to Baltimore the crew received another message to go to the assistance of a yacht, The Regardless, after it lost its rudder.
Reading from the record book, Kieran said: 'The wind was Force 9, South West. The seas were very high and the visibility was poor.' When asked if that translates as 'frightening,' Kieran said: 'No, but the conditions were difficult.'
In the next breath, Kieran admitted that the crew – which included Christy Collins, coxswain; Mick O'Connell, mechanic; Paul O'Regan, Peter O'Regan, Kieran Cotter, Noel Cottrell, Pat Harrington and Con Cahalane – all of whom are now deceased except for Kieran and Peter O'Regan – had to reconnect the tow-line five times.
Richard Bushe's note that states: 'This must have been the worst weather The Robert was called out on when on service.'
Kieran said the crew were used to going out in bad weather. Most of them had been fishermen, or involved in boating, and all were trained as lifeboat crew.
Equally, out of the nine-man crew on The Regardless, Kieran said a few of them were professional sailors and they were able to cope with the situation as she drifted.
They arrived back in Baltimore at 8am and they assisted in mooring The Regardless and ensuring that the crew were given the same warm welcome that this community offers every stranded sailor.
The RNLI crew barely had time to put shoe leather on soil when they got another call to go back out to the aid of The Marionette, a British yacht that was also rudderless and adrift. The vessel was 25 miles south of the Galley and 50 miles from the Baltimore station, and it was in Force 6 winds that the yacht – which had 12 people on board – was towed back to Baltimore.
The Robert could only do nine miles in the hour so it wasn't until mid-afternoon that they found The Marionette and it wasn't until 10.30pm that The Robert was housed, making it a marathon 24-hour service for the crew, which, on this occasion, included John O'Regan.
About 100 miles away, off the Scilly Isles, conditions were worsening as the weather front moved in and that year the Fastnet Race claimed the lives of 15 competitors and four more on an American support boat.
The majority of them had been on the smaller boats – the larger ones having made it in faster time to the Fastnet. And it was not until the Wednesday and Thursday that the full extent of the loss of life at sea was confirmed.
Kieran said: 'You have to remember that communication was nothing like it is today. There were no mobile phones and not every boat had a VHF radio. And if they did have a radio, they were not able to transmit very far.'
Kieran also recalled the rescue of The Rambler during the 2011 Fastnet Race. He said The Rambler was one of the foremost racing boats in the world, but after rounding the Fastnet its rudder cracked, fell off, and she capsized. There were 21 crew on board and 16 were taken off the upturned hull by Baltimore RNLI, while five more – including the owner, George David – were rescued from the sea.
The Fastnet Race continues to be a hugely prestigious race with over 300 boats taking part as they start at Cowes, round the Fastnet, and finish in Plymouth.
Baltimore RNLI's coxswain is 64, making him just 24 when the Fastnet Race Disaster happened. He said: 'It was a massive tragedy, but, over the last 45 years that I have worked on the lifeboat, there have been more than 50 casualties in our area, plus the Betelgeuse, which claimed another 50.'
He named the five people who died on the Tit Bonhomme, the four who died on the St Gervais; the three who died after being swept off the rocks in Baltimore; the two who died in Audley Cove; and all those tragic deaths that happened one at a time.
'The sea,' said Kieran, 'is a dangerous place.'
'The sea was mountainous' recalls Fastnet keeper
By Paddy Mulchrone
A LIGHTHOUSE keeper on Fastnet Rock during the world's worst yacht race disaster is to lead a remembrance service for the 15 sailors who perished in the treacherous storm 40 years ago this month.
The annual graveyard mass on Cape Clear will honour the dead of the 1979 Fastnet tragedy and pay tribute to the many hundreds who risked their lives to save many more.
One of the readings will be by Gerald Butler, 69, [pictured, below, at Galley Head], of Clonakilty, who was one of three keepers on duty that fateful night.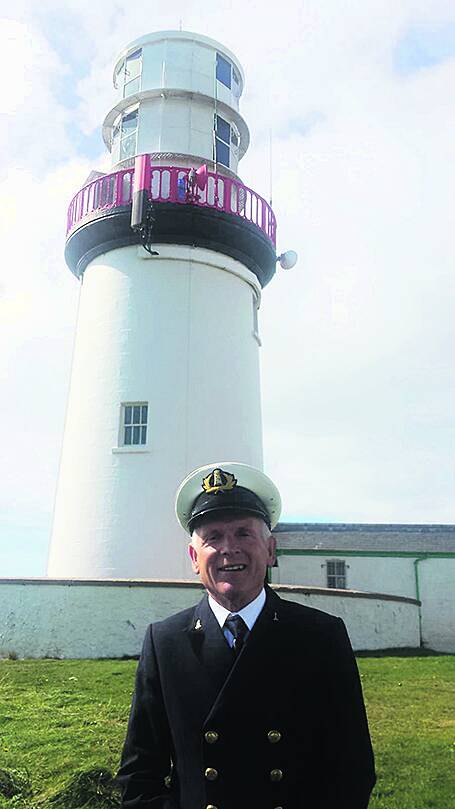 The mass takes place at 3pm on Sunday August 18th and all local mariners and seafarers – and anyone wishing to participate – will be welcome. Organiser Séamus Ó Drisceoil said: 'We hope to finish off the Service with a rendering of the lifeboat song, Home from the Sea and would welcome in particular local singers who might join us for the occasion.'
Following the service, at 4.30pm at Cape Clear Heritage Centre, there will be an unveiling of a painting of Gerald Butler by Welsh artist, Dan Llywelyn Hall. Finger food and will be provided and all are welcome.
As one of the three lighthouse keepers working at the Fastnet lighthouse, Gerald saw first-hand the deadly swells and mountainous waves that led to the deaths of 15 people.
'It was such a horrific event. The storm just popped up out of the blue,' said Castletownbere-born Gerald. 'It blew with such a rage and strength that the sea was mountainous. During the course of the entire night, it was yacht after yacht after yacht getting into trouble and calling for help.'
The Heritage Centre features an audio visual presentation on the Fastnet Rock, which includes coverage of the 1979 race which changed the face of ocean racing forever, heralding the introduction of compulsory safety measures.
The RNLI says a combination of factors – a freak storm, inadequate communications and a lack of safety measures that are standard in yacht racing today – was to prove fatal in 1979, as many crews were unprepared for the turmoil about to hit them and were too far out to sea to turn back.
Data from the storm revealed that as a front of low pressure passed over the Western Approaches, a column of cold airt crashed down from the stratosphere, splitting it into many smaller systems and "turbocharging" the wind.
There was no Global Satellite Positioning (GPS), no terrestrial navigation and many had no radio communications.
Survivor Phil Crbbin, crew on the yacht Eclipse, said later: 'Even in heavy conditions at night, it was not automatic for everybody on deck to wear lifejackets and harnesses in those days – that became a requirement as a result of this race.'
Only 86 of 303 starting boats finished. There were 194 retirements; 25 boats sunk or were disabled and abandoned; 75 turned upside down; five boats were lost 'believed sunk' and 15 sailors were drowned.
Some 31 RNLI lifeboats put to sea, served 170 hours and towed or escorted 18 yachts, with more than 100 aboard, to safety. At the height of the storm, Baltimore lifeboat was at sea for 24 hours and Courtmacsherry's for 20 hours.
The rescue was co-ordinated by the Irish and UK Coast Guards. An incredible 4,000 personnel were involved, including British, Irish and Dutch naval vessels and aircraft. The RNLI, Royal Navy and RAF led the way.
Said an RNLI spokesman: 'It is certain that, without the selfless determination of these courageous rescuers, the death toll would have been even higher.'
The disaster led to 'significant changes and improvements' to yacht design, safety measures and equipment.
Crews must now pre-qualify for Ocean races. They must have VHF radio and safety harnesses. Yachts have been re-engineered to give more stability and crews are advised not to abandon ship until sinking is inevitable.
Technical advances have led to the introduction of global positioning satelleite (GPS) equipment and personal locator beacons.
Race organisers the Royal Ocean Racing Club (RORC) remembered the dead of 40 years ago at a special service last weekend in Cowes, overlooking the starting line for the race.
The RORC will also be hosting an exhibition of paintings by artist Dad Llywelyn Hall entitled 'Fastnet – a portrait' at the RORC's London headquarters at 20 St James's Pl in south-west London from September 16th to 22nd.
Artwork will be available to buy and donations from each sale will be made to the RNLI.