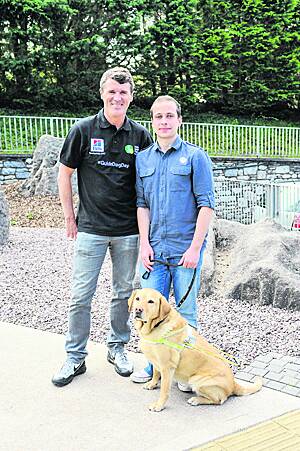 By Siobhan Cronin
DRIMOLEAGUE man Donnacha McCarthy teamed up with Irish soccer legend Roy Keane last week to launch Irish Guide Dog Day, which takes place this Friday, May 1st.
Donnacha brought his guide dog Holly to meet Roy at Irish Guide Dogs headquarters on Model Farm Road in Cork. Donnacha, although originally from West Cork, is currently living in Dublin. Guide Dog Day is Irish Guide Dogs' new national campaign which takes place this year in partnership with Hills Dog Food.
Donnacha has had Holly since 2008 and says she has made a massive difference to his life. 'Holly allows me to do what I want with total independence, be that going to work every day, going to the gym, or something as simple as going for a walk. I can safely say she has been the best aid I've had since losing my sight.'
As a child, Donnacha was an avid Gaelic football player. His sporting days seemed to have come to an end when he lost his sight. However, in recent years, he joined the Blind Football Ireland squad. He worked hard to develop his health and fitness and he trains regularly in Dublin, with Holly waiting patiently on the sidelines.
Having overcome so many challenges in his life, Donnacha is encouraging others to challenge themselves in aid of Irish Guide Dogs to provide vital funds to train Guide Dogs for people with vision loss and Assistance Dogs for children with autism.
Currently Irish Guide Dogs supports 175 people in Co Cork; 134 use Irish Guide Dogs' vision impairment services and 41 have an assistance dog from the charity.
Speaking at the launch, Roy said: 'Growing up in Cork we always had dogs and then when I went to England with the pressure of matches, I always found spending time with my dogs a great way of relaxing. I have two dogs at the moment, a German Shepherd and a Labrador and they are a massive part of my family. I'd be lost without them, they are a massive part of our lives.'
Roy urges the public to support the day or text WOOF to 50300 to donate €4. 'I always enjoy talking to the people who have and need the dogs; finding out how much the dog means to them; without the dogs they wouldn't get out and about. It's amazing; absolutely amazing.'
Irish Guide Dogs is 80% funded by voluntary income and donations so it relies on the public's support to fund its services. It costs €38,000 to train one of the pups.
There are street collections taking place in Kinsale and Macroom on May 1st, and in Ballincollig (May 15th and 16th) and Bantry on May 22nd.