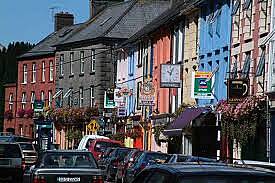 BY JACKIE KEOGH
CLONAKILTY has made it onto the shortlist for the 2015 Tourism Towns Awards.
The awards scheme – which was devised by the national tourism development authority, Fáilte Ireland, four years ago – recognises town and villages where the locals community 'goes the extra mile' to appeal to tourists.
Michael Ring TD, the Minister of State for Tourism and Sport, said that over the next few weeks each of the 15 towns and villages that have made it onto the shortlist will be subject to a series of unannounced inspections.
These 'secret shoppers' will be looking for evidence of 'a high quality visitor experience', as well as involvement by the local community, the quality of local attractions, and at how well the town promotes what it has to offer.
Kinsale took the 'Best Small Town' accolade last year, and, this year, Christopher O'Sullivan, who is the chairman of Clonakilty Chamber's tourism sector, said he is confident that Clonakilty has what it takes to win the competition outright.
The shortlist will be whittled down to ten 'Highly Commended Tourism Towns', which will be announced at the National Tidy Towns Awards later this year, and the overall winners for the Best Large and Best Small Tourism Town will be announced by Fáilte Ireland in November.
Local TD Michael McCarthy welcomed the news saying: 'The tourism and the hospitality industry is a major employer and a major source of revenue for the county.
'Many families and businesses – including restaurants, retail outlets, accommodation, leisure centres and specialist tourist attractions – are highly dependent on tourism and having the title of Ireland's Best Tourism Town could be a tremendous asset in terms of marketing the area.'
The Labour TD also welcomed figures from the Central Statistic Office that showed total overseas trips to Ireland for the first six months of 2015 were up by 12% on 2014.
Between January and June, trips to Ireland from the UK increased by 9% while North American visitors were up by 15%. Overseas visits from mainland European countries rose by 13%, which included French trips up by 13% and German visitors up by 11%. Meanwhile, visitor numbers from all other long haul areas also rose in this same period by 12%.
Mr McCarthy said: 'This growth is really quite exceptional when you consider that in 2010 overseas visitor numbers had fallen by 16% in two years. It looks as if tourism is very much on track for a record performance this year.'