THE American school which launched a mini sailboat that landed in Galway last year are hoping their latest experiment may be found off the West Cork coast in the next few days.

The story of science student Kaitlyn Dow's boat, which was found by Connemara schoolgirl Méabh Ni Ghionnáin last September, made headlines across the world.
Méabh found the little sailboat on rocks near Lettermore, months after its May launch in the US, and she was thrilled to find it carried a teddy bear, toys and letters from students of Waterford Hight School in Conneciticut.
Kaitlyn and Méabh met for the first time this year, when Kaitlyn visited Galway after a fundraising drive.
Her teacher, Mike O'Connor, had designed the experiment to allow students study winds and currents.Â
Last April, Mike decided to repeat the experiment, with the newly repaired sailboat, and it is due to hit our shores within days. It was launched in the middle of the Atlantic this time.
'We were lucky enough to visit Ireland in February, and meet the little girl who found [the boat],' Mike told The Southern Star this week.Â
'We visited her school and scout group and met with officials from the Marine Institute. What an amazing experience. The Marine Institute relaunched the updated boat in April and she is now poised to land on Ireland again.'
A tracker onboard allows the school to follow the boat's movements and in recent days it was veering close to the south-west coast of Ireland.
As of Friday afternoon, the boat was just off the south-west coast of Ireland (see red route in graphic below).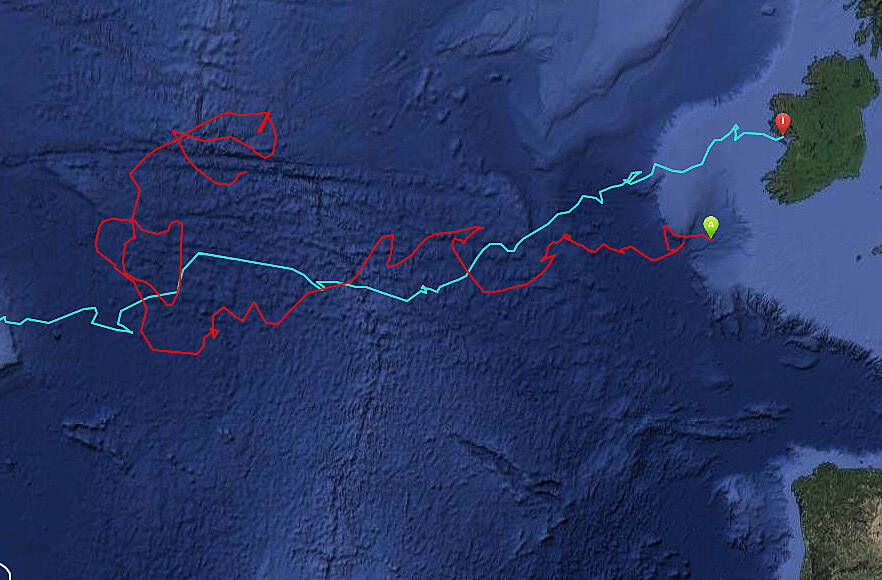 Mike explained that the school had contacted businesses and pubs around Galway when they saw the trajectory of the sailboat on its last voyage, and this prompted its discovery. Méabh's aunt, who runs a pub in Carna, told her niece about the boat, and she went in search of it along the Galway shore.

Now Mike has launched another call-out for the little voyager's latest adventure.
'If you could get the word out that the boat is approaching, maybe someone will see her. Instructions on what to do with her are inside,' he added.
To follow the boat's position, click here: https://www.nefsc.noaa.gov/drifter/drift_whs_2016_1.html – the red line is the sailboat's current position.Â
To read about the first part of her journey click here:
http://educationalpassages.com/boats/00-164400721/
To contact Mike O'Connor directly, email:Â [email protected]
To watch the video of the boat's last voyage, see here: