Computronic Group Limited offers technological repairs, recovery, design and set-up, as well as survey work with their new fleet of drones
GREG Jagielski is the owner of Computronic Group Limited. He used to work in Smarttech in Clonakilty and when they decided to close their Clonakilty branch, Greg took over the business and renamed it Computronic in 2010.
What started as a small electronic repairs shop in a small premises, has grown into a diverse business that offers a range of products and services to customers, thanks to the skill and experience of the team.
'Originally, I am Polish and I used to work after school in similar shops in my teenage years; I started when I was 14. That is where it all began for me,' says Greg.
'The Smarttech head office wanted to close the Clonakilty branch and they offered me the opportunity to take it over under my own name. Without any experience of running a business, I took a chance and thanks to my expertise, patience and hard work, I managed to get to where I am now'.
Greg moved the business to a larger premises on Ashe Street in Clonakilty and hasn't looked back since.
What is Computronic Group?
Computronic Group Limited offers a wide range of modern technology services. Based on Ashe Street in Clonakilty, the business has grown considerably over the years.
The team can carry out speedy repairs on phones, laptops, tablets and computers, unlocking phones, backing-up and recover- ing data, designing and hosting websites, e-commerce and mobile apps, internet network set-up and IT support for SMEs, schools and construction sites, as well as surveying work with their fleet of commercial drones.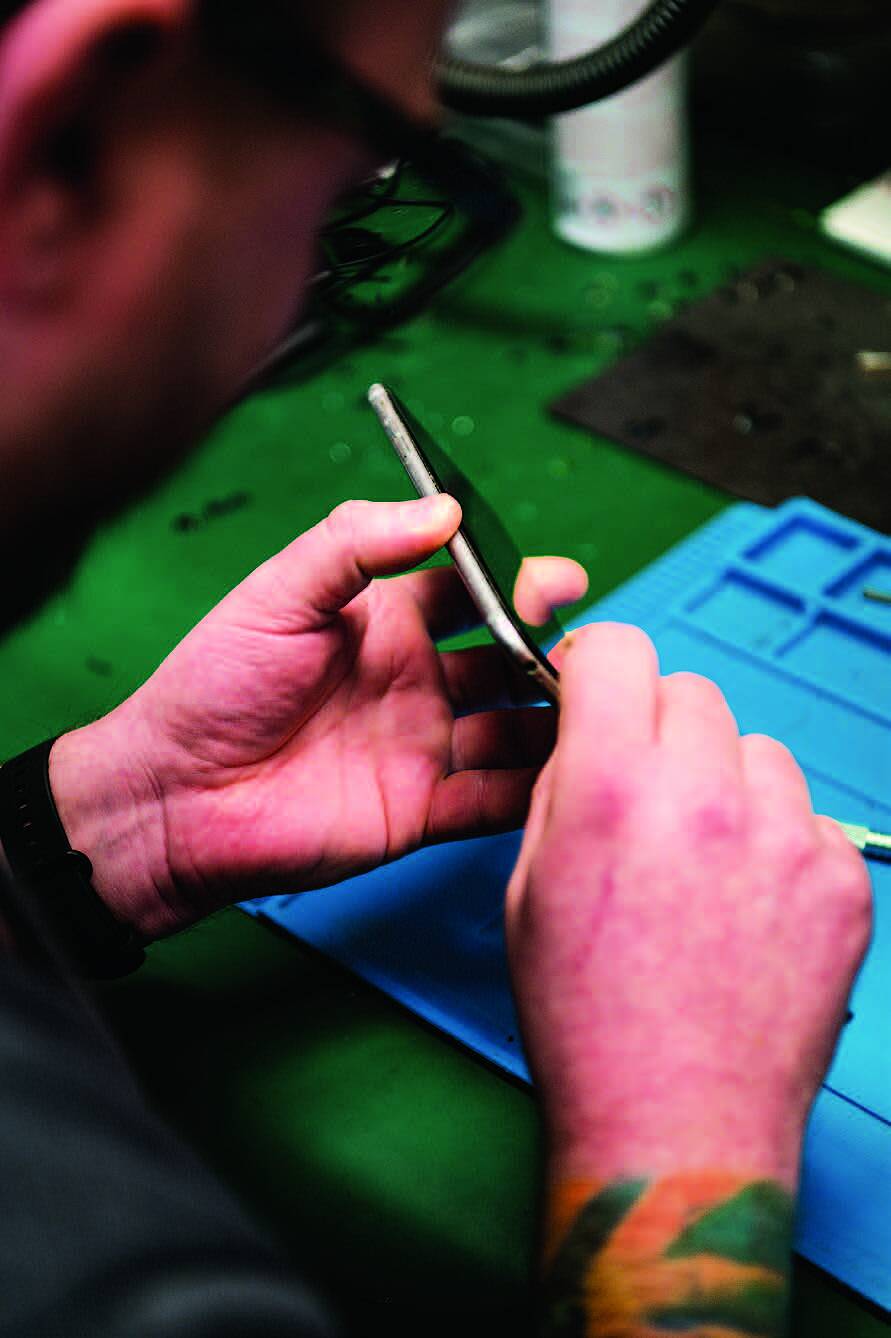 The shop sells all sorts of accessories for home and office needs, e.g. printers, ink car- tridges, chargers, laptops. They also sell PCs for home, office and even gaming use.
Their journey
Smart phones were just taking off at the time when Greg took over the business and nobody was offering the services Compu- tronic was.
'I was seeing smashed phone screens daily', says Greg.
'Technology is always moving very fast. You must be on the ball. If you stay four or five years behind in this field, you won't survive in the market at all'.
As the years have gone by, both the team and the services offered have grown considerably. Greg and his girlfriend at the time started slowly building the business and the company reputation.
They gradually expanded their team, a team which is constantly upskilling with ongoing training. Greg credits his diligent staff for the success of the company today.
'Some of our staff have been with us for many years, while many of the students that came on work experience have gone on to build successful careers in IT and engineer- ing for themselves.
This shows our level of commitment, experience, and professionalism', says Greg.
'As the business was growing, I was always researching different areas. I branched into
CCTV and access control, and now we are offering intrusion and fire alarm systems.' Computronic group is a registered Private Security Authority (PSA) installer. They also offer TV and satellite installations, Wi-Fi network extensions and cutting edge Starlink satellite broadband.
What's next?
One of the newest services that Computronic Group Limited is providing is drone work. They have a commercial fleet of drones that can conduct surveys such as aerial land mapping, inspection services, aerial photogrammetry and orthophotography.
It is a niche market and one which Greg hopes to expand into greatly.
'During the pandemic, I was asked if I could provide some samples of drone work to one of the largest civil engineering joint venture companies in the UK for a project in Northern Ireland. I ended up getting the contract and I am currently working for them on the development of the Dungiven to Drumahoe high-standard dual carriageway, providing drone services.'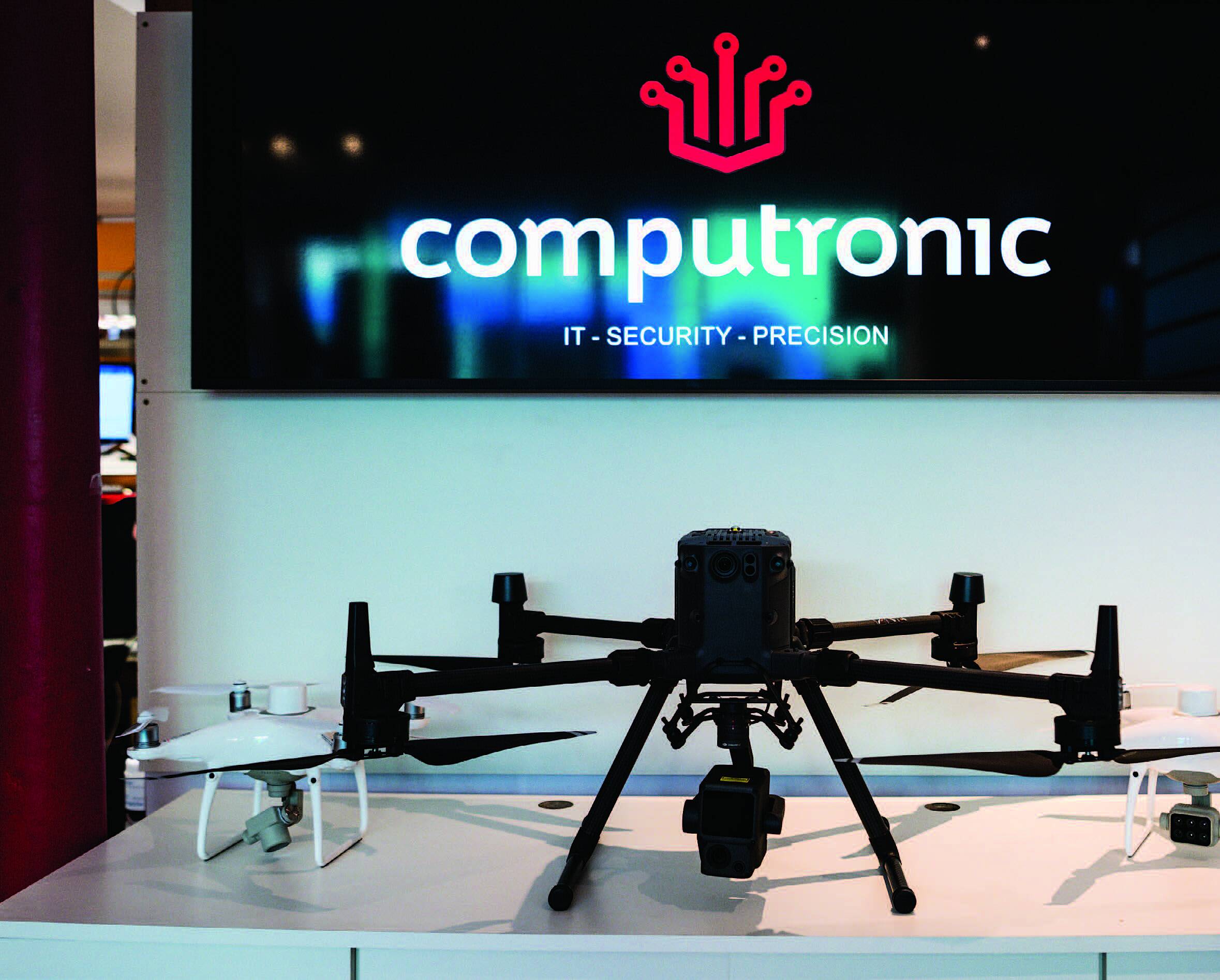 The surveying work that the fleet of drones can carry out can help with road building, ground works and landfills. It can also be used for the inspection of buildings, wind turbines and pylons.
'We're fully compliant with all safety regulations and our pilots are approved by the EASA in all European countries. Our insurance enables us to operate drones commercially across Ireland, UK and the rest of Europe', says Greg.
They also offer Trimble Survey equipment hire, which streamlines the flow of everyday surveying work.
Advice for small businesses
Computronic Group Limited can help small businesses with all their technology needs. Greg says: For a small business,
they actually don't need much.
Technology doesn't have to be complicated. A simple iPad and credit card machine will go a long way.
There are simple cloud-based programmes with a monthly subscriptions model so the business can see how they like it'.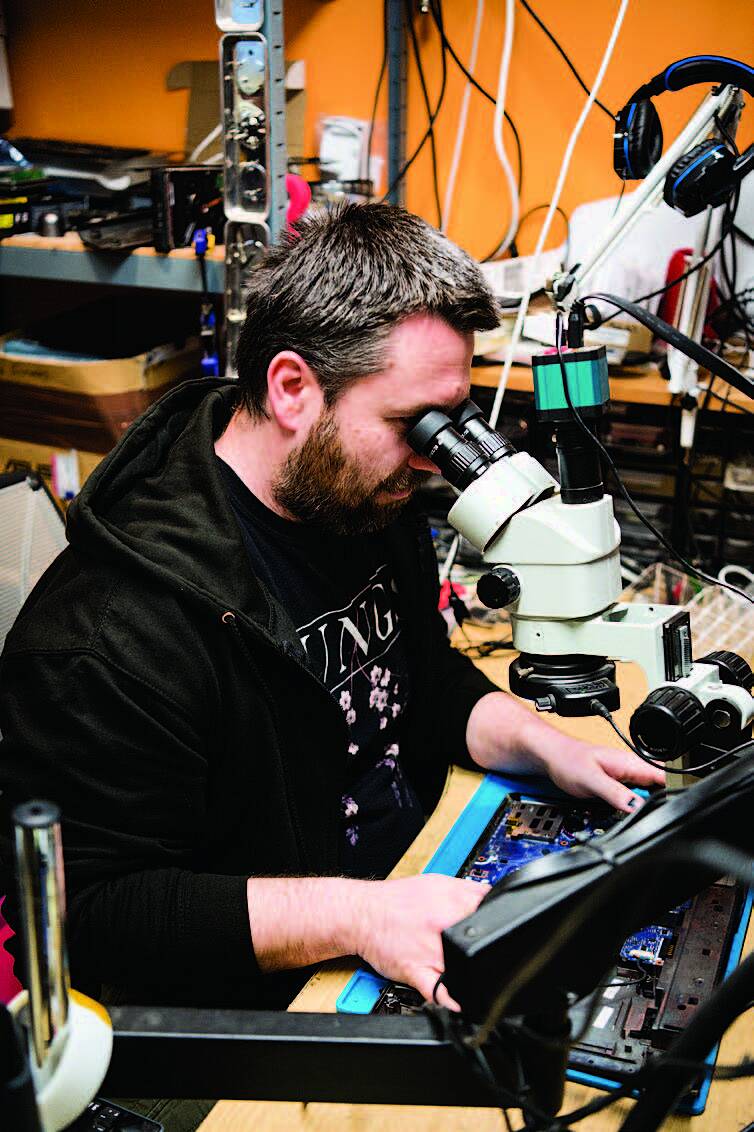 Computronic Group is a CSP Microsoft reseller for some of those services and they can offer a cyber security solution to any business in Ireland.
'We can design and build a website for them which shows who they are and what they do. And we can also upgrade the web- site to include e-commerce, which will allow them to sell products and services online.'
'We build and design small, medium and large Internet networks and provide Wi-Fi extensions with a fibre optic upgrade option to existing setups. We set up the IT infra- structure for construction sites and we can offer both remote and on-site support,' adds Greg.
Whatever your technology need is, and whether you are an individual or a business, Computronic Group Limited can help you. Talk to the team to discuss your needs.
Computronic Group Limited is open Monday-Saturday, 9.30am-5.30pm, and is available for call-outs on Saturdays. Visit www.computronic.ie for more details or call 023 8859003.