BY BRIAN BYRNE
AS a nameplate Nissan's X-Trail has been around in Europe since 2001, generally seen as a somewhat bigger brother to the Qashqai, with which it has shared platforms and looks.
At various times it has sold respectably here, and because it has been a very global model, significantly more than respectably in other markets used to bigger vehicles.
Now in its fourth generation, the latest version of X-Trail is a handsome beast in its own right. The size-based competitors include the slightly smaller Toyota RAV 4 and the slightly larger Skoda Kodiaq. The X-Trail has a tall advantage over both, and with an unusual bonnet design and very modern front styling, it is subjectively more imposing than either. From the rear, clean edges and distinctive lights create a strong signature.
Athletic is often a shape epithet earnestly tossed around by car blurbists, in this case probably it is deserved. It looks, to use an Irish-ism, class.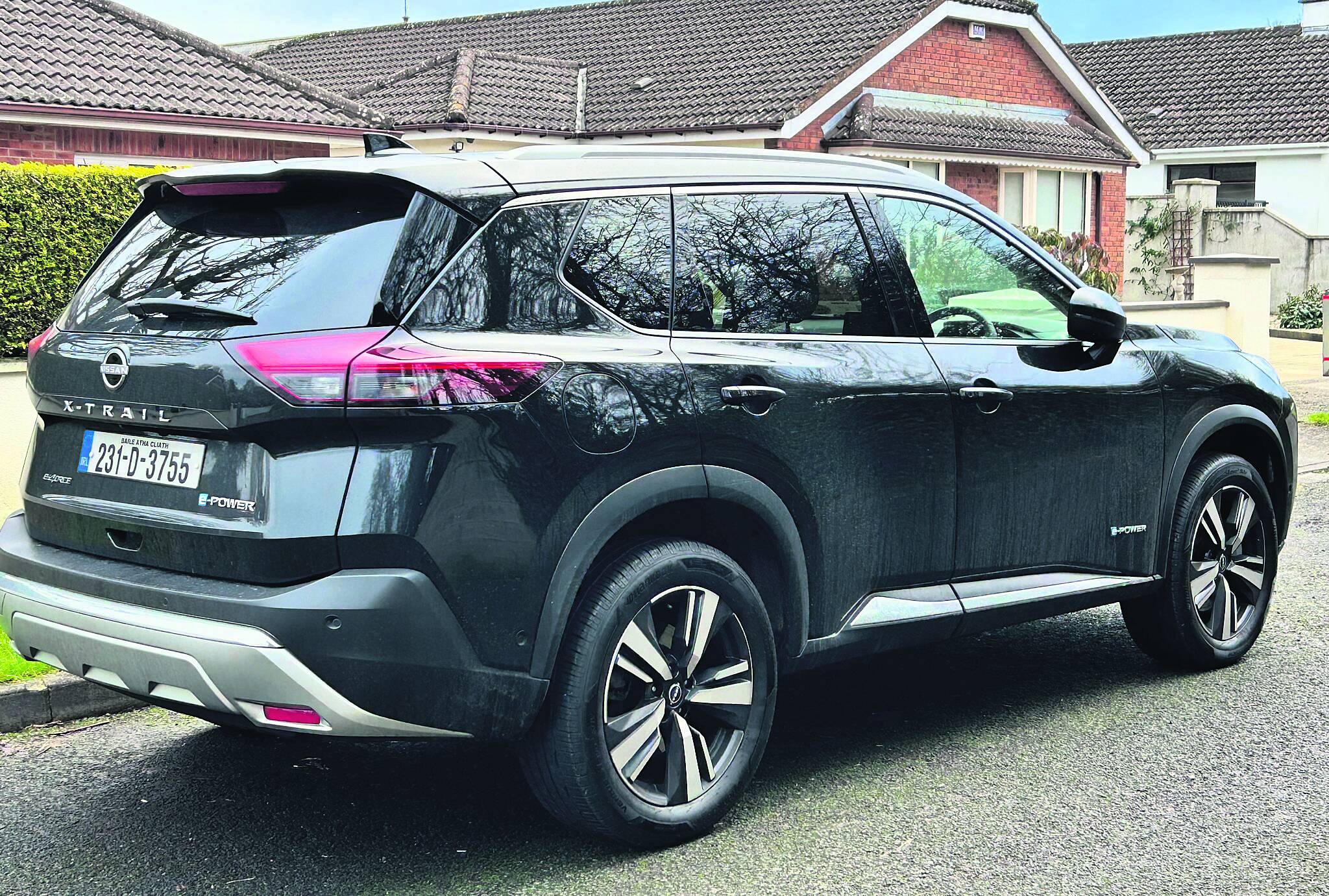 That last sense carries over to the interior. My review car's trim and fitting spoke quality, with a tidy and confident styling to the dash, door elements and instrumentation.
Where you touch looks and feels rich, what you see has elegance and, where appropriate, just enough brightwork to lift things without being garish.
The seats are roomy and generously padded, and that bit of extra height helps everything feel roomy.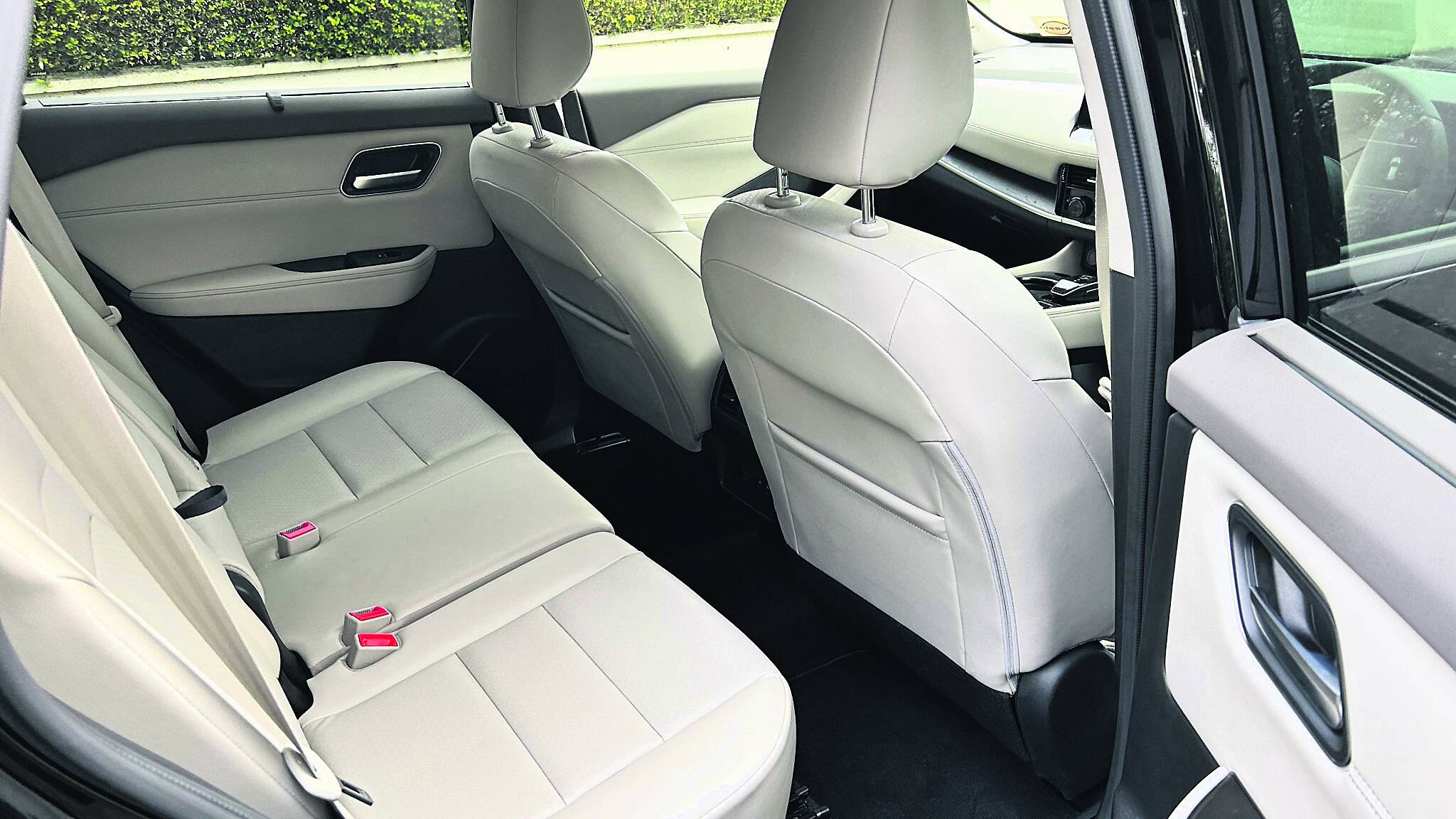 For the driver, the wide dash-top infotainment screen has everything it should have, including a seamless Bluetooth link to my iPhone. There are real controls underneath for climate management, and a neat transmission selector on the central console along with controls for the drive mode and AWD.
My review car was the 7-seat version, the two rearmost ones storable neatly in the floor of the cargo area. When in use they are sized best for younger people, maybe.
They're accessed by a simple roll forward of the outside seats in the middle row. Again, that extra bit of height comes into its own here, along with back doors that open wider than many.
There's just one powertrain available in the Irish market, the ePower series hybrid, based on a 1.5 3-cylinder petrol and an electric motor. The electric motor always drives the wheels, the turbo petrol acting as a charging unit for the associated battery.
I've written about this before, in the Qashqai, and it does indeed offer driving characteristics of an electric car — swift acceleration and a very quiet drive — without having to be concerned with range or ever plugging it in. Even when the ICE engine kicks in to do its charging thing, it is an exceptionally quiet car.
The system is part of why the 7.2 seconds sprint capability to 100km/h is so smooth and accessible, and very steady when you want a boost for overtaking. My review car was the e-4ORCE with a comprehensive 4WD system using an electric motor and sophisticated electronics. My average 5.8L/100km was a creditable fuel consumption for a large car, proving that they didn't need the diesel they're not providing in this generation.
I find that the larger and more powerful the car, the more serenely I tend to drive it. This X-Trail is all serenity, strength, and driving satisfaction.
For me, anyhow.