BY BRIAN BYRNE
WITH new electric cars coming along almost on a daily basis — two were debuted alone on the day I'm writing this — we're long beyond the time when you could stream off the available models in one breath. And a growing feature of that list are the Chinese makers.
We shouldn't be surprised, as China is the biggest car market for EVs, followed by Europe and, further behind again, the US. Given that, the rapidly expanding European EV market is a key target for China, also the biggest producer of electric cars of all sizes as well as of battery systems used by carmakers around the world.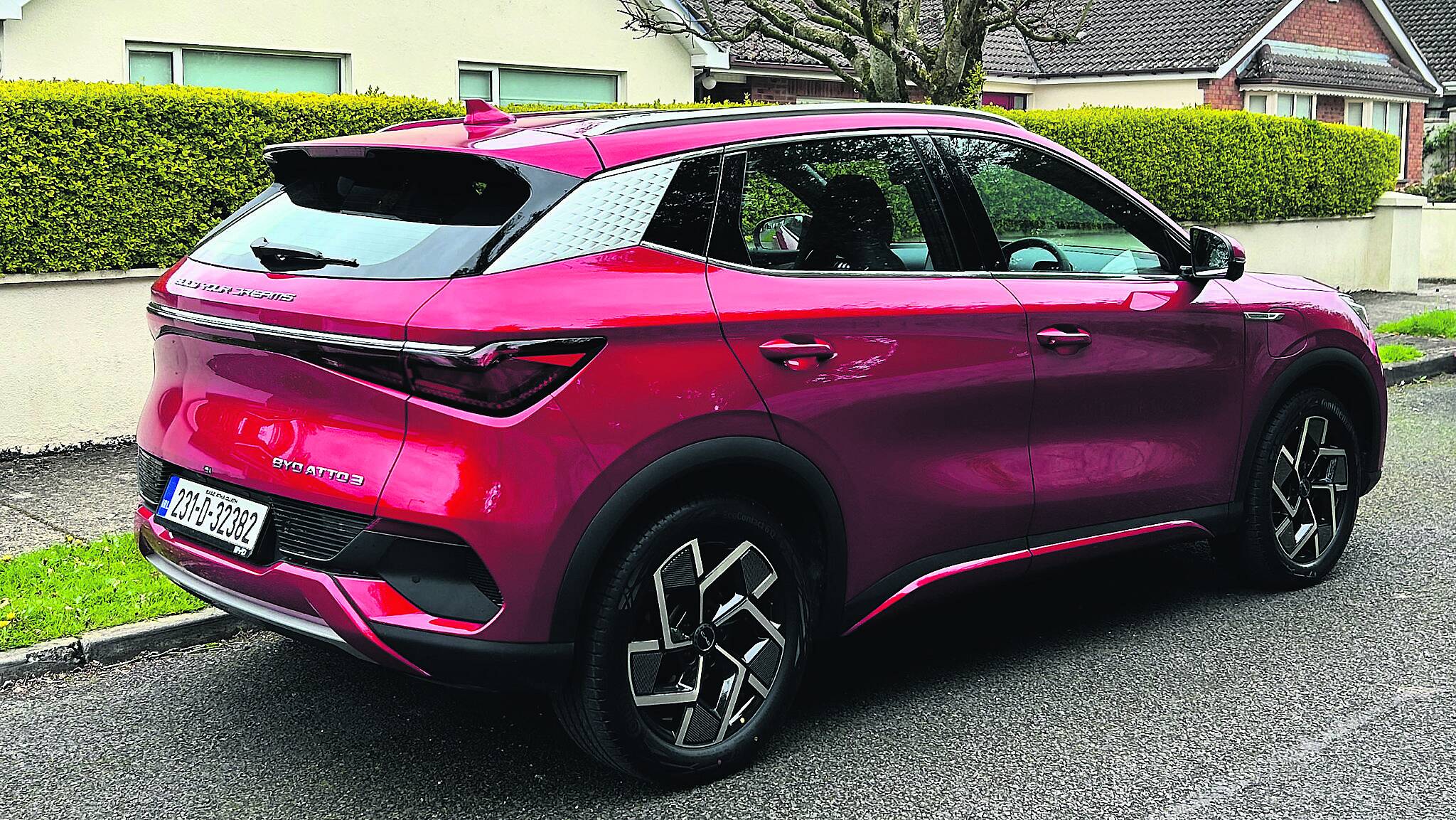 The latest to arrive here is BYD, the acronym means 'Build Your Dreams'. With distribution acquired by longtime local motor company Motor Distributors Limited, the first of the BYD models, Atto 3, is now on sale in three dealerships in Dublin and Cork, with more locations to follow.
Atto 3 is a crossover, the latest to compete in the very hotly contested compact family SUV segment.
The first car from the brand to be produced on a platform developed specifically for electric cars, it is also the main thrust of BYD's global passenger car ambition and has been designed with a team led by former head of design at Audi, Wolfgang Egger.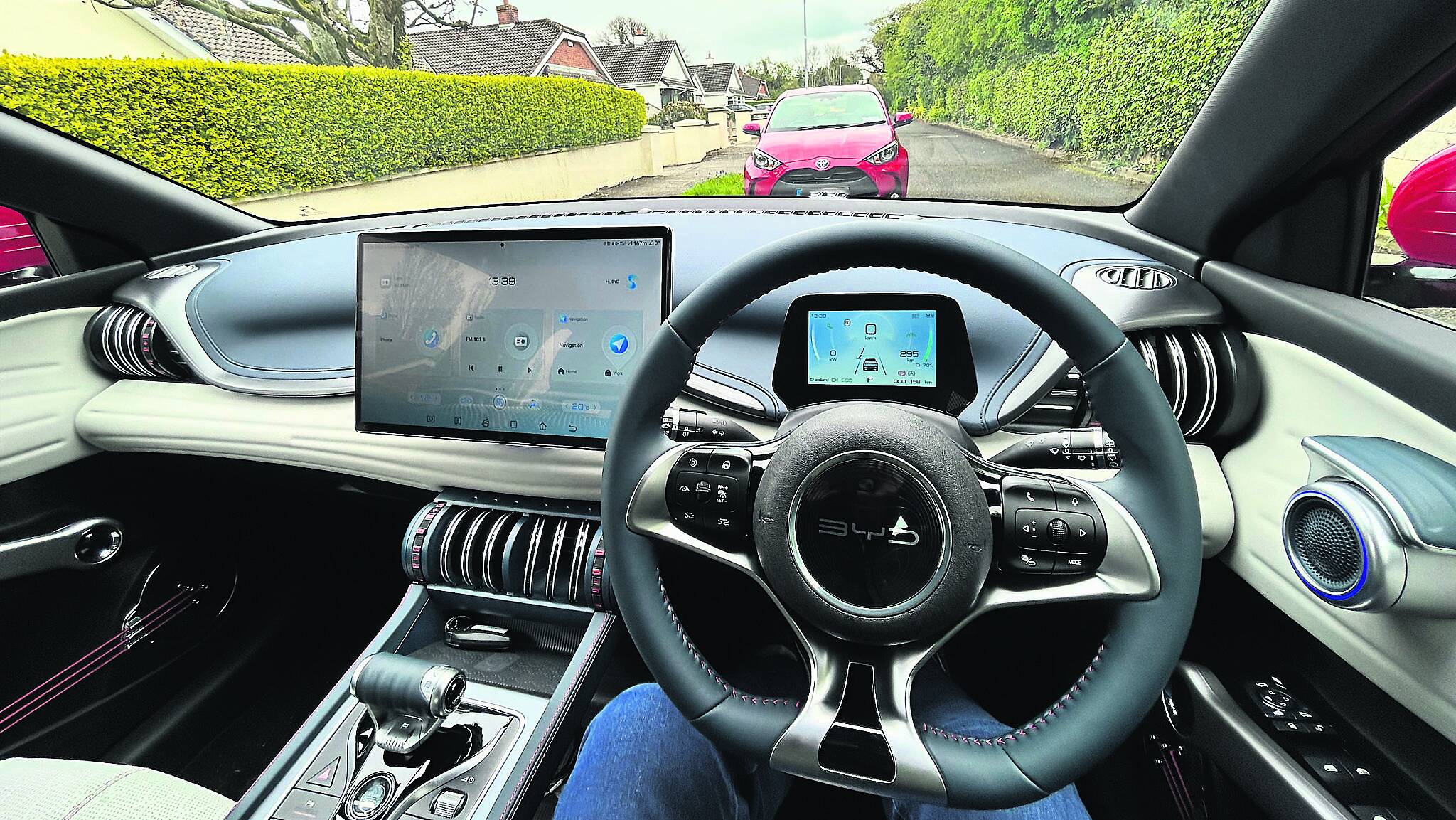 That influence is very visible in the Atto 3, with a sleek and distinctive sculpting in the front and profile of the car, and detailing in the brightwork that aims at the premium market.
In size, the Atto 3 similar to a Ford Kuga but with a longer wheelbase which, along with the location of the very flat battery under the floor, provides very roomy accommodation for all occupants. There's a good boot, too.
Inside are futuristic swoops in the dashboard design and door trims, and very striking styling in elements such as the air vents and door handles. A massive central touchscreen dominates, for managing infotainment and climate, and more, with a much tinier one to provide the basic driving information of speed, battery status and range. The substantial T-handle transmission selector is reminiscent of some American muscle cars of the 1970s, which most of my readers won't remember!
BYD began as a rechargeable battery manufacturer, and bought a car company from the Chinese government two decades ago to progress an ambition to become an EV carmaker.
They ceased production of their internal combustion engine cars last year, and also knocked Tesla off their perch to become the biggest passenger electric car maker in the world.
The company has its own proprietary battery technology, and also makes it own motors and key electronic components.
Toyota has been so impressed with BYD that they have established a joint venture to develop battery electric vehicles. BYD is also one of the biggest makers of electric buses, with substantial fleet business on several continents.
So it wasn't any surprise that I should be impressed on my first drive experience with the Atto 3.
Comfortable, smooth, good acceleration, and very silent travel except at low speeds when a rather wailing ghost sound comes in to warn pedestrians and cyclists that you're around. The drive time was enough to show me that the car is a supremely good highway cruiser, and I'm looking forward to giving it a more extensive and varied trial in due course. That'll also give me opportunity to get used to the pretty unique interior style.
Meantime, for MDL in Ireland, already having a strong hold on the luxury EV market with the Mercedes-Benz EQ range, this gives them the opportunity to do something similar in the more mainstream space.